TRAINING & HANDLING
---
About Our Training&nbsp &nbsp &nbsp &nbsp

Deep Run Farm is one of the finest training, breeding, and canine health care facilities in North America.

We offer quality Companion and Obedience training programs; our goal is to tailor a program to your dog's specific needs and to your expectations.

Obedience is the heart of all our training programs. Regular exercise, proper nutrition and a regimented training program are our secrets of success. A dog with adequate intelligence and physical attributes can be trained and conditioned to perform well.

We have over 30 years of experience training Labrador Retrievers and other breeds for the field, obedience, agility, and friendship.

We have conducted numerous clinics and seminars on national radio and television broadcasts including ESPN, TNN, Outdoor Life and the Outdoor Channel. We also offer seminars and clinics, either here at Deep Run or at your location. Contact us for details.

We demonstrated our retrievers in action for members of congress at the House Rayburn Office Building.

Please call us to discuss your individual needs. Private instruction is available by appointment.

"May we always have a young one full of promise to admit us to those places of wonderment only permissible while in the company of a Labrador." -- Gene Hill


See our videos and articles
about puppies and dog training
Training Options:
| | |
| --- | --- |
| All Dogs | All training dogs will require veterinarian's proof of current DHLP-P, Kennel Cough (Bordatella) and Rabies prior to accepting the reservation. Your dog will also need to be on Heartworm preventative and Frontline Topspot. All precautions will be made to protect your dog from fleas and ticks, but we are in the country, and would like your dog to be protected. |
| Puppy Training | By the week or month. Tailored to your requirements, whether for companion, obedience, or field work. An exit appointment at the end of the session will review what your pup has learned and give you homework. |
| Basic Training | Basic obedience essential for your pup or dog to be a "good citizen". Includes heel, sit, stay, come, down and crate training. Several training programs are offered for your pet or companion dog. |
| Accelerated Training | For those dogs who choose to have more training in a given period of time, this program offers a more intense approach with increased trainer contact time. Available at all levels. |
| Advanced Training | Obedience and companion dog training on and off lead. Greater emphasis is placed on the dog being under control in less formal situations - on a walk in the country, while playing alone or with other dogs, while swimming. |
| Rates | Our training rate is $350/week, $1200/month. Accelerated obedience (two training sessons daily) is $850/two weeks. All training reservations require a non-refundable deposit of $150 to hold your spot. Call us for a training reservation application. |
| By Appointment | One-on-one with Phyllis. For obedience, field or special problems. Rates vary. |
"I loathe people who keep dogs. They are cowards who haven't got the guts to bite people themselves." -- August Strindberg

---
Basic Training

We offer a wide variety of basic training programs for your dog. Basic obedience can be taught in our accelerated two week course (our most popular). This course will teach and condition your dog to sit, heel, come, down, and stay.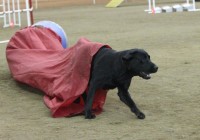 We also offer month-long basic obedience that can be extended for any length of time, depending on how well-conditioned you would like your dog, or if your dog needs to master more complex tasks. For puppies, we have the "one-week-a-month" program in which your pup will spend one week out of each month with us, learning and perfecting the basics: crate training, basic obedience, and good citizenship behavior. We also offer custom programs for individual dogs. In the past we have taught dogs to jump into a crate in the car, to work with individuals using canes and walkers. We have readied dogs for obedience titles, Working Certificates and Good Citizen tests.
Let us help you enjoy your dog more because a trained dog is a joyous companion!


Need some more information or have a question? Please ask us!



Results



---

13727 Blackwells Mill Road
Goldvein, VA 22720

(540) 752-4710/4888 FAX (540) 752-4775 deeprunfarm@gmail.com

Home | About | Training | Breeding | Puppies | Trained Dogs | Health Care
Customer Feedback
Norwich Terriers | Kudos | More Information