SEE OUR NORWICH TERRIER PUPPIES
If you decide you want one of our puppies, please fill out Puppy Adoption Questionnaire so that we can help you select a puppy to suit your lifestyle. That is the first step in getting a Deep Run Puppy.
---
See our Terriers in Show Wins!
See our Terrier puppies!

This is CH Chestnuthills Winsome, CD, CGC, my first Norwich Terrier. She was the beginning of a love affair with these terrific little dogs. Truly a big dog in a little dog body, she was just as willing to boss around the Labrador Retrievers as the other Norwich Terriers that came into my life after her.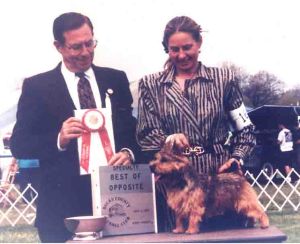 She was a charming companion, and loved running on the beach, swimming, and tromping through the woods. She was handled expertly by Beth Sweigert (now of the Green Team) both to her Championship, and to a BOS (Best of Opposite Sex) to the BOB (Best of Breed) at Montgomery, CH Willum the Conqueror, who went on to be BIS (Best in Show) at the Westminster Kennel Club the following winter. After completing her show championship, Winnie and I went on to complete her CD and CGC. We were working on her CDX when I moved and changed jobs, and had less time for training and Obedience Trials. After Winnie, I was lucky enough to purchase CH Devondales Master Milestone, call name Stoney, from long time Norwich Terrier breeder Anna Bellenger of Devondale Norwich. Stoney was actively campaigned in 1995 to the ranking of #3 Norwich Terrier in the nation. Stoney went to Westminster in 1996, and proudly represented Watermark Norwich Terriers.


Deep Run Farm
13727 Blackwells Mill Road
Goldvein, VA 22720

(540) 752-4710/4888 FAX (540) 752-4775 deeprunfarm@gmail.com
Terrier Home | Females | Males | Puppies | Shows | Health Care | Boarding | Questions