TRAINED DOGS FOR SALE
Trained Dogs


If you are looking for an older puppy or a dog that has already been obedience or field trained, Deep Run Farm has several excellent candidates.
These dogs have received varying amounts of training depending on their ages.


Photos and Letters from satisfied trained dog and puppy owners.

Need some more information or have a question? Please ask us!


---
If you decide you want one of our trained dogs or puppies, please fill out Adoption Questionnaire so that we can help you select one to suit your lifestyle.
Deep Run in the Money, MH QAA "Bingo"
Bingo's pedigree

Black male, 84 pounds, just turned 5 years old. Fully trained black male Labrador Retriever.

Bingo is an accomplished and fully trained waterfowl retriever. He has excellent line manners, is very steady, can do multiple marks and runs great blinds. He would be an exceptional hunting dog, companion, Hunt test Competitor and is still eligible to compete in Qualifying stakes.

Bingo is OFA Good, Elbows Normal, 2018 CAER (Eyes), EIC and CNM Clear,Cardiac Clear by Echocardiogram, Patellas normal, Full Dentition, Dilute clear, PRA Clear (Genetically) and CHIC #114314

Here is a link to Bingo's OFA page

Bingo's Sire is NAFC FC AFC Cody Cut a Lean Grade, his dam is Rocky Hills Win For Me MH.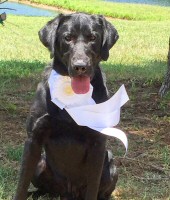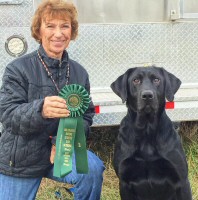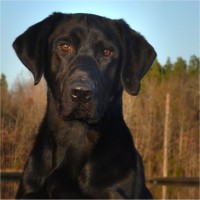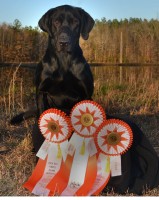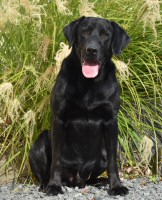 PUPPIES WITH SOME TRAINING


Young Adult Male For Sale

Miles is a yellow male labrador retriever, he weighs 65 pounds. He was born in October of 2017, so he is just 15 months old. Both his parents are show champions. He is very handsome. He has had some basic training, and likes to retrieve. He is a sweet and playful dog, would make a good pet and companion.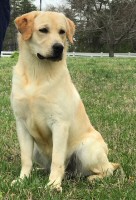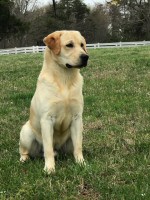 Deep Run Farm
13727 Blackwells Mill Road
Goldvein, VA 22720

(540) 752-4710/4888 FAX (540) 752-4775 deeprunfarm@deeprunretrievers.com
Home | About | Boarding | Breeding | Puppies | Trained Dogs | Health Care
Customer Feedback
Norwich Terriers | Kudos | More Information