TRAINED DOGS FOR SALE
Trained Dogs


If you are looking for an older puppy or a dog that has already been obedience or field trained, Deep Run Farm has several excellent candidates.
These dogs have received varying amounts of training depending on their ages.


Photos and Letters from satisfied trained dog and puppy owners.

Need some more information or have a question? Please ask us!


---
If you decide you want one of our trained dogs or puppies, please fill out Adoption Questionnaire so that we can help you select one to suit your lifestyle.
ADULT DOGS AVAILABLE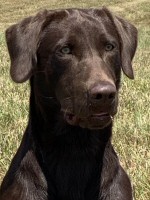 TARPON, Deep Run Tarpon at Secret Ponds
2 year old Chocolate Male Labrador Retriever
Tarpon was raised in the house, crate trained, obedience trained, collar conditioned.
He is force fetched, is steady, can do multiple marks and blinds on land and in water.
He has run in 2 Hunt Test Senior Stakes and qualified in both. He is currently capable of Senior/Master level work. With more training, he has the talent and foundation to go on to Field Trial Work.
He is OFA Prelim Hips Good, Elbows Normal. He will be two in January and permanent Hip and Elbow radiographs will be done.
He has a CAER eye exam, Cardiac Echo (Advanced OFA Cardiac Clearance) EIC , CNM, PRAprcd and D-Locus clear.

He has a great personality and huge desire to please. He will work with you to make you happy.
This is not a pet dog. This is a top calibre working/hunting/trial dog for an experienced owner.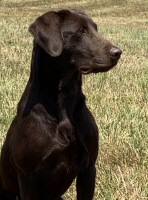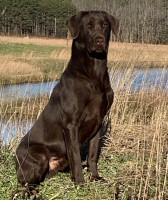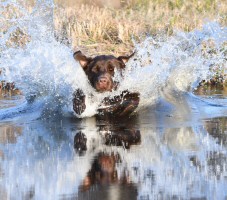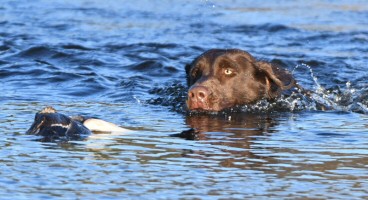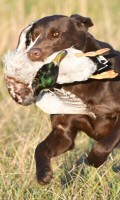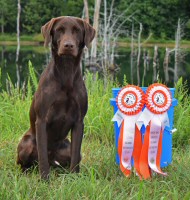 Deep Run Farm
13727 Blackwells Mill Road
Goldvein, VA 22720

(540) 752-4710/4888 FAX (540) 752-4775 deeprunfarm@deeprunretrievers.com
Home | About | Boarding | Breeding | Puppies | Trained Dogs | Health Care
Customer Feedback
Norwich Terriers | Kudos | More Information