TRAINED DOGS FOR SALE
Trained Dogs


If you are looking for an older puppy or a dog that has already been obedience or field trained, Deep Run Farm has several excellent candidates.
These dogs have received varying amounts of training depending on their ages.


Photos and Letters from satisfied trained dog and puppy owners.

Need some more information or have a question? Please ask us!


---



If you decide you want one of our trained dogs or puppies, please fill out Adoption Questionnaire so that we can help you select one to suit your lifestyle.



PUPPIES WITH SOME TRAINING





Four yellow males and one yellow female from Haze x Rockette. High powered, intelligent pups for hunting, performance, Field Trial homes.
See parent's info and pup's pedigree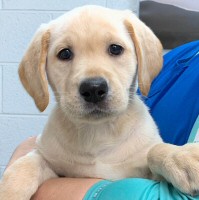 Rockette yellow Girl Dolly
Dolly will be a good size yellow girl, light yellow in color. She is a high energy, busy dog and would make an excellent hunt test or field trial dog, or excel in any performance venue. She knows sits, heel, come and retrieve on land and in the water. She is an excellent swimmer.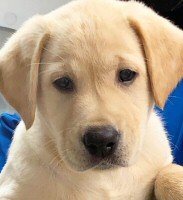 Rockette boy Chuck
Chuck is a smaller, white colored pup with a sweet and easy going personality. He is very attentive, and loves to make you happy. HE has basic obedience skills and is a good retriever, and a good swimmer.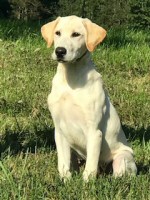 Rockette boy Ben
Ben is a light colored yellow pup. He is very happy and and eager to please. He loves ro retrieve, is good in a crate, understands basic obedience commands and loves to swim. Great choice for a family companion, performance home or hunting.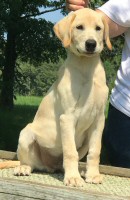 Rockette boy Earl
Earl is a medium yellow color, medium size. A real people pleaser, he is very eager to do whatever you ask. Good obedience skills, crate manners, and likes to retrieve. Good swimmer.

Is this the puppy you have been looking for? Please take a few moments to fill out our Puppy Questionnaire and send it along to us. We will review your hopes and goals for your new puppy and discuss finding the perfect puppy for you!



Socializing:





More socializing pictures:

See pup picture 1
See pup picture 2
See pup picture 3
See pup picture 4
See pup picture 5
See pup picture 6
See pup picture 7
See pup picture 8
See pup picture 9





Deep Run Farm
13727 Blackwells Mill Road
Goldvein, VA 22720

(540) 752-4710/4888 FAX (540) 752-4775 deeprunfarm@deeprunretrievers.com
Home | About | Boarding | Breeding | Puppies | Trained Dogs | Health Care
Customer Feedback
Norwich Terriers | Kudos | More Information