AFTER DEEP RUN FARM
Here are some letters and photos we received from satisfied owners
(Last names and addresses have been omitted)
From: Donna
Date: August 8, 2017
To: Phyllis Giroux
Subject: Holmes! (Charley x Glow)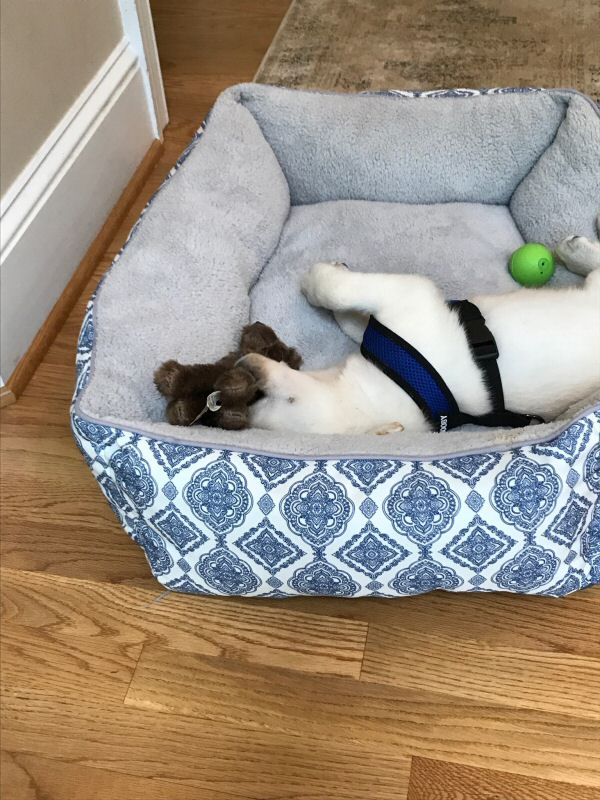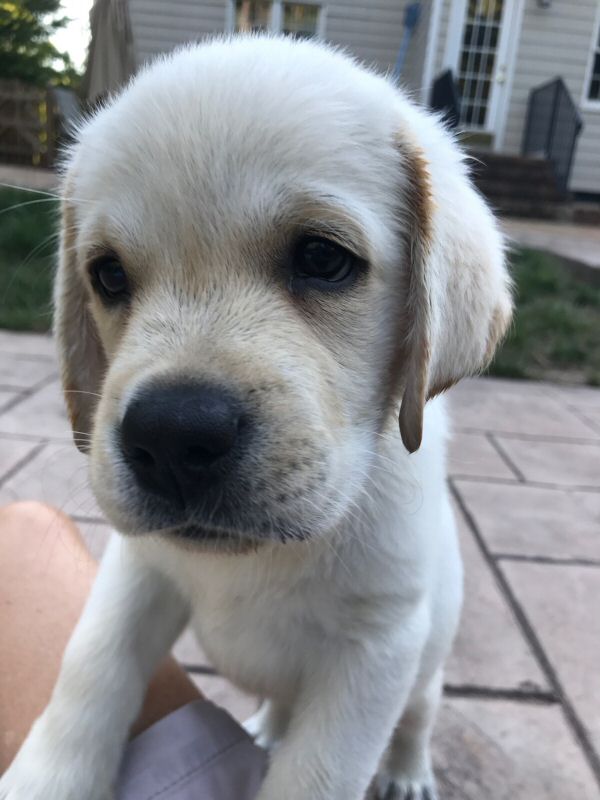 From: Sue
Date: Sun, Jul 30, 2017
Subject: Our Jonathon-Cassie Puppy
To: Phyllis Giroux

Hi, Phyllis and Kristi,
What a sweet little girl! We've named her Holly. This is an update on her first 3 days with us and some pictures.
After we picked Holly up at Deep Run on Friday morning we had a 640-mile drive back home. Because of heavy traffic, backups from two wrecks on I-85 in NC and SC, and rain off and on, it took us 12 hours to get home. We were so pleased that Holly slept most of the way in her crate and hardly ever vocalized (we stopped every two hours to let her potty and stretch).
Don't know if you've heard of the Snuggle Puppy behavioral aid toy but it has been a godsend. I read about it re: calming senior dogs if they become anxious and saw that most people buy the toy for newly adopted puppies. We got one from Amazon before we went up to get Holly, hoping the "heartbeat" and snuggly body of the toy would be soothing and make the long trip more comfortable for her.
Not only did it do that quite well, it also keeps her quiet at night and during the day when she's in the crate. She wrestles with it when she's awake and curls up next to or lies on top of it when she sleeps, mostly ignoring the other stuffed dog toy we sometimes leave in there: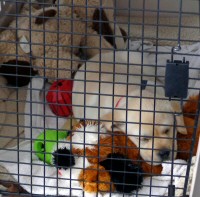 We highly recommend the Snuggle Puppy to the other folks who get your pups, especially if they have a long drive home. (Note: we take her collar off at night or if we aren't nearby when she's in the crate.)
On Saturday we picked up our two older Labs from the boarding facility and introduced them to Holly. We are so pleased with how all three dogs have gotten along.
Cody (14YO black male) doesn't want to play with her but he's very good with he. Holly has already learned not to bite him or jump all over him like she can with Casey, our 5YO female Siskel-Easy pup. Casey still has a puppy brain so she loves playing with Holly and she's gentle with her. It's so cute to watch them play in and out of the house: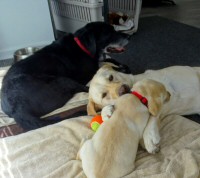 Casey teaching Holly how to "fish:"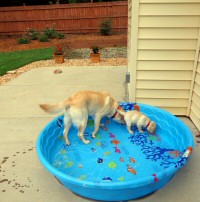 (Right after this picture was taken we filled the "pool" with water again up to Holly's belly. Both she and Casey try to catch the "fish" in the bottom of the pool when the water makes it look like they're moving. Too cute.)
They share toys well: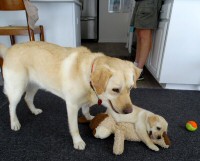 We asked for a smaller, calmer puppy and think you chose well for us. Kristi weighed Holly at 9 lb. 6 oz. on Friday, which is 3-4 lb. less than Casey Girl, our Siskel-Easy pup, weighed when we got her.
She's very lovable and playful but not hyper. She's having fun meeting neighbors and strangers as we begin to socialize her here. We took her for a golf cart ride on part of Peachtree City's extensive network of cart paths this afternoon and she garnered all sorts of attention, as only an adorable yellow Lab puppy can do! We know to keep her off the grass/paths/floors until she's had all her shots so she just sat in my lap while Jim drove and we encouraged people without dogs to pet her.
We'll take her to our vet tomorrow afternoon for her first checkup. We'll let you know if he sees anything wrong but we aren't expecting that to happen. We know you've taken excellent care of her. We love her and promise to do the same.

Thank you,
Sue and Jim



From: Philip
Date: July 28, 2017
To: Phyllis Giroux, DeepRunRet@aol.com
Subject: FEMA Canine Certification

Hi Phyllis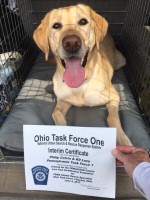 Just wanted to let you and the folks at Deep Run know that Lucy and I passed our FEMA Canine Search Certification Test today in Ohio. Lucy is from the Trip X Gypsy litter in 2013. She turned four on Friday.
She found 5 out of 5 victims during the test. It was quite hot but she did great.
Ever place we go I get comments on what a good looking dog she is from trainers and handlers all over the country. One of the evaluators today made me promise he gets first dibs if I ever give her up. That won't be happening. Let me know if you ever start cloning dogs. ??
Attached are some pictures of her today and from a USAR drill we did a month or so ago. At the drill she got to go for a helicopter ride and she did fine.
Lucy picture 2
Lucy picture 3
Lucy picture 4
Lucy picture 5
Lucy picture 6

Phil and Lucy
PA Task Force One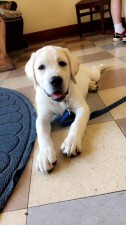 From: Catherine
Date: Thu, Jul 20, 2017
Subject: Beau at 14 weeks
To: Phyllis Giroux

Hey Kristi,
Thought you would enjoy seeing a picture of Beau at the Vet yesterday for shots. Heís such a good boy, we just love him. He weighs 33 pounds now. Have a great day!




From: cgsf
To: DeepRunRet@aol.com
Sent: 7/19/2017
Subj: Scout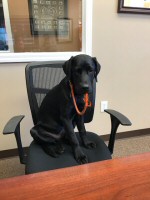 Hi Phyllis! I just wanted to thank you for breeding such a great dog! We adore Scout. He is so smart and has been very easy to train! He picks most things up in just one 10-15 minute training session! He learned hold and displayed it on command in 5 minutes and 2-3 corrections. His force fetching has been real easy too. I've done all the training myself and it has been awesome! I am very excited to get him in the dove field and duck blind soon. As you can see from the pic he still goes to the office everyday too. A real working dog! Thanks again!



From: Bobby
Date: Wed, Jul 12, 2017
Subject: Hatteras (Mad Hatter x Samantha, August 2014)
To: deeprunfarm@deeprunretrievers.com

Hello All,
I just wanted to give an update on Hatteras. He is a pup from Mad Hatter and Samantha, born in August 2014. Hatteras has a wonderfully goofy and playful personality. He loves playing games of any kind but somehow manages to stay out of trouble. He and I very much enjoy our runs in the mornings and playing fetch every evening. He loves going to the beach to play in the sand and retrieve in the water. Within the last year we decided to let him try dock diving and this has quickly become his most favorite thing to do. He participates in all three disciplines within DockDogs. He has recently earned his Senior title with DockDogs (meaning that he consistently jumps between 15' 0" and 19' 11") and has a personal best jump of 19' 3"! Thank you so much to everyone who had a hand in matching Hatteras with our family! We look forward to getting him a little brother soon!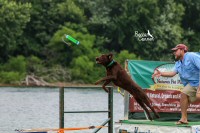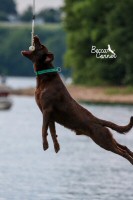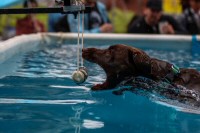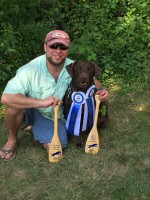 Best,
Jennifer Jackson & Bobby



From: Dana
To: DeepRunRet@aol.com
Sent: 7/3/2017
Subj: Deep Run High Kaliber SH AX MXJ 3/9/04

Hi Deep Run,
I meant to send a pic of Kali on her 13th birthday, but here are a couple from this past weekend. She is still doing well, has lost some hearing, but can still find those bumpers, her favorite activity. A little weak in her rear too, but she is still a happy girl. We just came home from two weeks on the road in the RV, and she did great.

Take care,
Dana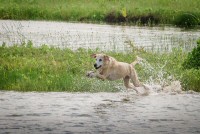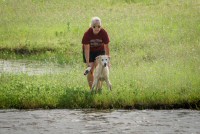 From: Catherine
Date: June 24, 2017
To: deeprunfarm@deeprunretrievers.com
Subject: Kate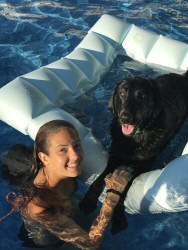 I cannot say enough times just how much we LOVE Kate. There is not a day that we are not thankful for her loving disposition. Thank you for raising such wonderful family members.

Cathy


From: JAMES
Date: May 27, 2017
To: "DeepRunRet@aol.com"
Subject: Misty Birthday, Venus/Casey Pup

Turned 4 May 23rd. People stop us on the street in Florida and ask where we got such a beautiful dog. They love her pretty head. Wonderful, calm girl! Holly and Jim. Harleysville, Pa.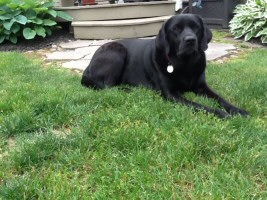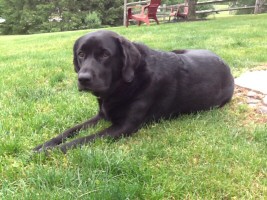 From: Scott
Date: May 15, 2017
To: "DeepRunRet@aol.com"
Subject: 'Ask Us' on DeepRunRetrievers Homepage

Hi Phyllis,
Checking in...
Harper is doing great!! She is the easiest dog I have ever trained and I have had great ones. You can see her thinking, trying to figure out exactly what I'm trying to teach her. Sit, stay (sit means stay) heel, come, kennel, place and force fetch are done and we had fun at the same time! Marking and lining now and looking forward to yet another AWESOME partner from Deep Run to hunt with this Fall. I hope six years from now to get another!!!

Have a nice summer!
Scott


From: Guy
Date: Mon, May 8, 2017
Subject: Sage
To: deeprunfarm@deeprunretrievers.com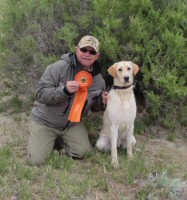 Hello!
Phyllis,
Sage (Deep Run Sierra Sage) out of Haze and Gypsy 5-24-16 passed both Junior Hunt Qualifiers at the SNRC doubleheader this last weekend. Both sets of judges complimented her as "a really fine dog".
Thanks again for such an outstanding dog! Picture attached.

Guy




From: Tim
Date: May 7, 2017
To: Phyllis Giroux
Subject: Casey/Dahlia 11/23/16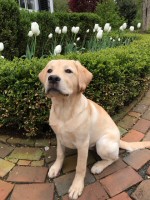 Hello!
This is Billie from the Casey/Dahlia litter. She's such a hit in NYC and is loving every moment in CT too with her two pack mates, a spaniel and terrier. Everyone that meets her comments on her calm and sweet demeanour. They can't believe she's only 5 months old. She's as good as she's beautiful!

Thank you Phyllis!




From: Lynn
Date: April 6, 2017
To: deeprunfarm@deeprunretrievers.com
Subject: Our Sweet Baby

Dear Friends @ Deep Run,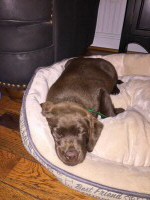 I can only imagine how it must feel to watch these beautiful creatures come into this world, take great care of them until they are 8 weeks old, then say goodbye, so I wanted to let you know that our baby 'Huck' is doing very well.
He has been introduced to all of our family, been hugged & snuggled & kissed all day, and now in his kennel with sweet dreams.
We are grateful for the new addition to our family, and promise to always take great care of him.
I've attached a few photos for you to see. Our Huck is home, and for that we are forever grateful. Huck picture 2

Sincerely,
Michael, Lynn and Family



From: Chris
Date: Fri, Mar 17, 2017
Subject: Melody
To: deeprunfarm@gmail.com

Hi Phyllis,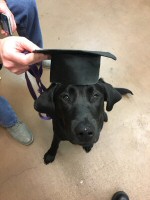 We wanted to send you a few updated pics of Melody !!
Melody picture 2
Melody picture 3
She graduated from the intermediate training class few weeks ago, she was the top dog of the class!! The trainer was very impressed with how well she did in both the puppy and intermediate classes!! She is so smart that she would be bored and the trainer would challenge her more, lol !
She loves playing ball in the snow and meeting her BFF, "Kona", at the soccer field every morning !!!
We just have a quick question, we used to give our other labs a multivitamin along with cosequin. Should we be doing that with Melody or is the glyco flex and missing link sufficient.
Thank you in advance for your advice and a SINCERE THANK YOU for giving us such an awesome dog !!
We love Melody more than words can say!

Sincerely,
Christine & Tim



From: Lisa
Date: January 17, 2017
To: DeepRunRet@aol.com
Subject: Daisy

Hi Phyllis-
I wanted to reach out and let you know how wonderful Daisy is doing and how much we love her! She gets along very well with our other dog and the two of them play constantly. Daisy has enjoyed a trip to the ocean on a dog beach and swims in my in-law's pool. She has made many neighborhood dog friends and they come over frequently for play dates in our yard. We also have dog park in the neighborhood where Daisy can run free and play. I take her for many long walks daily and she is so well behaved. Daisy sleeps in her cage and takes a few naps per day. She loves the fenced yard and likes to chew on cow hooves in the shade. My children adore her and she plays so well with them. We have taken her to the Vet and she has received her rabies shot, as well as heart worm and flea medications. We wanted to thank you so much for raising such a wonderful pup! I will send you some photos of her experiences. Thanks again!

Lisa




From: Virginia
To: deeprunfarm@deeprunretrievers.com
Sent: 1/14/2017
Subj: Rupert from a Casey-Tutti Litter

Dear Phyllis,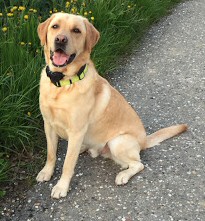 I do not know why it took me so long to write to you about how much I love my dog from one of your Casey-Tutti litters, but I am in love with Rupert.
Rupert loves everyone and everyone loves Rupert. He is such a wonderful companion to me. He loves to play with other dogs and with old soccer balls. He loves the water and the snow. He came to live in Germany with me as of Oct 2015 and he is doing very well here, too.
Thank you for this wonderful animal. Here are some pics.

Rupert picture 2
Rupert picture 3
Rupert picture 4

Kind regards,
Virginia "Ginger"



From: Will
Date: Wed, Jan 11, 2017
Subject: Miss Rosie at Three
To: deeprunfarm@gmail.com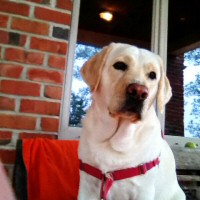 Hi Phyllis,
Miss Rosie is now three.
She is from PIA Sam and Stardust Dream.
She is a sweetheart.

Best regards,
Will




From: Robbie
Date: January 11, 2017
To: Phyllis Giroux
Subject: Update on Moose

Hey there,
Just wanted to share some pictures, and a little update on Moose (Hatter and Lailaís pup). He is doing great, and growing very fast! He is already over 40lbs, and climbing quickly. He has also been hard at work learning to become a hunting dog. Moose has got some great drive and is obsessed with birds. From the day I brought him home he has been training. I started by dragging pheasant wings around the yard and then hiding them, and he always found them very quickly. I trapped some pigeons that he learned to flush eventually. Then I broke him into gunfire while he was doing his retriever trainingÖ First by smacking wood blocks together to simulate a gunshot, then (all in one week) I went from a .22 rifle to a 20 gauge shotgun and then to a 12 gauge shotgun. He is not gun-shy at ALL. In fact he never once reacted to the wooden blocks or any of the guns. I have built up his drive quite a bit, so he is too focused on birds or retrieving to notice.

This week he got his first retrieve of a wild bird. Little did I know it would be a GIANT goose. (I made sure it was completely done moving before allowing him to go see what it was). I didnít expect him to retrieve it, but before I knew it he had grabbed onto one of the wings and dragged it back to me. It was awesome, but I am going to avoid letting him carry geese for now. I donít want to develop a hard mouth.

Yesterday I stocked some hen pheasants to take him on his first official pheasant hunt. He did great! After he flushed the pheasants, he sat there watching them fly until I shot themÖ Then he ran to where they fell and brought them right to meÖ Perfect! He is a very smart dog and definitely way ahead of his age as far as training goes. I canít wait to hunt with him more seriously next year.

My only question at the moment is about food. I have been feeding him 1 cup, 3 times a day. I read your instructions saying as the pup gets older I should be feeding him more, less frequently. When do I make the switch? He is almost 4.5 months old, and seems to be in great shape physically. I definitely want to keep him lean and healthy. At the moment he looks like he may be just slightly heavier than where he needs to be.

Thanks again, and I hope you enjoy the pictures!

Rob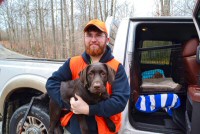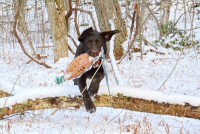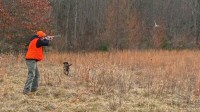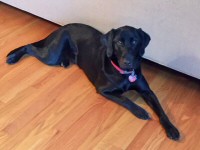 From: Kay
Date: January 3, 2017
To: deeprunfarm@deeprunretrievers.com
Subject: Pup's 1st Year

Our wonderful 1 year old from Sam and Rockette who was born January 2, 2016. Her name is Scout and she is everything lab! It's been a high energy year with lots of love!

Robert and Family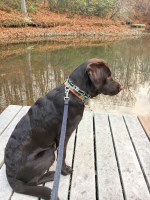 1/2/2017
Happy New Year!
Want you to know how happy we all are with Scout. He is a wonderful addition to my family.
Another Scout picture.




From: Albert
To: deeprunfarm@deeprunretrievers.com
Sent: 12/28/2016
Subj: Happy New Year!

Phyllis/Kristi,
We wanted to wish you a Happy New Year and tell you how much our family is loving our new editions Scout (now 11 months old). She has the best disposition and has been remarkably easy to train. She fits right in with our family and we canít remember a time without her. Here are some recent shots.

Thanks again,
Al, Allyson and Family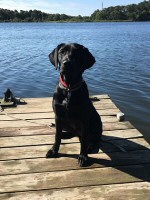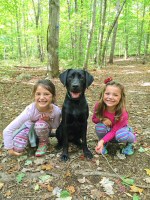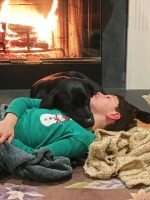 See the

page of letters and pictures from our satisifed customers







Deep Run Farm
13727 Blackwells Mill Road
Goldvein, VA 22720

(540) 752-4710/4888 FAX (540) 752-4775 deeprunfarm@deeprunretrievers.com


Home | About | Breeding | Puppies | Trained Dogs | Health Care
Customer Feedback
Norwich Terriers | Kudos | More Information