AFTER DEEP RUN FARM
Here are some letters and photos we received from satisfied owners
(Last names and addresses have been omitted)
From: Ken
Sent: Thursday, August 09, 2018
To: 'deeprunfarm@deeprunretrievers.com'
Subject: Nelson

This adorable little 5-month charmer has brought happiness and joy to our family.
Chew - Chew - Chew - is his first motto.
And Cuteness is his second ! !

Nelson loves the water in this hot weather, and right away took off swimming, using those big "flipper paws".
He loves everyone. So much in fact - that he goes off walking with other families as if they had adopted him !! Then we run and recover our little treasure - haha.
We love Nelson so much. Best decision we ever made ! ! !

Ken and Yang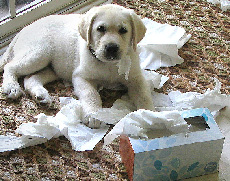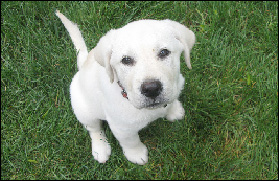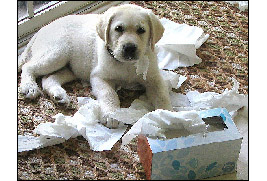 From: Sharon
Date: Wed, Aug 15, 2018
Subject: Deep Run Black Diamond---Junior Hunter (Pancho x Rain 3/7/2017)
To: deeprunfarm@deeprunretrievers.com

Hi Phyllis and Kristi,
Wanted to give you an update on "Glitter" and some pics!
Finished her JH up at Smith River, CA. Fabulous marker, down to business on the line. Had some issues with delivery in tests only so worked with Jim Dobbs' on flyers in a more test like situation and that did the trick.

She has been so much fun. Good traveler, great at home ---- fits right in. Will continue to train and hunt and play. I'd like to get an obedience title too, very flashy "heeler" and enjoys working- no matter what the venue. I just need to figure out how to get more hours in my day.

I've done the DNA testing and she is listed on CHIC. I know some of the tests were clear by parentage, but I'm a big fan of supporting the program and do the testing for my continuing education too. Will do the ortho when appropriate. She just went through her second heat cycle but I wouldn't spay her before 2 so haven't made that decision. So happy we "found" her and wanted to let you know she has a wonderful place here with us and is a very happy, healthy girl.

Best regards,
Sharon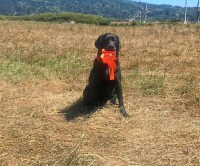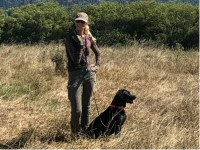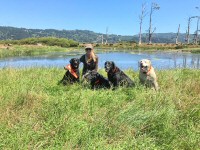 From: Joanne
Date: August 14, 2018
To: deeprunfarm@deeprunretrievers.com
Subject: Asher (Charlie/Carly) & Gus (Hero/Peach) update

Hi Deeprun - it's been a while since I've sent an update & some pictures.
Asher is now almost 2 years old (20 mos) and he is just gorgeous!! Anywhere we take him we are asked where we got him. I am always happy to let folks know where this sweet, loving, smart, stubborn and funny boy came from ??
Gus just turned 13 and he's doing so well for a senior. He does have some health issues but they are simply age related and well managed with medicine. He's just the best boy and after 13 years of his being a part of our family I am ever so grateful I came upon you when I was looking into breeders. I treasure him.
We bought a travel trailer this spring so the boys have had a very busy spring/summer visiting several campgrounds in VA as well as out of state. I like be being able to have them along with us when we get away and they enjoy the dog parks, new sights, smells, campfires and kids along the way.
There are several pictures attached which are all within the last year. I also had 2 portraits done one of Gus and one of Zeus (our boy who died in 2016). I'll eventually get one of Asher as well. The artist is amazing and these pictures do not do justice to the in person paintings of the boys.
We do have a new Vet, Dr. Dove's practice (companion animal). We are very happy there after the turmoil with our other Vet. Apparently they are familiar with you and your pups. So again, we're very happy there.
Hope you enjoy the rest of your summer, we'll be taking the boys on more trips thru the fall.
Thanks again for our amazing boys they are very loved!!

Regards,
Joanne, Chris & Tori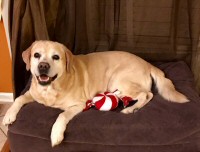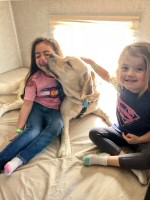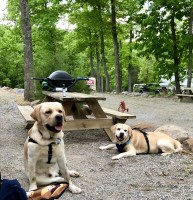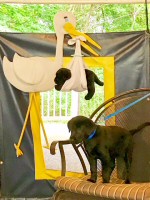 From: Eileen
Date: August 2, 2018
Subject: Puppy Shower

Old NAHRA friends the siegers from Pennsylvania recently purchased an Elvis x Rogue pup.
Looks like their friends threw a shower!




From: Renee
Date: July 14, 2018
To: deeprunfarm@deeprunretrievers.com
Subject: Cassie Earns another Title

Dear Phyllis,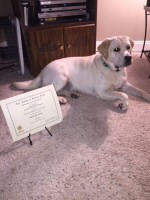 Wanted to share another update on Cassie (Casey x Gala - 8-13-17 litter). She completed her testing for Novice Trick Dog recently. She is so smart and loves to go to class and learn. She is now learning basic Agility and Rally. Later this month she will be competing in her first Novice A Rally Trial. We get so many compliments on how beautiful she is. She went on her first boat ride and loved it. Thank you for breeding such a great dog!

Renee



From: Scott
Date: July 1, 2018
To: Deep Run Farm
Subject: Pancho x Mac 3/16/18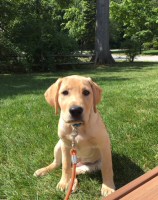 Hello all,
I thought you might enjoy seeing a photo of "Charlie" female pup born 3/16/18 (Pancho x Mac). She weighed 31 pounds on her last trip to the vet and is an absolute sweetheart. She is loved and well cared for and has a real eagerness to please.

Best Regards,
Scott



From: Elizabeth
Date: June 28, 2018
To: deeprunfarm@gmail.com
Subject: Grady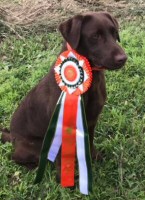 Hello Phyllis-
Today, Grady turned 1! It's hard to believe. We also wanted to let you know that last weekend he achieved his Junior Hunter Title. According to his trainer he is a spectacular dog to work with!
Will and I wanted to express how impressed we are with his breeding. He is intelligent, obedient, a driven hunter, and most importantly a great family dog. Thanks for all you do, and I hope in the future we will return for another pup.

Sincerely,
Elizabeth and Will


From: Peggy
Date: June 18, 2018
To: deeprunfarm@deeprunretrievers.com
Subject: Tuck's First Few Weeks

Phyllis and Christy
Just wanted to let you both know that Tuck (Billy and Squeezy) has settled into his new home in Williamsburg quite nicely. He is a big hit everywhere he goes - walking around the neighborhood, at the vet's office, or on his first visit to the James River for a morning swim with his big sister. Comments include "he's adorable " and "he should be on a picture postcard" which we totally agree with! He is so friendly and happy that even those who are not admitted dog lovers greet him with enthusiasm.

He likes exploring his new yard and carefully notes all of his sister Baci's favorite spots. Of course, he has to try eating everything he can find out there from mulch to flowers. Inside he takes his midday nap in the vicinity of the feeding station - just in case some food might appear. Tuck has been easy where his crate is concerned and never fusses unless he is over excited in the middle of what he thinks is playtime. He is still in the puppy crate but has gained 10 lbs already. It took him 2 days to conquer the staircase and while I find his way of jumping every other stair stressful, he goes full speed ahead trying to beat Baci down. She enjoys playing with him now that she has figured out that he is neither fearful or delicate.

We are very happy with this new addition to the household and appreciate all the thought, effort and care that is required to produce this kind of puppy. Here are a few pictures I thought you might enjoy.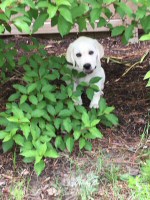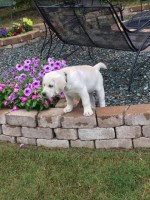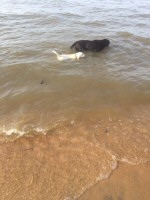 From: Dana
Date: June 18, 2018
To: DeepRunRet@aol.com
Subject: Deep Run High Kaliber SH AX MXJ 3/9/04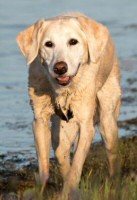 Hi Deep Run,
Kali is 14 and still enjoying life! She still chases short bumpers and loves to swim.
I have attached a pic from this weekend. Love this dog :)



From: Robert
Date: June 13, 2018
To: Phyllis Giroux deeprunfarm@gmail.com
Subject: Mazie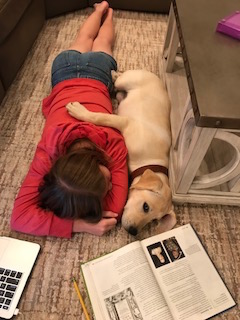 Hi there,
Quick question... we have "Mazie" from you (born January 1st 2018) and I can't find the recommendation from you as to where to spay. Our vet wants to do it now but I recall reading 18 months and that waiting was healthier for her? Is that correct?

Thanks,
Sheri
PS Sent a photo of what it's like to do "homework" around here. Marie is helpful with that. ha



From: Andrea
Date: Fri, Jun 8, 2018
Subject: Question on neutering
To: deeprunfarm@deeprunretrievers.com

Hello,
We purchased a puppy from you last August. His parents were Pancho and Effie.
He is the best boy and a perfect fit in our family! We are over the moon with him! His name is Looper.
I thought I remembered you saying not to neuter until 18 months, am I right? The paperwork says 12-14 but I want to be sure what is best.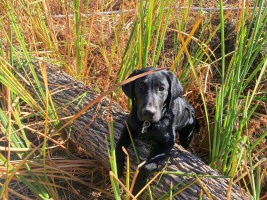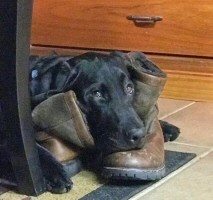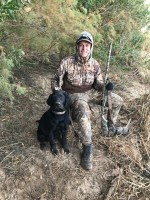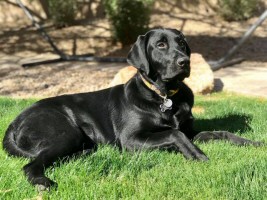 Thanks again for Looper, he's awesome!



From: Ellen
Date: June 5, 2018
To: deeprunfarm@gmail.com
Subject: Pup update - Casey & Gala pup 3/31/18

Good morning Deep Run,
Just wanted to let you know that our pup has adjusted well to his new home in Pa. His ride home from Va went smoothly. He has been kept busy and have been a good boy. He has had his first vet appointment on 6/4 and did well. We have registered his chip ordered his supplement supplies and have begun obedience training. We are looking forward to many years of fun and adventure. Thank you for all you advice and support throughout this process.
Fred and Ellie


From: Edward
Date: May 13, 2018
To: deeprunfarm@deeprunretrievers.com

Kristi,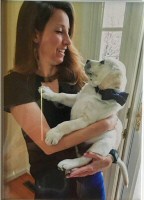 Happy Mother's Day
I just wanted to send you a picture of Kaylan and Stuart.
Both of them are very happy.
It is all so evident that everyone at Deep Run Retrievers is very dedicated and works extrememly hard.
Thanks to All of You for Everything that you do.

Best Wishes,
Ed



From: Dave
Sent: Tuesday, May 01, 2018
To: DeepRunRetrievers@gmail.com
Subject: Mud Dog

Hey Phyllis! Was looking at your web site and the pups, and thought I would send a couple photos of Beth's special boy! He had a big year at his first full year of hunting!

Thanks for all!
Dave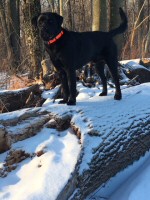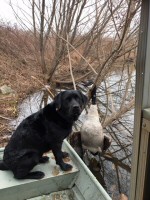 From: Amy
Date: April 30, 2018
To: deeprunfarm@gmail.com
Subject: Maggie is awesome!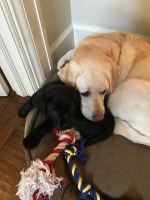 We're all in love with her and even her new sister Chloe has her sweet moments with her. She's a keeper and getting lots of love, attention and starting to learn some commands.




From: Robert
Date: Thu, Apr 26, 2018
Subject: Awesome Puppy!!
To: deeprunfarm@deeprunretrievers.com

Hi Deep Run!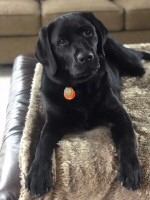 Just a quick update to let you know that Sadie (Charlie and Mercedes) is the most wonderful addition to our family. She is sweet, intelligent, caring and loves to play! She is absolutely our 4th child and couldn't have fit into our family any better. We get compliments everywhere we go, and she is our local Vet's favorite, both for her health and good looks, and, her temperament! Thank you very much for breeding such an excellent puppy!

Robert and Family



From: Lydia
To: DeepRunRet@aol.com
Sent: 3/23/2018
Subject: MACH Cork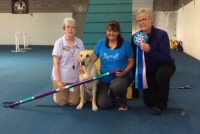 Just letting you know that Cork finished his MACH today under judge Kathy Humphreys and handled by my friend, Amy Mescher
Cork is now:
MACH Deep Run Uncorked CDX MX MXS MXJ MJS MXF

It's been a very tough road for both of us. We have both been dealing with lots of health issues. Cork had Valley Fever for over 2 years and it (and the medication) took a lot out of him. I've been battling an Achilles injury for about 4 years as well. I finally broke down and had surgery last summer but the recovery is 1 yr. I was devastated because that meant losing out on an entire year of competing in any dog sports.
My good friend, Amy (center) took over handling Cork and finished the last six double Qs we needed for the MACH. It's a true testament to Cork's temperament that he was willing and able to successfully run for another handler.
He's such an awesome dog. He's a great ambassador for the breed. I'm thankful everyday that he's in my life and look forward to the day we can compete together again

Lydia


From: Jenny
Date: March 17, 2018
To: deeprunfarm@gmail.com
Subject: Rocky!

Hi Deep Run,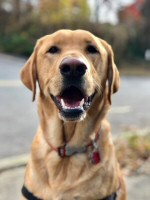 Just a quick update on Rocky (Pancho and Chanel). He is 3.5 years old and doing great. Looks more and more like Pancho every day. He is a sweet, happy boy and the mayor of our town. He has great manners and loves all people and dogs. Hope you are all well!

Rocky and Jenny



From: Katie
Date: March 16, 2018
To: deeprunfarm@deeprunretrievers.com
Subject: Porter

Dear Deep Run Farms,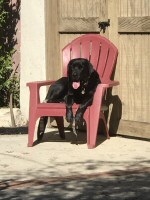 We purchased a puppy from you and our boy, Porter turns four this month. We can not express how much we adore him. He is the apple of my eye and my husband's as well. We have always been dog lovers but Porter has taught us just how deeply a dog can be loved.

He is so funny! And he's kind of a big deal at his dog park- his sportsmanship and ball catching abilities leave people speechless! It's no exaggeration- he gives it everything he's got.

He wants so much to do the right thing, there has never been a problem- wait, that's not true! We've caught him standing on the kitchen table a couple of times! It's hard to scold him because he's such a comedian we can't help but laugh at his antics. But he learns very quickly. The boy can do no wrong as far as we're concerned. He's smart as a whip and loves deeply. He is also very proud of himself, and he flaunts his awesomeness all the time!

I could go on all day, talking about him! Thank you so much for being amazing breeders. The work you do is magical! When we buy a bigger house in a couple of years, you'll be hearing from us: we would love to add another of your puppies to our family.

Best wishes,
Katie



From: Sharon
Date: March 14, 2018
To: DeepRunFarm@gmail.com
Subject: Rain x Poncho Baby

Hi Phyllis and Kristi,
I tried to send this last week, but can't find it as sent or in drafts so.......
Glitter (Deep Run Black Diamond) turned 1 on 3/7/2018! Here are some bday pics!

She is wonderful, smart, and full of herself. I saw it in her picture you posted when I purchased her!

We have 2 legs on JH, another test this weekend. Still following the Hillman training program. Takes a little longer, but I'm really enjoying it. She has a season of club pheasant hunting under her belt. Great to hunt with. "Points" at birds and we've started of with sitting to flush. She may be one of the best upland dogs we've had....don't know about ducks----I'm getting a little long in the tooth for refuge hunting! lol

She's healthy and happy and thinks CA is the bomb. Hope things are well at Deep Run. We just love her and am so happy she found a place with us.

Regards,
Sharon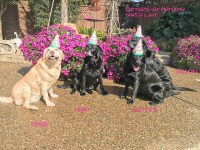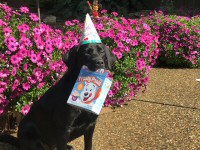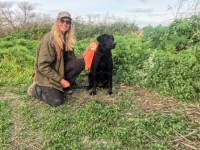 From: Renee
Date: March 13, 2018
To: deeprunfarm@deeprunretrievers.com
Subject: Update on Casey/Gala Puppy



Phyllis,
Our beautiful little puppy "Cassie" born 8-13-17 (Casey/Gala) turned 7 months old today. She is so smart and a fast learner. Tonight she tested for her Canine Good Citizen test and we are proud to say she earned her CGC title. Her registered name is Deep Run Cassandra CGC. Looking forward to our next journey with her. Thank you breeding such a great dog! We love her!!

Renee



From: Gregory
Date: Thu, Mar 8, 2018
Subject: Bailey
To: deeprunfarm@deeprunretrievers.com




This is Bailey just turned 13 weeks. Parents are Hatter and Laila. She one beautiful girl, bundle of joy.She is doing great in obedience school she is very smart. Kudos to Deep Run Farms, thank you very much!!!!!!

Greg and Dina, Erie Pa



From: Nikki
Date: February 11, 2018
To: deeprunfarm@gmail.com
Subject: Gidget's New Title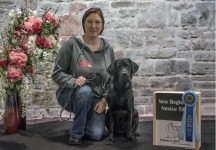 Dear Phyllis,
This girl is amazing! New Beginner novice title! First, second and third place finishes. Last Saturday, Gidget titled with a score of 196. We also got our first two legs in Rally Novice with scores of 99, and a first and second place finish. Thanks again!

Nikki
Sent from my iPhone



From: Roy-Libby
Date: February 3, 2018
To: deeprunfarm@deeprunretrievers.com
Subject: Puppy update

"Cola" (Hatter and Ruby) returning after her morning of setting decoys. Next year she will be ready. (10 weeks.)

Sent from my iPad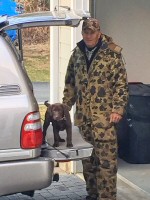 From: Steve
Date: January 27, 2018
To: Phyllis Giroux
Subject: Hoosier (Jonathon x Chanel)

We couldn't be happier with our new pup. He's been everything we could've wanted and more. Thank you so much for enabling him to be part of our family!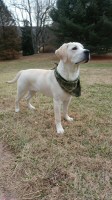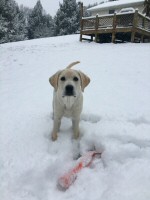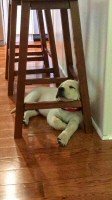 From: Curt
Date: Tue, Jan 23, 2018
Subject: Scout
To: deeprunfarm@gmail.com

Hi Phyllis,
I just wanted to send you some pics of Scout. He has had a great first hunting season. I couldn't be happier with him. He is just a wonderful dog!
Thank You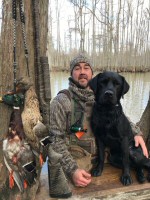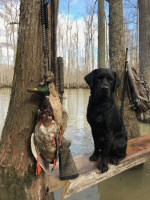 From: Bob
Date: Fri, Jan 19, 2018
Subject: Duke (Casey x Rocket)
To: "deeprunfarm@deeprunretrievers.com"

Phyllis,
Just dropping a note to say how pleased I am with Duke. 17 mos old and 85 lbs of love and waterfowl drive. At 16 mos I took him on his first quail hunt. A great day and 13 quail. He even points (nothing I trained). I hunt him in an offshore blind with. 7 ft plywood backed ladder for retrieves. Learning everyday and just getting better. Thanks for such a wonderful pup. Couple pics included.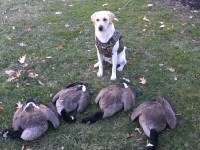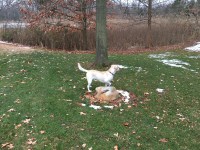 Bob


From: Tom
Date: January 10, 2018
To: deeprunfarm@gmail.com
Subject: Deep Run Dapper Trapper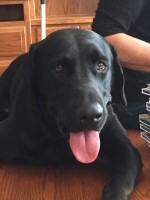 Phyllis/Kristi - Trapper (Howdy/Neely 07/09/2016) is doing magnificently at 18 months. He is healthy, smart, handsome, and the love of our lives! Those getting pups from the new litter will be absolutely pleased!
All the best!
Tom and Gail




From: Susan
Date: Tue, Jan 9, 2018
Subject: Duck
To: deeprunfarm@deeprunretrievers.com

Good morning,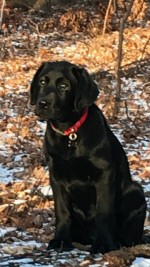 Wanted to send a quick note to let you know we are totally in love with 'Duck'.
She is everything we could have hoped for.
She has spent countless hours in the woods near our house and has already made a visit to the beach.
Thank you so much for helping us connect with her,

Susan


From: Dory
Date: Fri, Jan 5, 2018
Subject: Milly at six months
To: Phyllis Giroux deeprunfarm@gmail.com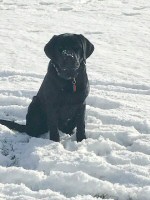 Hello and Happy New Year. Milly (Casey/Mac litter born June 22, 2017) is pictured here at age six months at the end of December where she enjoyed several days running around in the snow in West Virginia. I hope all is well at Deep Run Farm despite the frigid temperatures.

Sincerely,
Dory



From: Sharon
Date: January 1, 2018
To: Deep Run Farm - deeprunfarm@deeprunretrievers.com
Subject: Sara (Pancho x Fly litter 7/28/12)
Hello Phyllis!

Sara (C-ATCH2 Deep Run Sweet Serendipity FDX) raced in her first Flyball tournament in Boothbay Harbor ME last month and earned her first 2 flyball titles, FD and FDX. It's impossible to tell which she likes better, agility or flyball, she approaches both sports with such enthusiasm and amazing focus. People always ask me "is there anything she DOESN'T love to do?" and I have to say no. She just truly loves to work. She is an exceptional working dog, and such a joy to live with, happy to curl up on the couch until it's time to play, work or just go for a nice hike. She has exceptional manners with both dogs and people and I couldn't be happier with her. I can't believe 5 years have gone by. I am so thankful I came to you for this pup and you selected her for me.
Sharon and Sara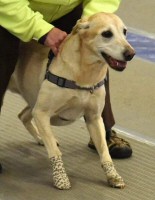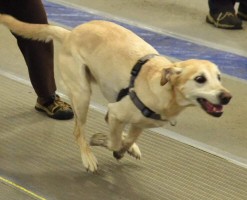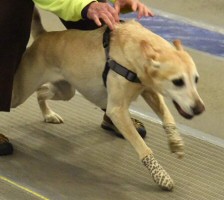 From: Sid
Date: January 1, 2018
To: deeprunfarm@deeprunretrievers.com
Subject: Jessie

Deep Run team,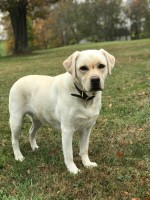 We've been meaning to send you some photos of Jessie in action. Jessie (Casey x Paris on 9/12/11) is 73 lbs., an absolute delight, and is complimented everywhere she goes. While she enjoys being out and about on our farm, her favorite activity is upland hunting, which we describe to others as Jessie's vacations., and swimming. We're at the stage of thinking about another pup and will be sure to return to Deep Run. You will see Jessie this year when she boards with you, as always. Have a happy new year.
See Jessie picture 2.


See the

page of letters and pictures from our satisifed customers

Deep Run Farm
13727 Blackwells Mill Road
Goldvein, VA 22720

(540) 752-4710/4888 FAX (540) 752-4775 deeprunfarm@deeprunretrievers.com

Home | About | Breeding | Puppies | Trained Dogs | Health Care
Customer Feedback
Norwich Terriers | Kudos | More Information