AFTER DEEP RUN FARM
Here are some letters and photos we received from satisfied owners
(Last names and addresses have been omitted)
From: Frances
Date: Thu, May 16, 2019
Subject: Pickup day for the newest addition - who we are naming Poppy :)
To: Phyllis Giroux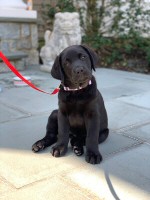 Hi Kristi and Phyllis -
Our new puppy (Apple pup), will be named Poppy.
Here are a couple pictures of Glory and older sister Pearl - who are best friends already!

Thank you so much.!
Fran & Tara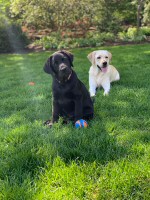 From: Elke
Date: Tue, May 14, 2019
Subject: Bear
To: deeprunfarm@gmail.com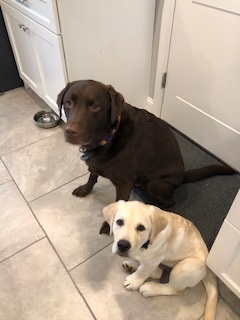 Thank you for picking the perfect puppy to join our family. Bear is a joy to be around and his big brother Baxter enjoys his company.

Thanks
Elke



From: Guy
Date: May 9, 2019
To: Deeprunfarm@gmail.com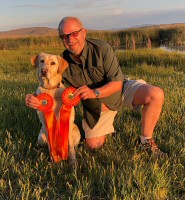 Id like to give you an update on Deep Run Sierra Sage (Sage) my second wonderful lab from you out of Deep Run Moondog and Deep Run Gypsy Gold. She's terrific on ducks, pheasants and chukar and she just completed her Senior Hunter Title and will start Masters this month. Here's a picture of her and her proud papa.

Guy




From: Barbara
Date: Tue, Apr 30, 2019
Subject: Hello from a happy owner
To: deeprunfarm@deeprunretrievers.com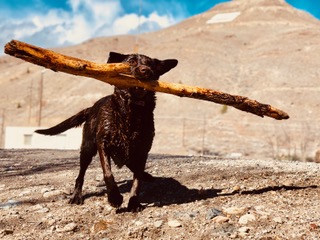 Hi,
I just ran across your paperwork from nearly 6 years ago, when I bought a chocolate puppy from you. (Deep Run Mad Hatter, JH X Deep Run Hustle Russell). I wanted to say how happy I have been, and what a great companion I have. We don't hunt, but "Reuben Pumpernickel of Sandwich, a.k.a. Ruby" and I camp and run and swim and have a jolly time together.
Here is a recent favorite photo.
Thank you very much!
Best,
Barbara




From: Lydia
Date: April 28, 2019
To: deeprunfarm@gmail.com
Subject: PACH Cork

Just letting you know that Cork finished his PACH on Friday. He is now MACH PACH Deep Run Uncorked CDX MXS MJS MXP3 MXPB MJP3 MJPB MXF PAX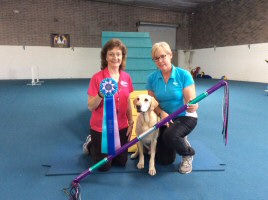 From: Yehl, Chelsea, Colleen
Date: Thu, Apr 11, 2019
Subject: Thank you!
To: deeprunfarm@deeprunretrievers.com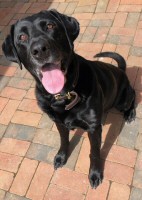 Whelped 9 years ago today! We love our Deputy Dog from Deep Run! He is still a hunting machine (ducks, pheasants) and loves to run too. He even loves his baby sister too.

As always, thank you so much!



From: Eileen
Date: Sat, Mar 23, 2019
Subject: "Deep Run Blue Suede Shoes"
To: deeprunfarm@gmail.com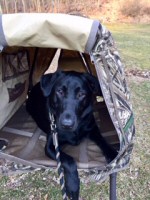 Elvis x Rogue - May 31, 2018
Adore this pup!
Thanks, Phyllis and Deep Run

Eileen and John




From: Paula
Date: Thu, Mar 21, 2019
Subject: Jacobi
To: deeprunfarm@deeprunretrievers.com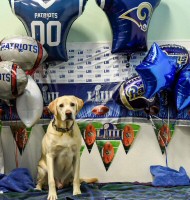 This is our beloved Jacobi. We absolutely adore him. I have purchased 3 retrievers from this family unit. We have loved each and everyone of them. They are the sweetest most lovable dogs. My children grew up with them . Now my grandchildren are totally in love with Jacobi.

Thank you,
Paula




From: Renee
To: deeprunfarm@deeprunretrievers.com
Sent: 2/24/2019
Subject: Cassie continues to excel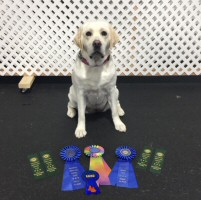 Another great Rally weekend for Deep Run Cassandra RE TKN CGC (Casey x Gala). She earned her Rally Excellence title and first leg of RAE this weekend. She also competed for the first time in Obedience Novice A and got a 1st Place. We always get so many compliments on her with her beautiful looks and super kind expression. She has a busy Rally schedule for March, along with her agility training. Can never say thank you enough for breeding such a wonderful dog!

PS... she did qualify for AKC Rally Nationals 2019 in Novice but too far to travel. Hopefully next year!
Renee' and Gary

"Success is the ability to go from one failure to another without the loss of enthusiasm" -Winston Churchill





From: Scott
Date: March 14, 2019
To: "DeepRunRet@aol.com"
Subject: Checking in!

Hi Phyllis,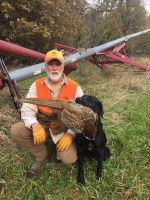 Happy Spring!
Just checking in to let you know how much we love Harper! She is sooo easy to train and couldn't be a better family member. We rarely miss a day getting out for training/playing.
Tim Secor and I have pheasant hunted in Iowa for the last 20 or so years (the hat in the picture has been worn every year) and Harper is something special. A well trained dog not only while in the field but also around other hunters, farmers, the hotel, truck stops etc.. makes for a truly fun and relaxing experience. Tim and I are getting older but chasing the roosters with Deep Run dogs every fall has been one of life's treasures!
Harper will be 3 this summer and in about 3 years I'll plan to get another. Tim will be looking for another soon as well! If you decide to hang up your whistle before then let me know!
Thanks again for yet another wonderfully perfect dog!

Scott





From: Chuck
To: deeprunfarm@deeprunretrievers.com
Sent: 3/13/2019
Subject: Dulci (GMHR Deep Run After Six X Teran's Kiss the Blarney Stone, 4/18/2007)

Hi Phyllis,
Monday afternoon we took Dulci (Dulcinea) for her final visit to the vet. She was about a month shy of 12 years old. Liver and gall bladder troubles came on very suddenly and began shutting down. She started refusing all food in spite of the meds we had been giving her. She quickly became uncomfortable and not her usual self. The vet clinic was great and it was a very quick and painless procedure. Things have been quiet and subdued around here since then, as you can imagine.

Amongst a breed of dogs known for their gentleness, Dulci was the gentlest of all. She was a good hunter and a true athlete. I couldn't begin to calculate the number of hunts, hikes, canoe rides and other adventures we've had together. She was a loyal friend and had survived a rattlesnake bite at 4 months old and a complete knee operation 4 years ago. As old as she was, she was able to do a couple of short bird hunts just this past fall. The energy and spirit were still there and never left her.

You may remember Bill Tait from South Africa. Bill helped me get started with Labradors when I lived in SA years ago. He was a mentor and good friend. In South Africa, there is a saying among the gun dog community that their dogs cross over the rainbow bridge and will be waiting for us at the other end. I have no idea where God will send me when it is my turn, but I sure want it to be someplace where dogs are. BTW - Bill has been diagnosed with terminal cancer and now is in the care of Hospice. I'm sure any thoughts and prayers sent his way would be appreciated.

I thought you should know that Dulci turned out to be a pretty darn good dog and will be missed.

All the best,
Chuck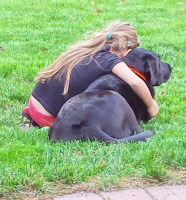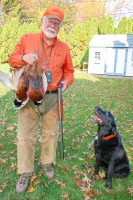 From: Shelley
Date: Sun, Mar 10, 2019
Subject: Rey and Mesa
To: deeprunfarm@gmail.com

Hi Kristi!! Just thought I'd send a few photos. These two are inseparable! Thanks for having such wonderful dogs!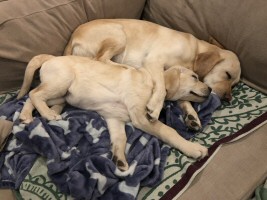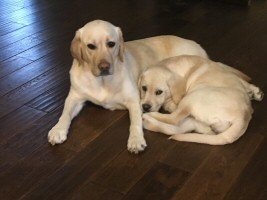 From: Dana
To: deeprunret@aol.com
Sent: 3/3/2019
Subject: Deep Run High Kaliber SH AX MXJ 3/9/04 - 02/22/19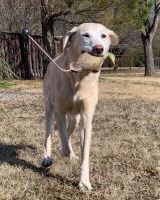 We said goodbye to Kali last week just 2 weeks shy of her 15th birthday.

I have a huge hole in my heart that she took with her, I miss her every day, but so grateful to have been able to spend so many years with her. She was happy and chasing bumpers til the end, the attached picture is from about a month ago.

Thanks again for the great pup,
Dana






From: Hunter
Date: February 16, 2019
To: deeprunfarm@gmail.com
Subject: Screenshot 2019-02-16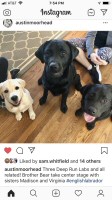 From: Adam
Date: January 27, 2019
To: deeprunfarm@deeprunretrievers.com
Subject: Boomerang

Hi, Deep Run:
Just over 11 years ago, we adopted our sweet Boomerang from you. I'm writing to say that he passed on at the age of 11 1/2, on January 19, 2019. He was a wonderful, wonderful companion to all of us, and had a fantastic life.
I've attached a few pics of him through the years, from the very first picture you sent us before we came down to adopt him up until he was an old grey man getting snuggles on the couch from his dad.
Thanks for bringing him into our lives.

Sincerely,
Adam, Leslie, and Tyler (and Maggie the Mastiff, his little sister)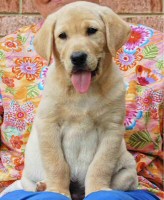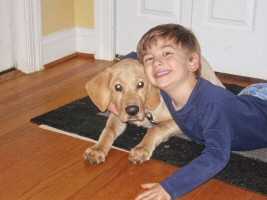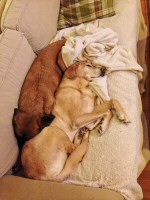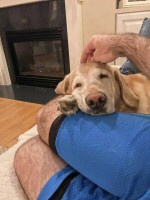 From: Joy
Date: January 26, 2019
To: Phyllis Giroux - deeprunret@aol.com
Subject: Sonny

Phyllis,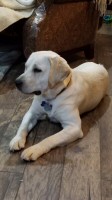 I hope you are well. Just wanted to send you a few pictures. Sonny is doing great. He and Blu are great friends. They both have such wonderful personalities and get along so well. Sonny is such a happy boy. He cracks us up with his limitless energy. I need to get him on video, trying to sit obediently and yet wiggling all over.

Thank you so much for him. Absolutely beautiful boy!
Joy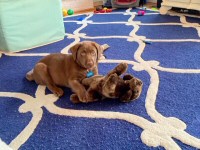 From: John
Date: Thu, Jan 24, 2019
Subject: His twin stuffed animal
To: deeprunfarm@gmail.com

John
Please excuse the brevity, sent from mobile device.





From: John
Date: January 24, 2019
To: Phyllis Giroux - deeprunfarm@gmail.com
Subject: Kona

Hello Phyllis, we have now had Kona for 3 weeks and I just wanted to send you a note and tell you how thrilled we are. He is joy. He is definitely still a puppy but he truly has the best disposition. I know you don't need any endorsements but I wanted to share how happy we are with our Deep Run Retriever, Kona.

Thank you,
John





From: Curt
Date: Tue, Jan 22, 2019
Subject: Update on Scout
To: deeprunfarm@gmail.com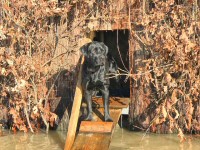 Hi Phyllis,
I bought my pup Scout from you two years ago and brought him home to KY. I have not sent you an update in quite a while! Scout has been great to train. I have personally done all of his training from force-fetch to running blinds. He has been in about every hunting situation I can think to put him in by now and has performed very well. He can do anything from long blind water retrieves to water and land doubles. He is by far the best marking dog I've ever had. He will not "short hunt" any mark you can give him no matter how far (I've tried to fool him)! He is the poster child of what an English Lab should look like too! Most of all he is part of our family and gets to go to the office with me daily. He doesn't leave my side. I will be ready to come back for another pup soon! Thank you, Curt





From: David
Date: January 20, 2019
To: Phyllis Giroux at deeprunret@aol.com
Subject: Willow Update (Casey x Apple, Born October 2018)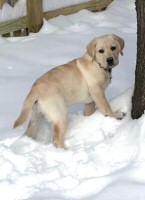 Hi Kristi and Phyllis - a Willow update! She is still doing great. At almost 3.5 months, she is 28 lbs and 100% house broken, goes to the back door when it's time "to go" and already knows several commands. She has tons of personality and is very smart. She really has been enjoying the snowy weather (see photos attached) and I plan to take her swimming soon (indoors) to get her acclimated to water.

Thanks again! More updates soon!
Sincerely,
David





From: Talmage
Date: Sat, Jan 12, 2019
To: deeprunfarm@gmail.com

Phyllis, I wanted to share a few pictures of Scout. He will turn three on March 10th. He is a wonderful dog with such a great personality and friendliness. He has become an important part of my family, particularly with my grandchildren. Talmage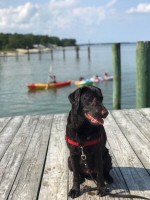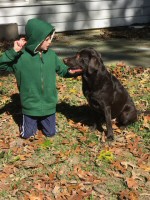 From: David
Date: January 9, 2019
To: Phyllis Giroux - deeprunfarm@gmail.com
Subject: Bo at 6 Months!

Hello Deep Run Farm,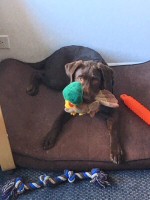 I wanted to provide an update on "Bo", who is 6 months old today. I have been so pleased with him and I'm so happy that I came across your organization. He's been a great pup since the day I picked him up; great temperament, healthy, and an all around good looking dog. I receive compliments from family and friends all the time, along with other dog owners who we've met at the dog park. Thank you for everything that you've done since I reached out on Day 1. You were professional and responsive throughout the process, and made my overall experience very pleasant. Here are some pictures of Bo at 6 months, thanks again for everything!

Dave




From: Denise
Date: Tue, Jan 8, 2019
Subject: Tugg son of Mad Hatter and Beyoncé best dog ever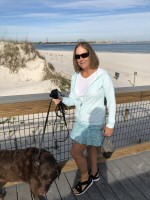 From: Kevin
Date: Sun, Jan 6, 2019
Subject: Re: Puppy Deposit Information
To: Phyllis Giroux deeprunfarm@gmail.com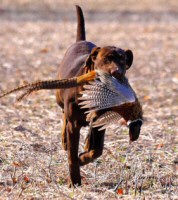 Just wanted to let you know that Cheeca is doing great! She's still hard headed and is 150% puppy that loves to lay in my lap like a baby but she loves to swim and retrieve like a champ! She's a great family dog. My 8 month old grandson sat next to her ripping and pulling on her and she just laid there and enjoyed it. Always friendly with people and turning out to be a great hunting companion. We couldn't have asked for more!




From: deeprunfarm@gmail.com
To: deeprunret@aol.com
Sent: 1/4/2019
Subject: Fwd: DR SUPERMAX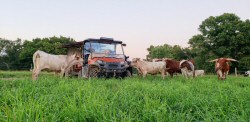 in our lives.







See the

page of letters and pictures from our satisifed customers







Deep Run Farm
13727 Blackwells Mill Road
Goldvein, VA 22720

(540) 752-4710/4888 FAX (540) 752-4775 deeprunfarm@deeprunretrievers.com


Home | About | Breeding | Puppies | Trained Dogs | Health Care
Customer Feedback
Norwich Terriers | Kudos | More Information