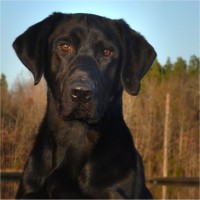 Bingo
(click for large picture)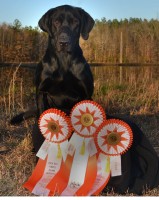 Bingo is a big black handsome All American Field Bred dog. He is an amazing marker, and a bold and stylish working dog. Bingo turned two in October 2015.
His sire, NAFC FC AFC Cody's Cut a Lean Grade, 2011 National Amateur Field Champion and sire of 2012 NAFC Paddle Creek's Pack Your Grip and 2015 NFC AFC Keeno's Gizmo.
Bingo is a sweet and affectionate dog, possesses boundless enthusiasm and the sparkle that makes him a delight to train. Bingo completed his Senior Hunter Title with five consecutive passes and went of to quickly finish his Master Title.

Bingo will continue his training and will be running in Qualified All Age stakes. To date, he has finished 50% of his trials, earning 2 JAMs and a 4th place.

Here is a link to Bingo's OFA page.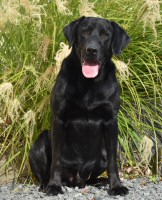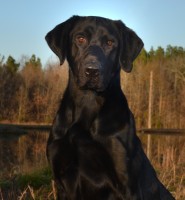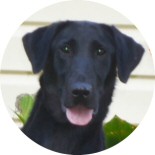 Rogue
(click for large picture)
Rogue is a 60 pound black female from excellent Field Trial lines. Rogue does carry yellow. She is a well mannered exceptionally talented dog with excellent marking skills. She is a to train and to compete with.

Her sire, FC AFC KPR's Wet Willie, is a handsome yellow male who achieved 51 Derby points, and his FC and AFC titles by the age of 3.
Her dam Gosswood's Going Rogue QAA, completed 5 of the 8 Derbies she ran, and was QAA by the age of 3.

Rogue has completed every Hunt Test in which she was entered, and completed her Senior and Master Hunter Titles in ten events. After this litter, Rogue will be running in field trials.

Rogue is OFA Good, Elbows, Patellas, Eyes and Dentition normal. EIC and CNM clear, OFA Cardiac clearance by Echo.
Here is a link to Rogue's OFA page.