AFTER DEEP RUN FARM
Here are some more letters and photos we received from satisfied owners
(Last names and addresses have been omitted)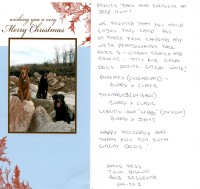 12/22/2011 We were delighted to receive this card from three active members of Pennsylvania Task Force One. These dogs are critical in efforts to locate and save victims in times of disaster and national emergency. We are grateful to the Handlers of the dogs, as well as the dogs, for their hours of dedication, training, and public service. Deep Run Farm salutes you and is proud to be a part of the program.




From: rbaughman
To: deeprunfarm@deeprunretrievers.com
Sent: 12/7/2011
Subj: Deep Run's Little Duke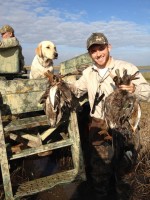 Thought I would send you a couple of photo's of Duke's (yellow male from Sam/Pepper litter) first duck hunt at 10 months old. At 82 pounds, its hard to call him a pup, but he continues to amaze me with how quick he learns and adapts to new situations. He got it all on this trip…boat, marsh buggy, blind, decoys, more shooting than was necessary and a full limit of ducks.
See Duke picture 2




From: Randy
To: deeprunret@aol.com
Sent: 11/8/2011
Subj: Happy in South Dakota (Deep Run Happy Hour is a son of GMHR Deep Run After Six MH)

Good afternoon Phyllis,
I returned from South Dakota early this morning, spent three great days hunting on a farm in Miller SD. I took Happy this year and he did fantastic. The farm has their own dogs they use for pushing the birds thru the field and flushing so Happy and I blocked along with one of their dogs. Happy had numerous marked retrieves, most were long and one was well over 100 yards, probably closer to 150 yards and as you would expect all were straight to the fall and back with the bird. We limited out each day, the attached group shot is the results of our push though the fina l field to fill out the three day quota.
No chance to blind retrieves, even if the opportunity would have presented itself it would have been impossible as the winds were a sustained 20 mph with gusts well above that so handling would have been out of the question as the dogs could not have heard a whistle.
The attached pictures are not the best quality but if you look hard enough you can see a smile on Happy's face, you and Jack would have been proud of him.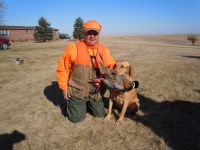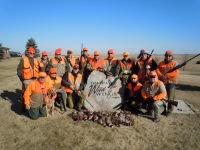 Regards,
Randy


From: frank
To: deeprunfarm@deeprunretrievers.com
Sent: 10/21/2011
Subj: Amber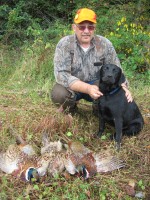 Phyllis, it has been 6 months from when we picked a pup that you shipped to us. She is out of a litter that was born in March of this year out of Sam and Modonna. I cannot tell how wonderful she is a great pup and a pleasure to have her as part of our family.
She has been so easy to train and is great with all of my grand children, an as you can see she was very successful on her first hunt at 6 months, I think she will be the best of all the dogs I have had over the years. Thank you for breeding such a outstanding pup.

Frank


From: Dawn
To: DeepRunRet@aol.com
Sent: 10/12/2011
Subj: Remi Update

Good Afternoon Deep Run Farm!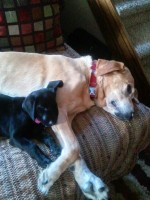 I just wanted to drop you a line and send in some pictures of Remi (Remi is from our recent Elvis x Star frozen semen litter.) She is doing wonderfully and if you can believe this, she is pretty much already whistle trained. I cannot believe just how easy she is to train! We were house broken in just less than 2 days, she even taught Gus to ring the bell on the door to go outside. Gus has been very patient with the little one, as she is constantly chewing on his ears and neck and wanting to play, I am amazed at how well he has been with her.
Another Remi picture
Remi gets dropped off at a friend of mines during the day while I am at work and she herself has 3 labs that she runs in AKC Field Trials and 2 of which are outside working with Pros, so she very much enjoys her days with Remi. She is also very impressed with her behavior, temperament, and how easy she is to work with. I am currently looking for a puppy school to take her too. Although Paula is doing wonders with her!
Again, I cannot thank you enough for this little gem! She has had a huge healing effect with me and my family, as far as losing my 10 year old Jack. Thank you again!

Dawn


From: Rob
To: deeprunfarm@deeprunretrievers.com
Sent: 9/4/2011
Subj: A BIG thank you for a spectacular dog. Rocky and Giggles

Jack and Phyllis: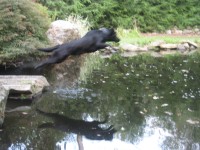 Just quickly, Coorah has just turned 11 months old. She had big shoes to fill to replace another lab who was with me for 14.5 years and did everything from hunting to just plain socializing. Excelling in all aspects. Having done extensive research and receiving lots of recommendations I was convinced Deep Run would replace that huge gap in my life. My questionnaire for what I wanted in a dog was.. let's say detailed. The evaluation of the Rocky and Giggles litter by you to provide that dog for me was spot on in picking that female pup, Coorah ( Australian aborigine word for woman). She is a terror outdoors with enthusiasm and willingness to match. Indoors the off switch comes on automatically and she is a pleasure to have around. A water dog and strong swimmer is an understatement. I have attached a picture of her doing her favorite thing, water retrieval. I cannot wait for the bird hunting season.

Rob


From: Tom and Bob
To: deeprunfarm@deeprunretrievers.com
Sent: 9/3/2011
Subj: PA-TF1 Cainines

Phyllis: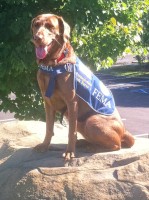 We wanted to update you on work just completed by two sisters from the Buddy x Claire litter of 1/2009. Phoenix and Thunder II just completed their first FEMA urban search and rescue mission in response to hurricaine Irene. The sisters worked in the village of Breakabeen NY. Attached are a few photo's from the mission.
Picture 2
Picture 3
Picture 4

Thank you for the fine job you do at Deep Run Farm !

Tom & Bob
Pennsylvania Task Force 1
FEMA Urban Search & Rescue


From: Lisa
To: DeepRunRet@aol.com
Sent: 8/31/2011
Subj: Clyde photos and a question about dog food

Hi Phyllis and Elizabeth,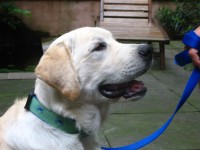 Just wanted to let you know how much we are enjoying Clyde as he approaches his 5 month birthday! We couldn't have imagined a better companion! He's very mellow, eager to please, and just a joy to be around in general. He absolutely LOVES going to the beach, swimming, and retrieving his bumper and tennis ball. He graduated from Kinderpuppy Class last week and actually won an award for "most sits in one minute" and got a diploma! I've attached a couple of photos for you - he is SO handsome, as you can see, and we get stopped at least once a day by people asking where we got him! We'll have to put him on the Deep Run Farm sales team :)
See Clyde picture 2
See Clyde picture 3
See Clyde picture 4

I did have a question for you as well about the puppy food. My vet suggested switching to the large breed formula puppy food as he nears his 6 month birthday while you suggest the regular puppy growth formula. Does the large breed puppy formula have any advantages for him or is it just marketing?
Hope you all fared well with the recent earthquake and Irene! We luckily dodged a bullet here!

Take care,
Lisa


From: Christopher
To: deeprunfarm@deeprunretrievers.com
Sent: 7/17/2011
Subj: Updated Puppy News - Gunner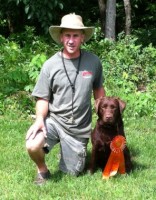 Dear Deep Run Farms,
I just wanted to let you know our dog, Gunner, from the Nov 2009 letter of Windy and Magic, earned his Junior Hunt title in early June. He is a wonderful dog and family companion. I have had him trained by Nick Hall of Nick Hall Kennels in St. Charles, MO.
At 19 months, he earned his JH title by passing his fourth leg. He passed all four legs consecutively at events in TN, MO, AR and IA. All the judges commented on his disposition and good nature. We are contemplating starting his senior title this fall. Don't want to push him too hard.
I also had a great hunting season with him last fall. He did a great job and we can't wait to hunt this coming fall together. A few pictures to brag about our puppy. Nick Hall is in the one with his final ribbon.
Thanks for a wonderful dog from a great kennel….have a great day…

Sincerely,
Christopher



From: Diane
To: deeprunret@aol.com
Sent: 6/11/2011
Subj: Two Deep Run Dogs

Gidget and Quiz are both Elvis/Risky pups. Now 9 and 5 years old. Here was our latest escape, a just for fun class:
Diane with Gidget and Quiz

Diane


From: rbaughman
To: deeprunfarm@deeprunretrievers.com
Sent: 6/2/2011
Subj: Deep Run's Little Duke

Thought I would drop you a short note to let you know how Duke was adjusting to Texas (yellow male out of Sam and Pepper litter). Duke is an awesome puppy. He is very handsome, loves the water, is retrieving well, and is a joy to train. His instincts are excellent and early indications are he is very smart. He picks up on commands quickly and it is amazing to watch him problem solve on his own when he is just playing in the back yard. He has quickly become a member of our family. My only problem so far is trying to keep my wife from spoiling him…they are very tight.
Looking forward to some light hunting when the season starts in November, but here are a few pictures of his time in Texas so far.
Duke picture 1
Duke picture 2
Duke picture 3
Duke picture 4



From: Tim
To: deeprunfarm@deeprunretrievers.com
Sent: 5/9/2011
Subj: My dog, Tilly

Hi, Phyllis and Jack.
I purchased a chocolate field lab puppy (and some training) from you almost 12 years ago. I named her Tilly (Matilda Emmabelle). She was a GREAT dog. (You may recall that I moved from the DC area to Chicago when Tilly was about 2.) She passed away on May 2 from cancer and lymphoma. She went quickly and died at home with me by her side. She was a Rider x Sis (Sister of Mercy) pup, born on May 11, 1999. Except for the symptoms she began to show about a month ago, she seemed in fantastic shape; nobody could believe she was almost 12. She was well known throughout the neighborhood for her sweet, inquisitive and treat mongering ways. My sorrow over her loss is shared by family, friends, dog walkers, store proprietors and Starbucks regulars (and some drinking establishment regulars, too); in short, she made an impression on everybody who knew her. I shall always miss her, I am sure. I have attached a couple pictures.
Tilly picture 1
Tilly picture 2
I hope you two are well and that Deep Run is going strong. Who knows...I may someday be inquiring about chocolate female pups again.

Best,
Tim


From: Jean
To: deeprunfarm@deeprunretrievers.com
Sent: 5/13/2011
Subj: Mabel

Dear Phyllis,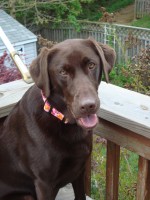 My name is Jean and I bought my chocolate lab puppy, Mabel, from you 2 years ago. She is from a Buddy - Dora litter. She just turned 2 on April 27th. As I told you when I emailed last year, Mabel and I exercise everyday, whether it is walking, running, hiking, swimming or just chasing a tennis ball. She can keep up with whatever activity I choose to do on any given day. She also has a group of friends she plays with on Saturday or Sunday every week, approximately 15 dogs and their owners. We gather at 8am on the weekends and let the dogs play, walk, run and swim at a local high school. She is the smallest lab there, only weighing 48 pounds, but is also the fastest of all the dogs. She can out run any dog and is the cutest thing I have ever seen. I spoil her rotten and so does everyone that comes into contact with her. They can't believe how athletic, cute and smart she is. Its like having another person around. During the weekday, my dad picks her up and takes her for long walks, runs and swims a couple times a week. They are truly attached to one another. Both of my parents adore her and spoil her too. However, her best friend is her cousin Ben, my brothers dog, who is a 100 lb english yellow lab. They play a lot and adore one another.
I wanted to thank you yet again for breeding such wonderful dogs. I am so thankful to have Mabel and proud to call her mine. She is everything I ever wanted. Thank you so much and I will be in touch next year with another photo. Until then, keep up the good work.

Jean


This pup was sold to help locate and retrieve antlers on his own. We started his early training here.
From: Jim
To: deeprunret@aol.com
Sent: 5/10/2011
Subj: Fwd: antler dog photos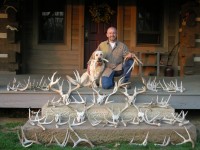 "Hi Jim, Sorry this took a while but I wanted to wait till the grass was green for a better picture. Tell your vet that we love our dog and that she is welcome to use the pictures however she wants. Can you send me a quick reply to let me know you got this. Thanks, Shane."

Jim



From: Jimmy
To: DeepRunRet@aol.com
Sent: 5/9/2011
Subj: Zeppelin!

I had promised you a few photos the last time we spoke.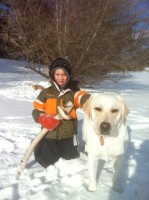 Pic 2
Pic 3
Pic 4
Pic 5
I cannot say enough, what a sweet gentle soul he is.
A friend of ours took care of him while we went on a vacation, on the Friday we were do home, she went out to her car and cried because she realized she was done watching him.
And yes we gave her your information!
Hope all is well down at Deep Run.

Jimmy


From: fmw
To: deeprunfarm@deeprunretrievers.com
Sent: 5/5/2011
Subj: Dash Rip Rocket

Dash Rip Rocket(TuttixHombre) recently celebrated his first birthday in April. Thought you might enjoy a pic of this fine looking pup. He is everything we could ask for loving, smart, and obedient. Such a desire to please. We are certainly are enjoying him, and are so proud to have him here with us.
His playmate Josie, our six year old rescue is ,however ,very happy he is getting older and wiser every day. She has been very patient lol! Thanks so much for giving us the opportunity to love this magnificent creature. He is awesome!


From: Lysa
To: deeprunfarm@aol.com
Sent: 5/1/2011
Subj: Re: Puppy Papers

I was posting a video of the puppy (Mayhem) that we recently got from you (Sam x Pepper 2/11) and thought I would share with you. The other black lab in the video is from Buddy x Star 2/08 (Mischief). We LOVE our Deep Run Retrievers!
See our video

Thanks!
Lysa & Michael


From: Sam
To: deeprunfarm@deeprunretrievers.com
Sent: 4/21/2011
Subj: Puppy from Sam/ Hannah litter of 10/30/08

Dear Phyllis and Jack,
I have been meaning to write you for some time and let you know how completely satisfied I am with Millie. She is EXACTLY what I outlined in my puppy questionaire. She is awesome in the hunt field; steady, intelligent, well mannered, enthusiastic, and strong. She does not slow down in cold water, ice, or mud. She retrieves doves, ducks, and geese with equal fervor. She is calm in our vehicles, is so well mannered in our home and the homes of friends and family we are actually chastised when Millie does not accompany us on visits.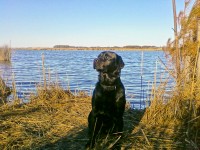 She is so tractable that I have not used any sort of pressure when training her. I simply adopted the philosophy of never unfairly overchallenging her and rewarding her whenever she succeeded. No shock collars, no force fetch, just a lot of positive reinforcement and time spent developing her.
I completely attribute her tractability, demeanor, and hunting ability to her bloodline. All I did was focus her talent; I played a minor role.
Most importantly, she naps on my now 5 year old son's bed with him and the two of them cavort about outside as if they are siblings. The result is PERFECTION.
Please find attached a picture of Millie I took on a duck hunt in Currituck Sound near Corolla Lighthouse in January 2011. Millie was in a sit stay when a flock of swans passed to our west and she focused on them.
Congratulations on Sam's recent accomplishments, and best regards to all of the staff at Deep Run!
Sincerely,

Sam



From: Lynn
To: deeprunfarm@deeprunretrievers.com
Sent: 4/18/2011
Subj: Liberty's Win

Hi Phyllis!
I just wanted to send you a couple of pictures of Liberty (Rugby's daughter) from last week's win.
Have a great day!
Liberty pic 1
Liberty pic 2


Lynn


From: Beverly
To: deeprunfarm@deeprunretrievers.com
Sent: 4/13/2011
Subj: Just turned two years old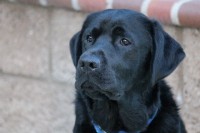 I am the proud owner of one of your dogs. Wiley is an awesome dog. Thanks for the great breeding!

Beverly



Lab Meetup Request

From: Gary
To: deeprunfarm@deeprunretrievers.com
Sent: 3/19/2011
Subj: Hello from Merrick NY - Otis the son of Buddy and Star, born February of 2008

Hi Jack & Phyllis,
We hope all is well........Otis is the son of Buddy and Star, born February of 2008. We just wanted to let you know that Otis is doing great! My 8 year old daughter would really like to meet one of Otis's siblings. Is there anyone in NY that happens to have a brother or sister from the same litter that Otis came from? We would love to know if they would be interested in having the dogs meet? I understand if no one would be willing. However, if there is someone n NY that has a dog from the same liter as Otis, they also may be interested in getting the siblings together.
I look forward to hearing back from you!

Best regards!!!!
Gary, Prita, Gracie & Otis

Subject: 6 pictures for you
From: Gary
Date: Sun, 04 Jan 2009
To: deeprunfarm@deeprunretrievers.com

Hi Jack & Phyllis,
Otis is the son of Buddy and Star, born February of 2008. We just wanted to let you know that Otis is doing great! We are soooo--- in love with him and constantly amazed at his wonderful, calm and intelligent personality. He went swimming most of the summer and just loves the water! We go on lots of walks every day and he has lots of friends in our neighborhood. Otis is extremely responsive, playful, retrieving toys and walking with or without his leash very well. Otis is such a lover and is great with everyone, with the exception of the vacuum. We are so proud to walk with him and receive all the wonderful compliments from others who are impressed with his looks and personality. Otis is gorgeous as we know your dogs are all so beautiful, but every time we look at him, we are just amazed at his build and his black beautiful sparkling coat.
We have attached some pictures for you to see he is very well adjusted!
Otis picture 1
Otis picture 2
Otis picture 3
Otis picture 4
Otis picture 5
Otis picture 6



From: Kathleen
To: DeepRunRet@aol.com
Sent: 3/14/2011
Subj: "Hank"

Dear Phyllis,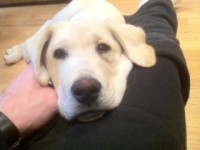 Just wanted to give you an update on Hank, who we picked up las week. So far, he has been a model puppy! As Christy told us, he loves to be cuddled and has the sweetest disposition. He is sleeping a lot but gets his bursts of energy throughout the day. We are keeping up on his training. Christy laid some great foundations. A few accidents in house training but all were more our fault than his. We could not be happier with him.
Also, he had his first visit with our vet today. She could not stop raving about what a great, well cared for dog he was, and was complimenting the job you did at Deep Run Farm.
Many thanks again for all your help with Hank. Please thank Christy for us too. Below is a recent picture of his favorite pastime!

Sincerely,
Kathleen & Evan


From: Lindsey
To: deeprunfarm@deeprunretrievers.com
Sent: 3/12/2011
Subj: Thank you!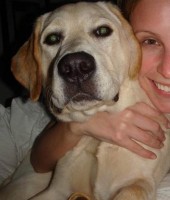 Tex is so smart and was very easy to train- we were able to stop crating him when he was 5 ˝ months old. He has free range on the middle level of our house during the day and he has only had 1 accident! We were so impressed. He loves to snuggle; he's super gentle and calm. He loves going on long walks and throwing the ball in an open field. We get compliments on his large frame and his shinny coat everywhere we go. Our neighbors across the street saw Tex when we first got him and told us they were looking into getting a dog. We told them how happy we were with you all and they brought home a chocolate girl from Deep Run a few Saturdays ago. She is adorable.
Thank you for matching us with Tex…He is the perfect addition to our family—currently 65 lbs and counting!

See Tex picture 2 and Tex picture 3

Brandon, Lindsey, and Tex



From: John, Sarah, Asher, Annabelle, Aristotle and Libby
To: deeprunfarm@deeprunretrievers.com
Sent: 3/10/2011
Subj: Update on Puppy (Windy and Magic's 3 month old)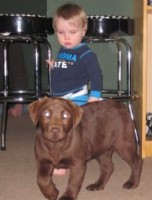 Hi! We called you all this monday to inquire about Windy and Magic's female pups leftover from the Dec. 02 litter We brought one of them home with us and have named her Libby, which will be short for "Deep Run Liberty Belle" on the AKC registration paperwork you provided us.
She's been getting along perfectly! I've never seen a sweeter, more calm puppy. She is rambunctious with our three children but is easily calmed if it gets too playful. She currently thinks our 16 month old is another puppy which both amuses and dismays said 16 month old;) We will be taking her in for her first vet checkup in the next few days and are looking forward to establishing a relationship with them.
I've included some pictures of Libby for you, from her first night and first morning at home:) We love her to death already and am so happy to have found you all (and her!)
Libby picture 2
Libby picture 3

Love
John, Sarah, Asher, Annabelle, Aristotle and Libby



From: Stephen and Patricia
To: DeepRunRet@aol.com
Sent: 3/6/2011
Subj: Rio

Dear Phyllis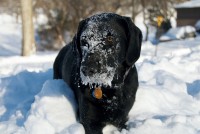 Our oldest son Jonathan picked up Rio, a black lab pup out of Hero and Star, back in July last year and he has just been a great new member of our family - everything we were hoping for. He is a strong natural retriever, smart, good natured, hard working, and loves the water. He missed out on our duck season by a couple of months although I think he would have held his own.
I've attached a few pictures, one with Patricia when he was 5 months old and a couple of others from the last snow storm that went thru Kansas a few weeks ago at around 10 months when he decided he wanted to help with the firewood. Hope things are well out your way and thanks for a great dog.
Rio picture 2
Rio picture 3
Rio picture 4

Stephen and Patricia



From: Adam
To: DeepRunRet@aol.com
Sent: 3/5/2011
Subj: Puppy

Jack and Phyllis,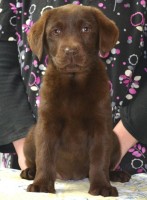 I just wanted to let you know that I'm very pleased with cabela, her temperament and disposition are incredible the month of training was absolutely worth it . It took about 8 hours to get back to ny and she didn't make a peep, we would also like to thank Jack again for taking time out of his busy day to show us the grounds and give us a little demonstration w/the pup its that extra effort and attention to detail that makes all the difference. This has been another great experience with you and I can't thank you enough. Jack asked us to send some pictures of Remi and I will do so as soon as I get back to my main computer.

All the best,
Adam




From: Kathie
To: deeprunfarm@deeprunretrievers.com
Sent: 3/1/2011
Subj: Sammy's girls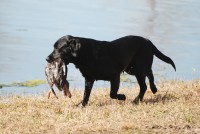 Phyllis,
The two girl pups I kept from my Sammy litter both finished their Senior Hunter in Feb at 22 months old. They passed 4 times out of 5 tries. They will be going on to Master in the fall. Sammy's Girls picture 2.

Kathie




From: Rob
To: deeprunfarm@deeprunretrievers.com
Sent: 3/1/2011
Subj: Hero and Classy's daughter

Phyllis,
Royce (Hero/Classy) earned her AKC Masters Excellent FAST agility title last weekend. This is a particularly difficult title to obtain as the FAST class really tests a dogs ability to work at a distance from its handler. She now holds all three AKC Master Excellent agility titles, MX, MXJ and MXF. We now have accumulated 14/20 QQ's and 579/750 points for her MACH. If all goes well and Royce remains healthy we should be able to turn the trick later this summer. The ice that has encased us for months is finally gone, daylight savings is in less than 2 weeks, and we will be back to training for our first Senior Hunter leg soon.
I am now beginning the search for a second performance dog. I am hoping for a pup with lots of energy and drive, perhaps from field lines. I prefer a dog that is average to smaller in size, lean, and very agile. Please keep me in mind if you have a particular breeding planned that you feel would be a good performance match. Like Royce (my novice A dog), pup will be an agility dog who will also show in AKC hunt tests, and perhaps field trials.

Best regards,
Rob



From: Bailey
To: deeprunfarm@deeprunretrievers.com
Sent: 2/23/2011
Subj: Hey Mom!

Dear ol' Mom & Dad,
Just wanted to send you a note to say I miss you guys & the farm. Sorry for the goop in my eye and drool out of my nose. Hey...I am just a dog, but a very happy one at that. I get lots of exercise here, so it's cool.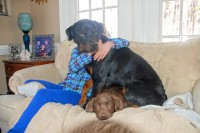 I am having fun here in NC. I have a new bud, and things are looking up! He's a very cool Rottweiler named Mufasah. We play constantly. He shares his dog couch with me. He's pretty patient, treats me like the girl I am, and shares my toys with me. Even my stuffed duck! I am up to 22lbs, 3 ounces now. I need all I can get to wrestle Mufasah. He's a wimp really. Man dogs...who needs 'em? I'll be the queen soon. Here's my new bud & his niece. Look at his funny 'tato chip ear! HA!! What a maroon!!

P.S. Thanks for recommending Purina Pro Plan. It's delicious. Tell my old friends hello, please?
See Bailey picture 2
See Bailey picture 3

Miss you & Dad,
Bailey



From: Gavin
Date: Sun, Feb 6, 2011
Subject: Re: Windy x Magic female puppy
To: Kristi Suddarth

Dear Kristi,
It was such a pleasure to meet you today. I just wanted to thank you for all the hard work you have put into our newest family member. We have decided to name her Bailey. She will be going to our local vet tomorrow, to get her records started, and an initial exam. I am so excited to have this beauteeeful dog in our family. Mufasah, our Rottweiler, has really taken to her BIG time. They have been sharing Bailey's new stuffed duck toy BIG time! I am really surprised @ how well Mufasah is doing with Bailey. They have really hit it off. Best friends for life I hope. Here's a picture of Bailey during the halftime show of the SB. She wasn't impressed! It was a long trip home, but she was wonderful the whole way.
God bless you. You have given our family such joy!
All the best to you!! :),
Gavin, Kay, Jarod, Bryce, Mallory Rufis, Mufasah, & Bailey!



Subject: Sam
From: Wanda
Date: Wed, 2 Feb 2011
To: deeprunret@aol.com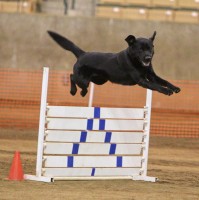 Hi Just wanted to share the news and a few pictures. I'm pretty sure I let you know that Sam earned his NJP title and 2 legs toward his NAP title in Nov. We had another agility trial this past weekend and I had Sam entered in Novice B 24 in and he earned 2 legs toward his NA title and 2 legs toward his NAJ title. I am hoping he can finish these titles in March. I inclosed a few pictures of him, this boy sure can jump high...
Wanda

Sam picture 2
Sam picture 3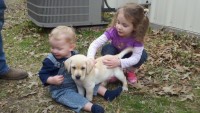 Subject: "Mic" pics
From: Jessica
Date: Mon, 31 Jan 2011
To: Deep Run Retrievers

These are pictures of one of the Sam x Queenie pups the day he arrived at his new home in Texas.
Mic picture 2
Mic picture 3




From: Gray
To: deeprunfarm@deeprunretrievers.com
Sent: Thu, Jan 20, 2011
Subject: Information for Chocolate Female

Dear Phyllis and Jack,
I just wanted to send you a quick email and let you know how much in love I am with Truffle. She is absolutely a dream and a big hit already! It is like a movie star has moved into my house. My neighbor could not believe I had a Deep Run pup!! She said it was the finest puppy she had ever seen!
Truffle has settled in nicely. She has been a perfect citizen. She has used her litter box with wood chips every time! Otherwise her walks outside have proven fruitful as well. Her retrieving skills are amazing.
We sit on 34 acres so she has plenty of room to romp and plenty of walks. I look forward to coming back and training her with you. I am seriously entertaining learning to field trial her as well. Something that I have always wanted to do! She has already seen the vet, AKC registered and microchip registered! I thank you again for bringing this bundle of joy into our home, family and sport! She is well loved in all ways!

Warm regards,
Gray

Sat, Jan 8, 2011
Dear Phyllis and Jack,
Thank you so much for taking the time to show Al and me the puppies today. I have not stopped thinking about them!! It was such a treat and we so appreciate your time and expertise.
I am so in love with all of them and cannot wait to come back and have your help with training!

Gray



Subject: Our Gunner
From: Christopher
Date: Tue, 4 Jan 2011
To: deeprunret@aol.com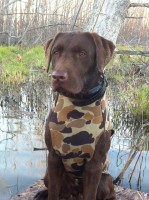 Dear Phyllis and Jack
Duck season officially closed in Missouri today for our hunting zone. I just wanted to tell you what a pleasure it has been this season to hunt over our new lab Gunner. He was from a litter by Smoke and Magic in Nov of 2009. He turned one year on Nov 24.
This past season I have not pushed him hard due to his first season. He has retrieved doves, ducks (about 50), geese (about 15 and counting) and had his first field hunt on chukers. He has done wonderful on every hunt. He has been easy to train and a true joy for a family pet.
Everyone comments on his nice looks and friendly nature. He has been a wonderful addition to our family and a great hunting companion. Thanks for a great dog.
If you are every in St. Louis. Please let me know so we can get together.




Subject: Hero/Madonna Puppy...
From: Mike
Date: Thu, 30 Dec 2010
To: deeprunfarm@deeprunretrievers.com

Dear Phyllis,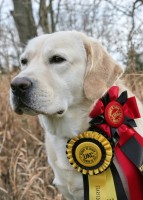 I can't believe our little "Hero/Madonna" puppy is well over two years old already… It seams like just yesterday we were in VA picking him up… What a fantastic addition to our family he has been… We named him Deep Run "Mason" Premier, after the classic Mason Decoy… Mason is the epitome of the versatile Labrador… He has proven to be all the dog I could have ever asked for in the field and on the water, but most importantly, he has developed a gentle relationship/companionship with my wife like none of my other labs have done… He is quite the little character/charmer…

If you'll recall, I participate in UKC Hunt Tests (both as a handler and a judge…) Mason breezed through both the "started tests" I ran him in prior to him turning ten months old… Then this past spring we ran in four "seasoned tests" passing the last three earning Mason's "Hunting Retriever" title just before his second birthday. See Mason picture 2. This fall we are training at the finished level with the goal of earning our "Upland Hunting" title this winter, and then our "Hunting Retriever Champion" title next spring…

A better match could not have been made… Thank you so much…

Regards,
Mike and Tracey



Subject: Thank you for Buddy!
From: Dale and Charlene
Date: Tue, 28 Dec 2010
To: deeprunfarm@deeprunretrievers.com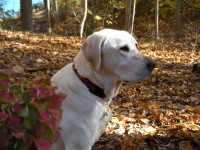 We visited you in September and came home with our Buddy. This is just a follow up to thank you for giving us the pleasure of having Buddy (6 years, son of Hombre) as part of our family. He is wonderful! He is so loving, well-behaved, and congenial. Buddy adapted to life with us immediately, and he goes with the flow when our boys are home on college break and have friends coming and going. Also, he is so gentle and caring with our two cats. One of our cats, Ruby, isn't so nice to him, though. However, he either ignores or appeases her when she's at his water bowl or on his bed.
All in all, Buddy was the right choice for us and, if I may say so, we are just right for him. We go on a nice walk every morning and evening and have outdoor playtime as well. Buddy has been in the lake (before it got so cold) and has had many play dates with other dogs. He always shows his good manners while meeting and interacting with his new friends.
Buddy picture 2

Thank you so much for Buddy. We love him!
Dale and Charlene



Subject: Toby & Maddie picture
From: Kristine
Date: Tue, 28 Dec 2010
To: deeprunfarm@deeprunretrievers.com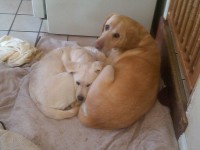 Our two Deep Run dogs are getting on famously! Toby has really developed a fondness for little Maddie. Toby was cuddled around the pup but lifted her head in the last second when I snapped the pic. Hope you aren't snowed in! We are! But the dogs are having a ball in it.
Regards,
Kristine






See the

page of letters and pictures from our satisifed customers







Deep Run Farm
13727 Blackwells Mill Road
Goldvein, VA 22720

(540) 752-4710/4888 FAX (540) 752-4775 deeprunfarm@deeprunretrievers.com


Home | About | Breeding | Puppies | Trained Dogs | Health Care
Customer Feedback
Norwich Terriers | Kudos | More Information