AFTER DEEP RUN FARM
Here are some more letters and photos we received from satisfied owners
(Last names and addresses have been omitted)
Subject: Shea
From: Kristina
Date: Mon, 27 Dec 2010
To: deeprunfarm@deeprunretrievers.com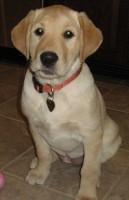 Thank you so much for providing us with such a wonderful dog. She loves playing outside and going for long hikes in the woods. It is amazing at such a young age she follows you without out a leash and listens when she is called. We just had our first snowfall and Shea loves it! It's nearly a foot of snow but that doesn't stop her from running around the backyard! She is truly a wonderful addition to our new family.
Shea 2
Shea 3
Thanks again!
Kristina & Kyle



Subject: Jamie (a Sam puppy)
From: Dwayne
Date: Tue, 21 Dec 2010
To: deeprunfarm@deeprunretrievers.com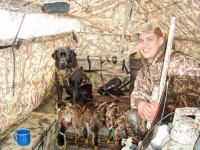 Hello Jack,
This is Dwayne. We just wanted to say Merry Christmas and thank you so much for Jamie, she is the greatest hunting dog we could ever ask for! This year she has really matured, just thought i'd send you some pictures of her hunts this year... we were hunting the upper potomac and busting ice the entire way to our hunting spot, Jamie is an outstandingly tough dog, pushing through ice and river current to get to downed birds, she even had a 200 yard retrieve through heavy current where we had to go get her, she had caught the bird but the current had taken her too far downstream, all in all we could not be happier with Jamie and thank you so much for picking her for us, another thing we wanted to ask you about is that we would like to breed her and were wondering if you could help us with that? She went into heat last year September 11th.

Jamie photo 2
Jamie photo 3
Jamie photo 4

From,
Dwayne


Subject: Sam and Madonna's pup born on September 7th
From: Shelley
Date: Tue, 21 Dec 2010
To: DeepRunRet@aol.com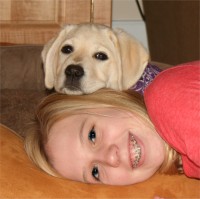 These photos are of our Gracie. She loves everybody and everything. She is smart and is doing very well at home and in puppy class. She quickly won our hearts and we feel lucky to have her as a member of our family. I think she might end up being bigger than the projected 60 lbs. Here are a few photos!

Gracie photo 2
Gracie photo 3
Gracie photo 4

Merry Christmas,
Shelley


Subject: Classy Chassis "Royce"
From: Rob
Date: Wed, 15 Dec 2010
To: deeprunfarm@deeprunretrievers.com

Hi Phyllis and Jack,
Just a quick note to tell you that Deep Run Classy Chassis "Royce", JH, MX, MXJ, XF, NAP, NJP- "Hero's daughter" turns 4 today. Royce is a very happy, healthy dog who thrives in her roll as family dog, newspaper delivery girl, as well as performance dog.
This past year saw us hit a bit of a wall in the jump from Jr Hunter to Sr Hunter. I do the training myself so ascending to the ranks of Senior Hunter may take some time. We will try again next spring. Royce earned her MX, MXJ, and XF agility titles this year and is about 1/2 way towards earning her MACH. We just missed making the National Agility Championship (NAC) coming up 1 point short despite going QQ on the final day of eligibility. Tomorrow thru Sunday we will show in agility at the big Western Reserve dog show in Cleveland. Big plans for 2011 as we hope to qualify for the NAC, earn a MACH title, progress towards SH, and demonstrate Royce's versatility at the National Specialty in VT.
Lot's of love, exercise, mental stimulation, work = a very happy Classy Chassis.

Warm regards,
Rob


Subject: Hello from the great white north
From: Keith
Date: Sun, 14 Nov 2010
To: "Phyllis", deeprunret@aol.com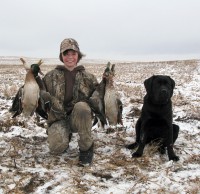 We received Diesel almost a year from now, last late November we picked him up at the airport, long flight from PA. Once he got off the plane, he got his first taste of snow LOL, but he luvs it. From 6 months old, we started his training regiment to prepare for his first hunting season. Great on obedience, whistle trained, running simple doubles, has great memory. Was a little concerned at first with swimming, started out as a submarine, but soon caught on and enjoys retrieving in the water. 5 months later our bird season started and he didn't disappoint. He has done everything asked of him, enjoys lying beside me in my layout blind only to hear the word "mark". My goal this year was to try and get some birds under him and I didn't set my expectations high. Well with our season almost done, 118 mallards, 28 geese and 17 pheasants retrieved, not bad for a show dog :)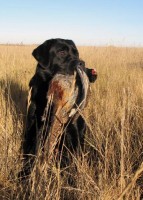 Everywhere I go, I always get compliments on a fabulous looking dog, well mannered, he is just happy to be with me. Hunting is only 2 months of the year, so from a family perspective, a first for my wife to baby one of my dogs, she sez that's her boy, a huge plus for me. He fits in so well with the family we couldn't be happier with our new addition. I should note that we did our first hunt test weekend, he completed his first two legs handily I might add, only one more to go before he receives his JH title. My handler is anxious to show him to complete his Championship, she couldn't believe that a breeder who doesn't know me would sell me a dog put so well together. Thank you Phyllis, not only for selling us a pup unseen, but delivering on what I was looking for as I was very specific and staying in communication with me and helping me.

More Diesel pictures:
Diesel 3
Diesel 4
Diesel 5
Diesel 6
Diesel 7
Diesel 8

Keith
Edmonton, Alberta


Subject: Champ - Sam and Jane litter
From: Jim
Date: Tue, 16 Nov 2010
To: deeprunfarm@deeprunretrievers.com

Dear: Deep Run Farm
I wanted to give you an update on Champ – from the Sam and Jane litter. What a wonderful addition to our family.
We picked up Champ on the 6th of November. He is doing great. For over a week now he has slept through the night in his kennel. In fact, he loves his little safe place and will go there without prompting when he is tired. After two accidents in the house he now knows to head for the back door when it is time to go out. His personality is perfect. Like his dad, Sam, he has an internal "switch" that takes him from high energy outside to the perfect gentlemen indoors.
Champ enjoys his playtime with the kids. However, what is interesting is when it is time for one of our many daily training sessions a certain seriousness comes over him and he goes about his learning with a level of intensity that I did not think was possible for a 10 week old. In just the short time we have had him he has become quite good at sit, come, and stay. With our large family sometimes it is hard to avoid distractions during training and he seems to handling them very well. He is such a smart dog. I cannot wait for the next 6 months to a year when I can help him progress. I am quite certain it will be me trying to keep up with him and his education over the years. I just hope I do not make too many mistakes.

Thank you, again, for a great pup!!
Jim



Subject: Holy Mackeral
From: Margaret
Date: Thu, 11 Nov 2010
To: deeprunfarm@deeprunretrievers.com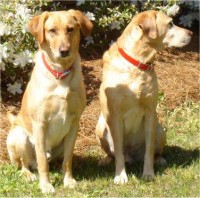 Dear Jack and Phyllis,
My husband and I purchased a puppy from you in January of 2007. Holy Mackeral, who just turned 4 last week. I happened to look at this picture that I keep on my desk, and I thought you might want to see how he turned out. His parents are Hope and Elvis. He is the dog on the left in the picture, looking at the camera.
He was trained by Jerry here in Wilmington, NC and has done well for my husband in hunting, but most of all he is a love. He is very protective and loyal, but he literally has to have hugs and kisses each day to feel secure. We have 2 other yellow labs, and he is the Alpha. He leads the pack, and we couldn't be happier with him. He is extremely lean, muscular, and competitive. He has to win at whatever he is challenged to do. He weighs 70 pounds, and truly a picture of health. We live at Wrightsville Beach and we go to our farm on weekends. He has a very active, safe life. Thank you for your help in finding the perfect dog for our family. He really is more of a lap dog than a hunter now, but he adapts to both with pure enthusiasm.

Best Regards,
Margaret and Eddie



Subject: Great dog!!
From: ANGEL ANGEL
Date: Tue, 9 Nov 2010
To: DeepRunRet@aol.com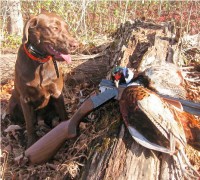 I took Sugar (Windy x Claire 11/13/09) out for her first bird hunt yesterday. I've been training her to blood track deer, waterfowl, and upland hunting. Your dogs are amazing. I've never had or trained a hunting dog before and she makes me look good. I'm so proud of my little girl. Thank you for all your hard work in bringing such special dogs into the lives of so many.



Friday, November 5, 2010
first_name: Steve
Comments: Looking at the puppy pictures.

Just wanted to say high. Let you know that Puck, who turned 14 in March, is still moving along. Not as active as you can imagine but alert, attentive and enjoying retirement on her dog bed. Enjoys short walks and retrieving the ball twice a night. Watching her to make sure no pain indicators and still loving her. Ginger, 4 in April, is looking forward to the duck season. Still has the happy tail all the time. Did some dove early but she much prefers the water retrieves.

Hope all is well.
Steve and Nancy



Subject: Thrilled w/ my puppy!
From: "Alex"
Date: Fri, 15 Oct 2010
To: DeepRunRet@aol.com

Hi Phyllis
I feel like this message is long overdue, but at last, I am writing to tell you how thrilled I am with my Hombre/Tutti puppy. The first time you mentioned this breeding to me you said the litter would "exceed my expectations", and you sure were right about that! Marat has been the undoubted star of every training class we have attended. He is wonderfully bold; he learns new things with amazing speed; and remembers what he learns so well that I have to remind myself regularly not to expect to generalize what he learns without at least a few repetitions! Marat particularly excels at his field work where, after only four puppy classes, he was "graduated" to working with the older dogs at different locations each week which simulate varied terrain challenges.
I couldn't be happier with Marat. As a longtime adopter of homeless dogs, it is a wonderful guilty pleasure to work with such a talented puppy. I just love it when he wins the most points in puppy class or when I was asked to send him into the pond to pick up the dummies the other puppies failed to retrieve.
I also believe you picked the perfect puppy for me. Marat has tons of drive; he has courage and determination, and a strong sense of himself. But, he is also an emotionally sensitive puppy. If he had the same gifts, but was also hard headed and unforgiving, he could have been a challenge to live with and train, instead of the joy that he is for me.
The only regret I have is not having started his field training earlier. I saw a 12 week old puppy join the puppy field class and I know Marat could started that earlier if I had known enough about puppies to start him that young.
Thank you so much for trusting me with this wonderful Labrador!! I am working hard each day to be worthy of him [honestly, this is the way I feel when I work with Marat].

Alex


Subject: Liberty wins at her first show
From: Lynn
Date: Wed, 29 Sep 2010
To: DeepRunRet@aol.com

Letter for your website if you'd like: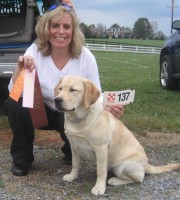 Phyllis & Jack,
Liberty took 1st in breed and 2nd in group this past Sunday at her first conformation match! I wasn't looking for a show dog when Liberty picked me that day, but I must say that we are both having a lot of fun learning the ins and outs of training/becoming a champion show dog. I will keep you posted with her progress in the ring.
I can't thank you enough for Liberty ("Deep Run Hannity's Liberty Beck"). She's been a wonderful addition to our family! Libby loves to boss her big brother Oscar around and loves her float when we're hanging out at the pool. She's passed her beginner obedience class with ease and will be taking the AKC Puppy CGC test in a couple of weeks. Pictures are attached.
See Liberty picture 2
See Liberty picture 3

Thank you so much for such a wonderful girl!

Lynn


Subject: letter and photos for your customer feedback page on website
From: Michelle and John
Date: Tue, 28 Sep 2010
To: deeprunfarm@deeprunretrievers.com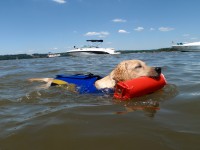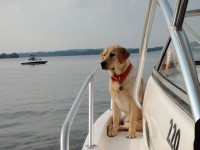 Phyllis and Jack,
Our beloved pup, Sailor, from the January 2010 litter of Sam and Hannah, is such a joy. She is smart, loving and beautiful. She loves dogs and people, and everyone always comments on her appearance and her calm demeanor----they have not witnessed her butt tuck and run episodes :). Sailor is very comfortable on our boat, and loves to swim and retrieve. She is amazingly fast.
We recommended Deep Run Farm to our friends, and they brought home one of your chocolate pups a couple weeks ago. He is doing very well. Thank you for the wonderful addition to our family!

Best wishes,
Michelle and John



Subject: AKC Senior Hunt Test
From: Christian
Date: Tue, 21 Sep 2010
To: deeprunfarm@deeprunretrievers.com

Hi Jack & Phyllis,
We wanted to give you and update on Deep Run Dakota East (Kota). Kota earned his Senior Hunt Title last weekend inCheltenham Maryland. Way to-go Kota!! You know you have a very well bred retriever when he achieves dificult objectives at a young age, Kota is just over 2 years old. Thank you for producing such a great dog. We plan on moving up to the Master division next Spring and hope to title by the Fall. Also Kota is ALL CLEAR of the EIC & CNM disease. Kota's sire (deep run jail house rock) dame(deep run marigold) we had Kota tested several weeks ago and just received the results, eyes are CLEAR as well. Next up hips & elbows.

We will keep in touch!!
Sincerely,
Christian & Marlise


Subject: Thule Status
From: John
Date: Mon, 13 Sep 2010
To: deeprunret@aol.com

Phyllis:
I attached two photos off of my cell phone of Ms. Thule during a Saturday hike and swim break. She is doing wonderful and having a blast in the new yard with the underground fence. Our best friends (Vince & Gael Martinez) visited from Bahrain and we realized they visited to see Thule and not us. I am sure he will be giving you a call as soon as he returns from his tour. R/JC

Thule picture 1
Thule picture 1



Subject: update on Landie and Ranger
From: Jim
Date: Mon, 30 Aug 2010
To: deeprunret@aol.com

Hi Dr. Giroux,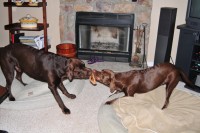 Hard to believe, yet, Ranger turned 4 this month. And Landie made it through her heat and we can positively now say without any influence from Ranger as she has been spayed. She is doing very well and I think starting to fill-out a little in the chest. Both are great and as you will see, having a ball together. Ranger is 93# although he looks heavier in the pics - we both make sure he doesn't become like some of the other Labs one sees: obese and lazy. He is big, yet, gets plenty of exercise to make sure he is also fit.
Landie is now 68# and all muscle. You can see her dad in her. She loves the water and is always running or swimming whenever we're by the local lake on walks. She has certainly has her mother's traits and is growing up nicely. We go to PA next week and hopefully this time I can get some pics of Landie entering the water for you.
See more Ranger Landie photos:
Ranger Landie 2
Ranger Landie 3
Ranger Landie 4
Ranger Landie 5

Best,
Jim


Subject: Misti Rose Puppy Pics
From: Misti
Date: Tue, 20 Jul 2010
To: DeepRunRet@aol.com

Phyllis
Good afternoon. I bought a puppy from you in February this year. Sam and Jane pup. I wanted to send you a few pics of her and let you know how she's doing.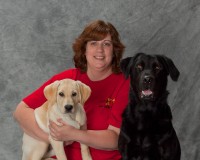 She is doing great! Her name is Zoey, but we call her Zo Zo. She is growing so fast; 7 months old and 42 pounds. Zoey is the sweetest thing I have ever seen. She is a very mellow dog when just hanging around, but when you get her working she is such a fireball. We absolutely love her!
Her basic obedience is going very well. She, of course, loves to swim; and we take her out regularly to retrieve bumpers at the lake. I was planning on putting her in competitive obedience, but I'm really thinking agility. She does much better at things with some speed. She is doing kickback stands knows some commands in English and French.
The pictures are of each month of her life. The black dog is her big brother Jake. We are so blessed to have her.
Zoey1
Zoey2
Zoey3
Zoey4
Zoey5
Zoey6
Zoey7
Zoey8
Zoey9
Zoey10


Sincerely
Misti


Subject: IMG00441.jpg
From: Chris
Date: Fri, 16 Jul 2010
To: DeepRunRet@aol.com

Phyllis,
Jacqui told me that when you first introduced her to Scarlett you said "she thinks a whole lot of herself" (hence the name Scarlett O'Hara). Here is a recent picture of the Queen of the Kirby house!

Best, Chris Sent from my Verizon Wireless BlackBerry


Subject: Gigi
From: Clementes
Date: Tue, 22 Jun 2010
To: DeepRunRet@aol.com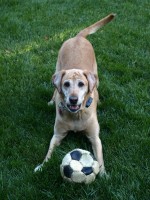 I was just telling a friend of where we got our Gigi, it has now been 9 years since we got her in the summer of 01 and she is still full of fun, love and energy; I have attached a picture of her from last summer.......we just might have to come by and get her a play mate....fantastic family dog. She also still has the "hunt" in her, pointing and chasing rabbits, squirrels and taking swims in our pool.

Best, the Clementes



Subject: Thule
From: John
Date: Mon, 7 Jun 2010
To: DeepRunRet@aol.com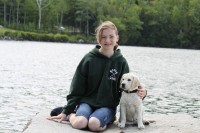 Phyllis:
Thule is doing fantastic. She loves the water, tall grass fields and has fit right into the pack. Can't thank you enough for a great dog. R/JC

John



Subject: puppy
From: janine
Date: Tue, 1 Jun 2010
To: deeprunfarm@deeprunretrievers.com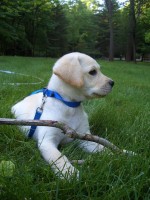 Dear Jack & Phyllis,
I just wanted to drop you a note to let you know how wonderful Ranger (Sam & Wrenn litter) is doing. We have only had him for a few weeks now but he is already part of our family! Our children love him, and every time I bring him out I receive compliments on his excellent behavior and his handsome appearance. Thanks so much for such a beautiful lab.
See Ranger picture 2

Janine



Subject: Maggie Sam pup
From: JULIE
Date: Thu, 27 May 2010
To: deeprunfarm@deeprunretrievers.com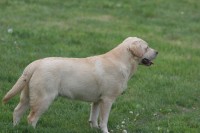 8 month old Sam Maggie pup. Maggie's dad was CH Belles Tradition O'Broad Reach MH and her mother is a CH with two 5 point majors in one weekend. EIC/CNM/PRA clear by parentage.
Teddy is showing he is plenty capable of masters - lots of go.
See Teddy picture 2

Julie



Subject: Rambo
From: Howard
Date: Thu, 27 May 2010
To: deeprunfarm@deeprunretrievers.com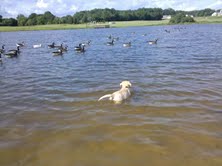 Just wanted to update you on Rambo from the Paris and Rugby litter. He is an excellent dog with great personality and manners. Rambo is taking well to the water and is showing good interest in retrieving already. He is doing exceptionally well at the firehouse. Rambo really enjoys riding the fire trucks to calls. Thank you for breeding such a wonderful lab.

Howard



Subject: Lakota
From: Stewart and Kelsey
Date: Wed, 26 May 2010
To: deeprunret@aol.com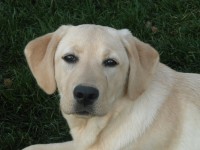 Phyllis:
We wanted to send you updated photos of Lakota (from Hero and Pepper), who has grown a bit since we last sent photos at the end of December 2009. She is becoming a big girl. Although she is being still in the photos, she is very energetic and loves being outside, running and playing, especially retrieving anything that is thrown. Our girls love playing and "taking care" of her. Thank you for such a wonderful, fun-loving dog. Lakota picture

Stewart and Kelsey


Subject: Our Boy
From: John & Gina
Date: Thu, 20 May 2010
To: deeprunfarm@deeprunretrievers.com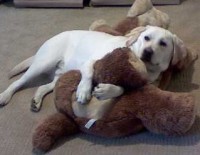 Hi all,
Just wanted to let everyone know that we have the best dog on the planet and he has the sweetest and most gentle heart imaginable! See attached pics.
Ourboy picture 2


Thanks so much!
John & Gina


Subject: Mabel
From: Jean
Date: Sun, 2 May 2010
To: deeprunfarm@deeprunretrievers.com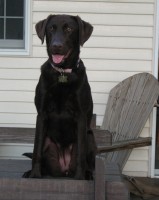 Phyllis,
Hello, My name is Jean and in July 2009, I purchased a female chocolate lab puppy from you. She was a part of the Buddy and Dora litter.
She (Mabel), turned one year of age on April 27th, 2010 and I wanted to send you a picture of her.
Phyllis, you did a great job of placing Mabel with me. She is fun, energetic and can handle any physical activity I provide for her. We take long runs in the neighborhood, swim at a local pond and her favorite thing of all time is fetching a tennis ball. She gets approximately 1 hour of exercise daily. She is so intelligent and picks things up very easily. Everyone she meets talks about how pretty and good looking she is. She is 50lbs and the vet doesn't think she will grow anymore. She is a perfect size and I love it. She is definately become everything you said she would and more. We are two peas in a pod.

Thank you and enjoy the photo.
Jean and Mabel


Subject: Puppy Photo
From: Marty and Nancy
Date: Thu, 8 Apr 2010
To: deeprunfarm@deeprunretrievers.com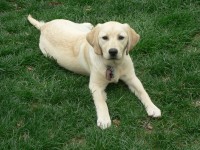 Phyllis and Jack,
We just wanted to write you and thank you for producing such top quality labs. Stella has been a wonderful addition to our family. Our three kids love her, and we are amazed at her calm disposition. We are constantly complimented on her behavior and appearance when we are out in public. I've attached a photo. Thanks again!

Marty and Nancy
(Hero & Pepper pup)


Subject: Pup Update
From: Bill
Date: Tue, 23 Feb 2010
To: deeprunret@aol.com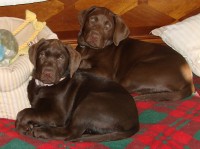 Phyllis,
I thought you might like to see a recent picture of the pups.
The one on the left is Zoey – (Windy & Magic - female)
The one on the right is Cage – (Windy & Claire - male)
Both are doing well.

Thanks
Bill


Subject: Wow!
From: John
Date: Sunday, 21 Feb 2010
To: DeepRunRet@aol.com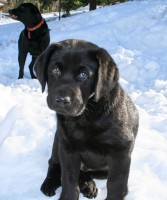 Phyllis, Jack,
What a great pup (Sam x Jane 12/09 litter)! Fearless - climbs head-high snowpiles with his mentor, Mowgli, another Deep Run dog. Bodie climbs stairs and goes on half-mile walks around the block - on leash . Bodie's socialization is most apparent with other dogs, noises, different situations. Can't believe he's only 8 wks old. I'll try to continue the head start you gave him.
See another Bodie picture

Thanks,
John

P.S. Thanks for such a detailed puppy documentation package. Know that was a lot of work.


Subject: Some photos
From: Kim
Date: Fri, 12 Feb 2010
To: deeprunfarm@deeprunretrievers.com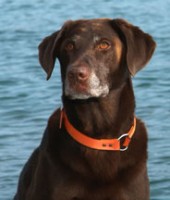 Hello Phyllis and everyone at Deep Run,
We had some recent photos taken with our Deep Run puppy of almost 11 years, Ullr (Rider X Cinnamon 4/4/99), that I thought you might enjoy. As you can see, even as an older dog, he is still incredibly handsome. And even though age has slowed him down a little bit, he remains in perfect health. People are truly floored when they learn his real age! Right after these pictures were taken he insisted on taking a swim in the icy Atlantic.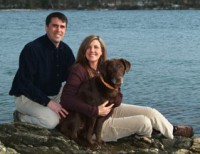 Thank you again for breeding such an outstanding dog!
Kim and Rick



Subject: O'Reilly/Rankin Puppy
From: Colleen
Date: Fri, 12 Feb 2010
To: deeprunfarm@deeprunretrievers.com

Hello All,
We picked up our puppy on Saturday, January 30th, and despite the horrible weather/drive that day we made it safe and sound back to Annapolis, MD, without any incidents.
We named her Maggie and she has become quite used to our family and all the snow. We took her to the vet on February 2nd and there were no issues. The vet was very impressed with her and the obvious attention you all took for her care and all the information you provided.
Our whole family loves Maggie and thank you so much for the time taken when we arrived to take her home and all the information that was provided. She has been sleeping in her crate since the first night and quiets down very easily. Thank you so much for everything you did.

Colleen


Subject: Harley
From: Jstarr
Date: Tue, 02 Feb 2010
To: DeepRunRet@aol.com

Hi,
I didn't get a Christmas card in the mail this year due to the snow storm but wanted to let you know that Harley (Hero X Caress @ 22 months) is happy and healthy. We couldn't have found a better dog.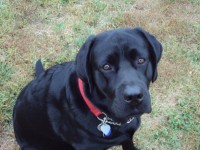 He's a big dog, loves swimming (although at first he was uncomfortable because he's so dense I think he tends to sink a little more than some of his relatives), and loves the couch. He's great with our horses and they really like him (so he must be a nice guy).
We haven't done anything significant as far as showing or competition but we still may play at it. We're scheduled to spend a week at "Dog Training Camp" at Graves Mountain in April.

He hasn't been sick a day in his life.

Thanks again for producing a great dog!


Subject: Deep Run Pilgrim's Legend
From: Kirk
Date: Sat, 16 Jan 2010
To: deeprunfarm@deeprunretrievers.com

Dear Jack & Phyllis

I want tell you folks about Deep Run Pilgrim's Legend. Prior to my purchase of this puppy I spent about 18 month researching amateur and professional breeders of Labrador Retrievers. I was looking for a puppy that would meet my very specific criteria. The top priority was a dog of optimum health, free of genetic defects…a healthy dog that was likely to live a long time without illness or disease.

I am a spinal cord injured man with quadriplegia and I had been planning ahead to have a successor to my awesome service dog, Franklin Hill Pilgrim's Gift, when he would come to the end of his life. Sadly, Pilgrim's Gift got sick with liver failure. I had the vets do everything they could, I borrowed a bundle of cash to pay for the best care I could get for him, but they were unable to save him. In the end I knew I had to ask the vet to put him to rest. A very difficult decision to make but this was probably the most humane thing to do.

I had already found Deep Run Farm before these events. I had carefully laid plans. My brother, Michael, was to purchase a Deep Run Retriever and I would raise it and train it to be a well behaved family pet. Micheal wanted a dog he could work with in agility and rally's. This dog Zoe, a beautiful Black Lab turned out really good, was easily trained, had great fetch drive, ect. This was my practice dog to test my skills and ability to train a successor service dog for myself. A year later after Pilgrim's Gift had passed my brother, Mark, and his law partners had purchased my lovely puppy, Deep Run Pilgrim's Legend, (Buddy & Carey) an awesome field bred yellow Labrador.

I was in the hospital when family delivered the puppy to me, but soon after my release the puppy was delivered to my home and I began the training for good behavior right away. I started with sit, down, come and stay. This puppy was so easy, after five or six repetitions he seemed to understand. I've now trained him to 45 demonstrable behaviors as he approaches his 3rd birthday.

Pilgrim's Legend is a rather large Lab. I'm keeping him slim and trim and yet he has grown to be a 95 pound dog. Everyone remarks about his large size. Good health was my top priority, followed by a really strong fetch drive and this puppy surely does have that. He can pick up a dime from the tiled floor, fetch and deliver a heavy 12 Inch cube cardboard box and put it in my lab. He'll gladly fetch any odd or metal objects such as a telephone handset that may be ringing, even if it beeping off the hook. Quite a disturbing sound in his mouth! He'll fetch keys, remote controls and my metal extended reacher even if its dragging under his front feet.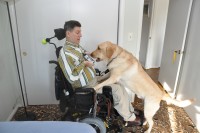 I can wake him at 2AM, call him from his kennel and have him come to my bedside, than to the other side of the bed to fetch the remote for the tv and back to the right side where he will paws up and drop the remote right on my chest where I can manipulate it in my hands. If needed, He'll do this routine a second time to give me the remote for the electric bed.

Pilgrim's Legend has learned to open the fridge and retrieve a bottle of water and close the door! The clothes washer is obstructed by my large toolboxes, but Pilgrim has learned to get the dry things from the clothes dryer and put them in my lap. I have to fold and carry them to the bed where my care-giver will place these things in the dresser or linen closet.

I am so happy with this Deep Run dog, and I recommend Deep Run to every person who express' any interest in a high quality Labrador. I am confident that Deep Run Farm has the most conscience breeding program in the Delmarva and perhaps the whole East Coast. I wish you folks the very best, good luck, and prosperity in the coming years.

I've recently been recruited by Herodogs, Inc. A new company who wish to train service dogs for injured soldiers of the Afghanistan and Iraqi conflicts. The Executive Director has asked where I got my most awesome dog. I proudly told her, "Deep Run Farm in Goldvein, VA."

I urge you to consider donating a puppy or puppies to this organization. I have volunteered to raise and train another Deep Run dog for Herodogs. I anticipate she will be contacting you soon. Pilgrim's Legend has turned out so good and he is so helpful to me. It would be really great to do this for an injured vet.

Thank you, so, so, much.

Regards,
Kirk


Subject: Lakota
From: Stewart
Date: Tue, 29 Dec 2009
To: "Phyllis Giroux" deeprunret@aol.com

Phyllis:
Hope you had a wonderful holiday.
Kelsey and I wanted to thank you for helping us make Christmas truly special for our girls (and us). They were completely surprised. Within an hour of seeing Lakota, Taylor (our oldest) was sending emails to friends and family telling them about the puppy, and Ashley was trying to carry Lakota everywhere. Since picking Lakota up on December 24, she has received non-stop attention, and is loving every minute of it. She loves playing "fetch," especially in the snow, and will eagerly retrieve just about anything. Attached are a few pictures.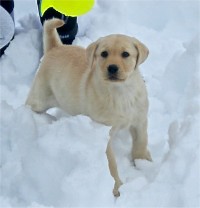 See Lakota picture 1
See Lakota picture 2
See Lakota picture 3

We will keep you up to date as Lakota grows. Best to you in 2010.
Stewart


Subject: Deep Run Agustus Petritz - Hombre, Cari Litter in 2006
From: Jennifer
Date: Mon, 28 Dec 2009
To: deeprunfarm@deeprunretrievers.com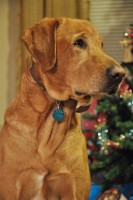 Hi there,
We purchased a retriever from your facility in early 2006 (Hombre x Cari). He is a beautiful,athletic, sweet tempered dog, and we love him more that I can say! He is equally wonderful as a family dog and as a hunting dog. We recently had and unexpected baby girl, and he is more gentle than I ever could have imagined! I just wanted to let you know how happy we are with Gus, and share a quick picture.
See a Gus picture.

Thanks, and Merry Christmas!
Sincerely,
Jen and Eric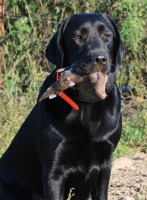 12/14/2009

"Nice to speak with you today, here are some pictures of Harper (A Hero pup). He is absolutely the best lab I have ever owned. His temperament is perfect, he has drive in the field but is a pleasure at home and very sweet with our six month old son.
The first pic with the dove is on opening day, his first retrieve on a bird I shot."

Jake



Subject: Bella (Sam X Hannah)
From: Pam
Date: Wed, 2 Dec 2009
To: deeprunfarm@deeprunretrievers.com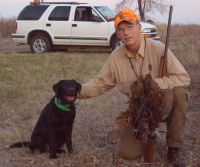 I should have written earlier but now that Bella is 6 months old I didn't want to wait any longer. I think it is important that you get feedback on how the pups you produce are turning out. I am so pleased with Bella (Sam x Hannah breeding born May, 2009). I have never seen a pup learn new things so quickly. She has been a total joy. Every day she does things that I just shake my head at in disbelief! She seems to be an "old soul" in a young body. She is a perfect house dog and a wonder at pheasant hunting! She goes hunting every weekend, and hunts like a much older dog. She is a joy to hunt with. Others have been totally amazed by her abilities at such a young age.
I had been searching for the right breeding for a couple of years before I got Bella. You have bred the combination that I was looking for: intelligence, good looks, calm house dog and a wonderful hunting dog in the making.
As promised, I have attached a picture of Bella's first pheasants. (On a sentimental sidenote...she is wearing two collars - one of which is hers and the other is our deceased hunting dog Libby's) Gone but not forgotten!

Pam


Subject: Endal earns his CGC!
From: "My White Dog"
Date: Tue, 24 Nov 2009
To: deeprunfarm@deeprunretrievers.com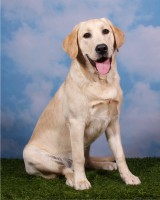 Hi Jack & Phyllis,

Just wanted to let you know that our boy Endal (Hero/Tutti 7-2008) passed his AKC Canine Good Citizen test! He has been a joy to train and was a perfect gentleman during the test. Now we are moving on to Rally and Tracking! Attached is a picture taken of Endal at 9 months old. He's really quite a handsome guy. Best wishes for a wonderful Thanksgiving.

Regards,
Jackie
See the

page of letters and pictures from our satisifed customers

Deep Run Farm
13727 Blackwells Mill Road
Goldvein, VA 22720

(540) 752-4710/4888 FAX (540) 752-4775 deeprunfarm@deeprunretrievers.com

Home | About | Breeding | Puppies | Trained Dogs | Health Care
Customer Feedback
Norwich Terriers | Kudos | More Information