AFTER DEEP RUN FARM
Here are some more letters and photos we received from satisfied owners
(Last names and addresses have been omitted)
Subject: 13 Wonderful Years
From:Joy
Date: Mon, 23 Nov 2009
To: deeprunfarm@deeprunretrievers.com

Jack and Phyllis,
I am sad to report that we lost our Lacey after 13 years, 7 months, and 8 great days. Her kidneys couldn't keep up with her heart and she is now outrunning all of the others in the clouds.
I have heard that you have to multiply a dog's age by 7 to get the equivalent in human years, but I have never seen a 95 yr old woman jump around in the surf like the attached photo. Thanks for helping her into our family many moons ago (July 4, 1996). We will keep a close eye on your website for an upcoming litter of pups.
See Lacey in the surf

Thanks Again,
Ross & Joy


Subject: Deep Run Dog News
From: Diane and Dave
Date: Sun, 8 Nov 2009
To: deeprunfarm@deeprunretrievers.com

Greetings Phyllis and Jack,
I am the owner of two Deep Run dogs. Attached you will see an ad that is running in the November 2009 issue of Clean Run. Clean Run is the magazine for everything agility. My friends and family honored Gidget (Elvis/Risky 2001) and I with a dedication to her many achievements. She is a wonderful dog and a brilliant competition partner. At the bottom of the ad you can see her younger sister, Quiz (Elvis/Risky 2005) who is moving right along in Gidget's footsteps. You may post this ad on your web page if you like.
See the Gidget in Action
Thank you for these wonderful dogs.

Diane


From: Rives
Sent: Tuesday, November 03, 2009
To: deeprunfarm@deeprunretrievers.com

My 13 year old Lab, Clark, pictured in the attachment has now retired and is looking for a brother to carry on the family hunting tradition. A friend, Susan Wiggins from Cleveland, Ms told me about your dogs. Color and the large block head like Clark are important to me and I was hoping you could help me find a puppy with a hunting background that could potentially look like Clark as an adult. Clark has a very calm and loving temperament and is my constant companion. He goes to the office with me everyday and sleeps in the bed at night and even though he is spoiled rotten, he, in his day, was the best hunting dog Iíve ever owned. I say this to let you know how important my dog is to me and why I am willing to wait for just the right match. The Kennels near here sell British Labs and although I put up a deposit with Mike Stewart at Wildrose, his dogs just do not have the look that Clark has. I will be glad to put up a deposit or pay in advance if you feel that you can help me.
See picture of Clark

I look forward to hearing from you.
Rives


Subject: Lucy is doing very well!
From: Bob
Date: Fri, 2 Oct 2009
To: deeprunfarm@deeprunretrievers.com

Hello Deep Run Farm,
Our new puppy, Lucy (Hero-Madonna) has done exceptionally well her first week in our home and we canít thank you enough for this great puppy. We have had few "accidents" in the house, she loves playing with her toys and much to our amazement she is doing quite well coming when her name is called. She visited with our Vet on Wednesday, passed with flying colors and was the talk of the office. Everyone wanted to meet out new Lucy.
So, thank you again for a great puppy and we look forward in spending many memorable years with her.

Bob & Mary Louise


Subject: bird dog
From: Andrew
Date: Fri, 11 Sep 2009
To: DeepRunRet@aol.com

Pictures of Taz at work: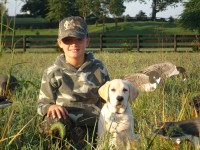 See Taz picture 1
See Taz picture 2
See Taz picture 3
See Taz picture 4

Iíve sent a few people your way; hopefully they are calling you.
Suzan is looking to have her 6 month old puppy trained and she said she was going to call you. A few other people who are looking to buy puppies should call too.

We are extremely happy with Taz.

Thanks again
Andrew


Subject: Opening Day of Dove Season (16 months)
From: Paul
Date: Tue, 8 Sep 2009
To: deeprunfarm@deeprunretrievers.com

Just wanted to send you a couple more Pictures of Duke (a Buddy Puppy).
See Duke picture 1
See Duke picture 2
We had a very poor opening day this season but Duke managed to make the most of it. This dog has an unreal innate ability to view the field and retrieve. As I watched him lie around and sleep all morning and on the way to the Dove field, I had my wonders about how Duke would be on this day. Duke hit another gear when we got to the field. He absolutely loves to hunt. He paid attention and watched the skies the entire time we were there and seemed the least bit bored. He is very mindful and knows what he is doing with the very little bit of training that I have done with him. He is a great dog and I thank you again.

Regards,
Paul


Subject: Introducing Deep Run Henley Harbour
From: Alex
Date: Sun, 9 Aug 2009
To: DeepRunRet@aol.com

Hi Jack, Hi Phyllis,
We have been remiss in sending along photos of Deep Run Henley Harbour. She is looking very much like her father, Sam, these days. We are continually amazed by your selection of Henley for us. She is a perfect fit for our family and practically mirrors our energy levels throughout the day. Every morning we go on a walk and each afternoon she has a play date with neighborhood dogs. Attached are photos of Henley as well as some of the ones we took on pick-up day of Sam.
We do have a quick question about trimming coats during the summer. Do you advise this during the summer?
Thank you again for finding the perfect member to add to our family.

See picture 1
See picture 2
See picture 3
See picture 4 (Sam)
See picture 5 (Sam)

Cheers,
Alex and David


Subject: Thank You for Boo (our Hero and Wren pup)! From: Alison
Date: Sun, 9 Aug 2009
To: deeprunfarm@deeprunretrievers.com

Dear Phyllis, Jack and Lelani
Just a short note to say thank you for Boo and to let you know how he is getting on. It was Boo's first birthday on Friday 08/07/09 - we had a small party for him, some pictures of that and a couple of others are attached. Hard to believe just a year ago he was such a small thing and now he is a big handsome boy! We feel so lucky to have Boo in our lives, and although I am sure everyone says the same thing, Boo is absolutely the best dog we could ever have wished for. He is a wonderful low energy lab who wants nothing more than to spend time being with us. Obedience training for him was a breeze, he wants so much to please us Ė so long as he can work out what we want him to do he is all over getting it done. He loves to retireve and swim (although he has still to learn not to drink the salt water!), the frisby and the ball are his favorite things. Best of all he is so well behaved we can take him any place that allows dogs and know that he will be a perfect gentleman.
See Boo picture 1
See Boo picture 2
Thanks again for breeding such a great dog.

Alison and Max


Subject: Max
From: Jerry
Date: Thu, 18 Jun 2009
To: deeprunfarm@deeprunretrievers.com

Jack and Phyllis

I got a pup from you in July of 01 out of Hombre and Molly. Max. Just thought I would drop you a line to let you know what a great dog he is. I have been fortune enough to own a 75 acre farm with a 40 acre impoundment that borders Lake Mattamuskeet in eastern North Carolina. Its one of the best around and we usually shoot 400 to 500 ducks a year. I have also been to Canada 3 of the last 6 years hunting snow geese and ducks and we have gotten quite good at it. OK so the point is my buddies and I were trying to figure out just how many wild birds Max has retrieved and it's over 2500. And that doesn't count the doves. He is truly a remarkable dog. He never ceases to amaze me or anyone who hunts with me. He is the first to the blind in the morning and he looks at us when we leave like " hey where are you guys going the birds are still flying". Never had him refuse a retrieve no matter how hot or cold or how many he has already brought back. We have had 100 plus snow goose days in Canada and Max is always searching the sky for more. When we finish hunting and start to gather up our gear Max heads to the far side of the rig and quarters back to the blinds to see if he might have missed a bird in all the excitement. Then he goes to the other side and does it again. You can't teach that. Some of the cripples he has found will leave you just shaking your head saying " how did he do that". He handles well, loves to train or just play and you couldn't ask for a better family dog. Jack, you started him and I have been able to build on that but I know it is more the dog than anything. My friends tell me all the time that Max is far smarter than I am and I would probably agree.

Both of you should be proud of the genes you are passing on. Max has been a true joy to hunt with and to just have around. I get sad thinking there will be a day when he won't be around but that is a few years down the road. Like I said I just want to let you know how one of your "grand pups " is doing.

Take care
Jerry


Subject: Roxy
From: Rick
Date: Tue, 16 Jun 2009
To: deeprunret@aol.com

Hi Phyllis,
I hope all is well. Roxy (Pye and Elvis 7-18-05) is coming up on her 4th birthday. She just went for her annual check up and the doc was absolutely amazed how fit she was. She weighs 67 lbs and is absolutely ripped. The doc asked if we took her swimming at all and if so, was she prone to ear infections. When we told her that she swims all the time, but has never had an ear infection her comment was; "that is a sign of good breeding".
Roxy has turned into everything we hoped for when we were looking to add to our family. She had high expectations to live up to that were set forth by Casie who we lost at 13.5. She has met everyone of those expectations, but has done so while maintaining her own unique personality. She is without a doubt MY third child, but as time goes on she is getting closer and closer to everyone in the family. In fact her night time ritual consists of spending equal time on everyone's bed. She starts with my son then moves to my daughter's bed and then finally ends up an the bottom of our bed.
My daughter is off to college next year so I have already begun the process of "working" on my wife to bring in a playmate for Roxy. With any luck you'll be hearing from me soon!
See Roxy picture 1
See Roxy picture 2

Thanks again for the allowing us to adopt a Deep Run pup to add to our family.
Rick


Subject: Update Pics & Vacation
From: CAROLYN
Date: Tue, 26 May 2009
To: deeprunfarm@deeprunretrievers.com

Hi Phyllis,
I am so pleased you liked the pictures sent of Monty (Deep Run's Monticello Sunrise). He is now 6 months and 60 lbs. I thought you would like to see the latest pics (3) - remind you of Sam, maybe just a little?
See Monty picture 1
See Monty picture 2
See Monty picture 3

Monty would like to spend his summer vacation at the farm August 3 until August 8 (large run, Kuranda bed) walks and possible beginner swims lessons.

Hope to hear from you soon.
Thanks,
Carolyn, Brad and Monty

P.S. - Monty and I met Vicky (Belquest) on our first grooming visit. I told her of Monty's special connections! I will confirm on boarding page.


Subject: Vandy - Spenser & Fiona Pup
From: Suzanne
Date: Tue, 21 Apr 2009
To: deeprunfarm@deeprunretrievers.com

Hi,
I just wanted to let you know that Vandy visited our vet last night and he loved her. He told us that he loves English Labs. He said she was a healthy puppy and was doing just fine. She weighed 12.8 lbs. She is doing quite well with housebreaking and is figuring out that everytime we take her out, she is supposed to do her business. She loves our other two dogs and wants to play with them all the time. Several times, she has curled up next to our Newf. We have her crate in a corner of our living room, so she can see the other two dogs and she does not cry or whine when she has to go in her crate when we go to work or when it's bedtime. She is already learning her name and is doing well learning the sit command. Thank you for such a great puppy.

Suzanne


Subject: Re: Puppy
From: Tracey
Date: Sun, 19 Apr 2009
To: DeepRunRet@aol.com

Phyllis:
Well, I simply cannot say enough about our sweet new baby. Her name is Mahi Dancer. She was the most amazing little traveler you could possibly imagine today!! She romped around my Mom's yard for about an hour and we headed off to the airport. I had a lovely, animal-loving flight attendant who was totally fine with her out of the container and in my arms and she slept like a baby the whole way to Charlotte. On the flight from Charlotte half of the plane got out of their seats to come and see her. Again, she was sleepy and easy. Not the first whine or bark and just like an old pro at traveling.
We are home now and she seems like she has lived here forever. (the cat is really pissed!) Wahoo, our first Deep Run baby, seems very happy and not jealous at all. They are staring at me and wagging tails in unison as I type.
I so very much appreciate that you worked so hard to get her to me this morning and please tell Jack how much I appreciate him driving to meet me. Everything was so easy and she is just so delightful with the sweetest personality ever. We will keep you posted on progress.

Thanks again so very much,
Tracey


Subject: AKC Jr Hunt test!
From: Christian
Date: Sat, 04 Apr 2009
To: deeprunfarm@deeprunretrievers.com

Hi Jack & Phyllis,
I entered Deep Run Dakota East (Kota) in his first AKC Jr hunt test, Also my first event as well. He did not Ace the test but PASSED! and did very good. I spend 15 to 20 minutes every day training him. He just turn 10 months old on 4/2/09, a lot of folks at the test kept coming up to me asking how old is he, and where did I get him!! They were amazed at his marking ability, you see the field retrieves consisted of land go through 6-8 ft tall weeds then go through sloppy water to land and make the retrieve back plus 40 mile hr winds and the test was in what I would call a bowl high hills and go down and make the retrieve, there was only one dog younger then Kota by about 2 months, out of 22 dogs about 12 passed and two were my dogs, I also have a female Cheasapeake who is 14months old.
I just wanted to give you an update on Kota as he is an absolute joy to train and my whole family loves him very much. By the way, I told everyone who asked; DEEP RUN FARM (Jack & Phyllis)
Kotaís next test is in May at Cheltenham, maybe I will see you there. I will keep you posted as we make our to the Master Hunt Test some time next year.

Sincerely,
Christian
I attached a couple of pic's!! See Kota picture 1
See Kota picture 2



Subject: Update on Deep Run's Monticello Sunrise (Monty)
From: Carolyn
Date:Sun, 15 Mar 2009
To: deeprunfarm@deeprunretrievers.com

Hi Phyllis and Jack -
It's been 3 months since we made the trip to Deep Run but I wanted to update you both on Deep Run's Monticello Sunrise (better known as Monty). He is one of the two male pups born to Hannah and Sam on October 30th, 2008. Monty's now 4 1/2 months old and 42 lbs. He loves the snow and just completed puppy class. He will be starting his next class in just a week. He delights everyone he meets and made best friends with a 4 month old and 72 pound Saint Bernard making everyday a new adventure! Here are some pictures of Monty we thought you might like.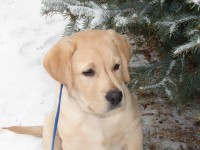 See Monty picture 1
See Monty picture 2
See Monty picture 3

Carolyn and Brad


Subject: Deep Run High Kaliber SH AX MXJ
From: Dana
Date: Mon, 9 Mar 2009
To: deeprunfarm@deeprunretrievers.com

Kali is five years old today! The years have just flown by, and I have enjoyed them all. In the past five years, Kali has earned her Senior Hunter and AX & MXJ agility titles. If it weren't for contacts, we would have that MX by now... I'm sure we will get the MX soon, and we are training for Master Hunter tests also.
I really love everything about Kali, and am starting to think about getting another puppy. I noticed your Hombre x BJ litter on the puppy page, looks like a litter I would be interested in. When I was looking for Kali, I was looking for an agility dog who could do field. Kali has converted me to a field person who does agility. She has drive, is biddable, not vocal at the line, great marker, loves water, uses her nose, and is extremely people oriented and very lovable. I have a 65lb lap dog! I would appreciate any information on this litter or any that you have planned for the future that you think would be a good fit for me.
I have attached a picture of Kali after earning her SH title, and a couple from agility.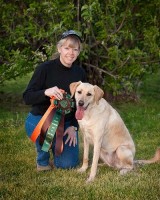 See Kali 1
See Kali 2
See Kali 3

Thanks for a great pup,
Dana


Earlier this year, I got this email from Brian, who purchased a puppy from one of our "show" litters, sired by BISS CH Boradors By George, #1 Labrador in 2001. I told Brian I expected him to practice his shooting, because he was letting Midas and Deep Run Farm down, we had high expectations for him.

From: brian
Sent: Saturday, February 07, 2009
To: deeprunfarm@deeprunretrievers.com
Subject:

Phyllis, here are some pics of Midas. He really is great he loves to sleep on the couch or chase pheasants in the fields, what ever we are doing is what he wants to do. I canít ††get up from one spot to go to another without him right beside me. He has really been fun. He loves his swims in the lake or just resting in the bushes to get out of the sun as you can tell from the photos. He loves to chase those doken ducks he will sit till released with my son throwing them all day .Its funny he loves the lake and swims all day as long as you throw those ducks but if you stop he just sits and waits. †Midas loves to train, he really slams his sit to the whistle people are amazed at how well he responds to the whistle. At last years bird challenge at my local bird club he did great we had the fastest times for bird finds if my shooting was only better we should have won . Next one is coming up soon some time in Feb. . (Hope to do better this year I have been practicing Iíll try not to let him down again.) Hope all is well at Deeprun, you really have wonderful dogs and a beautiful facility. Last summer my family was out boating on Lake George in upstate New York and we were talking to some one on another boat that had a black lab. I said to them that I have a yellow lab that looks just like the one they had. He had a big block head like Midas does, I asked them where they had gotten him from and of course they said Deeprun farms. What a small world.

Thanks, Brian and family, and of course Midas

Imagine my delight when I received this photo from Brian this morning.



Example of long distance shipping

Subject: Yellow, Female Lab
From: Nicole
Date: Fri, 13 Feb 2009
To: DeepRunRet@aol.com

Hi Phyllis,
Things are great! She is such a sweetheart :) The trip out here went so well. She was quiet for the whole flight unless she wanted a little love and then she'd go right back to sleep! She held her bladder until we got to Frankfurt and went outside. Same with the second leg... I was completely amazed at how smooth it all went. Lufthansa didn't check her paperwork once and neither did Bahrain, the country we flew into before driving into Saudi. The officers at that checkpoint were really nice and didn't make me go through the vet check up and just passed her through.

Out here, she had her first swim in the ocean a week ago. I can't go too far in and she's been pretty tentative. She loves playing in the sand and adores all the attention she gets out here (only puppy on camp, so you can imagine!)

I really wish I had gotten some Missing Link and the other pill of goodness she was on...too much of a rush, though.

She's so lovely and I'm so glad you took such good care of her -- I'm a lucky lady :) I know you probably see pictures all the time, but I attached two of my favorites for a little visual update on Kamea.
See Kamea picture 1
See Kamea picture 2

I hope you are well and everything is going alright out there!

Nicole


Subject: FW: Here is Ginger at 3 1/2!!
From: Chuck
Date: Tue, 6 Jan 2009
To: deeprunfarm@deeprunretrievers.com

Phyllis and Jack,
Happy 2009!! I wanted to let you know how wonderful and amazing Ginger continues to be with me! Not a day goes by when I donít give her a big hug, tell her how much I love her and that she is the BEST thing that ever came into my life. She is truly amazing. Energetic, playful, always wanting to please me and others. And, what an incredibly fast learner! She is so obedient and talented. She never ceases to amaze me. I was looking at your website and saw pictures and descriptions of her father, Buddy (Bel was her mother, and Ginger was born May 13, 2005). Ginger looks EXACTLY like Buddy, only Ginger is yellow, but has the same body, face, head and nose as Buddy. I just wanted to share my happiness with you and your readers.
See Ginger picture 1
See Ginger picture 2
See Ginger picture 3


Thanks,
Chuck


Subject: Our wonderful Bountiful Joy
From: Becky
Date: Sat, 27 Dec 2008
To: deeprunfarm@deeprunretrievers.com

Dear Phyllis and Lelani:
Happy, happy Holidays!
We are thrilled with our Girl! My husband won't let me walk through the room with her without scooping her up and kissing her soft little head and rubbing her neck. He is very impressed with her bright intelligence and continuous enthusiasm. He loves everything about her but the price, in fact! She has had no urinary accidents; she pees every single time her paws hit the ground outside, and also has run to the front door already to ask to go out, once for a pee and once for a poop. She has only had 3 poo accidents, and I caught her in the middle of each (the first one was on a pile of pine branches just inside the front door ("wood chips"), the other one in the foyer on the way to the door, and the 3rd one she was waaaaaaaaaaaaay back in the dining room and didn't know she had to go until too late, so she just shrugged and squatted down!
She is quite calm so far and I am able to tire her out so she sleeps through the night in her crate in our room. She can go upstairs on her own but not down yet. Walks beautifully on the leash for blocks at a time, then crashes on my feet for long naps. Stays behind the desk at the clinic in the reception area and cries when she needs to go out, when I take her to work. Has only unplugged all the phones up there once....usually they watch her better. Travels perfectly quietly in her crate and loves other dogs of all sizes and ages! She already has a perfect recall, even with the automatic sit at the end, so I am working on teaching her "stand" (quick, before she learns "sit" from my husband!).
In other words, the usual perfect report for one of your dogs. This is one pink nose that won't be coming back to you! Anyway, I keep hoping it's from being scratched and chewed on by her brothers and will darken again over time, as it was darker when she was tiny and only just got pink more recently; when I picked her up it was a little bit pink and now the top half is.
Hopefully I can attach a few pics here; will send more as she GROWS...she has gained FOUR pounds in the first week and is not fat, I swear, just tall.
See Becky Molly picture 1
See Becky Molly picture 2
See Becky Molly picture 3


Thank you for really picking the perfect breeding! I adore her; she will probably sleep in our bedroom forever, in spite of my husband's allergies!
--Becky

"Work like you donít need the money, love like youíve never been hurt, and dance like no one is watching." Satchel Paige


Subject: 6 pictures for you
From: Gary
Date: Sun, 04 Jan 2009
To: deeprunfarm@deeprunretrievers.com

Hi Jack & Phyllis,
Otis is the son of Buddy and Star, born February of 2008. We just wanted to let you know that Otis is doing great!
We are soooo--- in love with him and constantly amazed at his wonderful, calm and intelligent personality. He went swimming most of the summer and just loves the water! We go on lots of walks every day and he has lots of friends in our neighborhood. Otis is extremely responsive, playful, retrieving toys and walking with or without his leash very well. Otis is such a lover and is great with everyone, with the exception of the vacuum.
We are so proud to walk with him and receive all the wonderful compliments from others who are impressed with his looks and personality. Otis is gorgeous as we know your dogs are all so beautiful, but every time we look at him, we are just amazed at his build and his black beautiful sparkling coat.
We have attached some pictures for you to see he is very well adjusted!
Otis picture 1
Otis picture 2
Otis picture 3
Otis picture 4
Otis picture 5
Otis picture 6

Merry Christmas & a Happy Healthy New Year!

Gary, Prita, Gracie & Otis
New York
See the

page of letters and pictures from our satisifed customers

Deep Run Farm
13727 Blackwells Mill Road
Goldvein, VA 22720

(540) 752-4710/4888 FAX (540) 752-4775 deeprunfarm@deeprunretrievers.com

Home | About | Breeding | Puppies | Trained Dogs | Health Care
Customer Feedback
Norwich Terriers | Kudos | More Information