AFTER DEEP RUN FARM
Here are some more letters and photos we received from satisfied owners
Dear Phyllis and Patches,
Just wanted to give you an update on Tucker - and to tell you how pleased we are with him. - and to show off one of his ducks!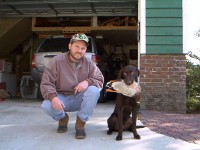 We started Tucker's formal training with Jerry Simmons in Sept 01 and he went on his first hunt in early December. He did great and continues to love fetching those ducks! We are starting field trials in February.
He's a wonderful dog - very social and well disciplined!

Thanks for everything!
Kent and Kathy Erickson

Dear Deep Run,
We just wanted to send you an update on Griffin, our Hombre/Nugget puppy. Griffin is now almost 8 months old and is up to about 80 lbs! We've been through both puppy and basic obedience schools and Griffin passed with flying colors. He's mastered the basic obedience commands and we hope to take him through an advanced class in the spring. Additionally, Griffin is proving to be an amazing retriever as well. Although we haven't done any formal training, Griffin will perform multiple retrieves and will take a line from us on dummies (or tennis balls) that he didn't see. We've also taken him out swimming a few times and he appears to completely love it. The only drawback is that we can't keep him out of the water now! He's a tenacious retriever and will keep searching and searching until he finds his object. He's developed a special fondness for tennnis balls, and now "playing ball" is! a! big part of his day.
He's adapted well to our hectic life and occasionally accompanies us to our Rescue Squad station where everyone loves him. (He's inherited Hombre's patented "roll-over-on-my-back-so-everyone-can-rub-my-belly move!) The only glitch so far is his fondness for carrying our 8 month old kitten around...the cat isn't too wild about riding in his mouth, but they're working it out.
Anyway, we've included a couple pictures of Griffin at our station (See picture) and "helping" us rake leaves (See picture). Ok, we raked and he sat in the middle of the pile. We're completely happy with our wonderful puppy and have recommended your incredible Labs to everyone we know who's looking for a dog. Thanks for a great puppy! We'll keep you updated as Griffin expands his accomplishments!

Sincerely,

Chris Lee, Lyndsey Atherton and Griffin
JMUResq2@aol.com
LynEMTRN@aol.com



November 14, 2001
To everyone at Deep Run,
We are very pleased with our new arrival! He is everything we had hoped for and more. We chose to name him "Deep Run Rita's Little Elvis" and he is doing great. His temperment is terrific and he is our 3 year old sons new "shadow". Elvis is moving along very nicely with his house breaking and is sleeping though the night (most of the time). When I picked him up at the airport, he was awake and lively and rearing to go. He had his first visit to the vet last Friday and they were very impressed, as are we, with his health, temperment, looks and the great puppy package that you put together. We thank you again for a wonderful little guy that just loves to retrieve, swim and chase birds! We were a little concerned about our timing as we just brought home our new baby girl, who was born on Sunday, but Elvis is such a great little guy that it is not any trouble at all. We wish all of you the best for the holiday season and the coming new year.

Sincerely,
Glenn and Jennifer Farmer (with Jordan and Gracen)



Tue, 13 Nov 2001
From: "George W. Watkins, CPA"
To: deeprunfarm@deeprunretrievers.com

Hello Phyllis and Jack,

My wife and I would like to express our delight with (Lucy) the chocolate female from the most recent Teddy and Annie litter. She is a bright, smart and a beautiful lab.She has a great temperament. She practically is making it through the nite without waking us to go outside. She is a great companion. She is retrieving from about 30 - 40 feet. Most of the time she retrieves directly to me except when she is tired and decides that we have had enough and it's time to go in.
You couldn't have picked a better lab for us. I was in the local Petsmart store shopping and socializing Lucy. She wasn't at all intimidated by the other dogs. She held her own. We have taken her to shopping centers with us to socialize her people can't believe how well she does around people. Alot of people asked us where we got her. I gave them your number.
We are going to be at the retriever test this weekend in Culpepper and see if Lucy can pass her beginning retriever test. We hope to see you there.
We will be in touch. Thanks so much.

George and Andrea Watkins.



Update on my Elvis/Rita Puppy
Tue, 30 Oct 2001
From: Jennifer Eger
To: Deep Run Farm

Hello Deep Run Family,

It has been awhile since I have given you an update on my puppy, Mayzee. We have been busy training and preparing for the Obedience and Agility rings and it was worth it.
Mayzee went into the Obedience ring for the first time on Sunday, October 14, in Coraopolis. We were showing in Novice B against some very tough competition. My wonderful dog qualified her first time in the ring. I was ecstatic to say the least. The judge said he has never seen the speed she came with for the recall. Most dogs know they are in the show setting and some of the speed thing goes away. Our heel pattern was also a rapidly paced exercise. You even slow slightly and Mayzee tries to invent her own routine.

Hoping to get her into at least two more Obedience Trials this year to see if we can have the CD by Christmas. As far as agility goes, she is just liking that way too much. Some times she is right there doing everything I want her to do and then the next minute she wants to socialize with every dog on site. We have gone to a couple of Show and Go's, and she was perfect one minute and running laps the next. I think her debut in the agility ring will not come until Spring. There are not many trials left in our area right now and I think that I would like to try her at an indoor venue first.

Needless to say, we are very much in love with our Deep Run Puppy and she has met or exceeded every expectation we had for her. Thanks again for the opportunity to get this puppy. She has endless energy and is as HAPPY as she can be. You might say she is spoiled with love, but that has not harmed her work ethic one bit. Will keep you informed as we continue our showing career that we have now started. Once the CD in Obedience is completed, she should be ready to go right into CDX competition as she already knows most of the Open Exercises.

Take care and talk to you soon.

Jennifer and Denny Eger


Hi,
This is from Hanna, she is a daughter of Rider and Annie born on Feb. 26, 2000. On October 7, 2001, at the Mount Vernon Dog Club Obedience Trial, Hanna earned her third leg of her CD (Companion Dog Title). She has done extremely well in her pursuit of this title, taking 2 first place with qualifying scores. She will now pursue her CDX as well as her WC title.
Thanks for such as wonderful and versatile dog!
Donna Brocht
28 September, 2001
Jaeger is wonderful

Hi everyone at Deep Run!

Have been meaning to write sooner, we are so thrilled with Jaeger. He was just a year old on September 11th and is the offspring of Maggie and Elvis. Everyone who comes in contact with him just falls in love with him. He has been hunting and has done a great job with minimal training. Shortly after Jaeger came to live with us, I was diagnosed with a rare form of Lymphoma (Malt Lymphoma of the stomach) and he has been the best thing for me. We took some pictures recently so I will send you some pictures - we think he favors his dad. He is tall and weighs about 81 lbs, the vet thinks he is absolutely perfect and he should know because he has three labs.

Thank you for matching us up with Jaeger, he is perfect for us!

Karen A. Davies



Sunday, 15 July 2001
Thanks for a wonderful friend

Hello! We told you that we would send you pictures from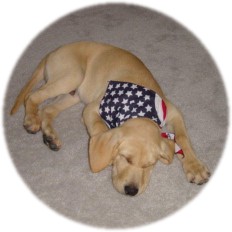 time to time of our Deep Run puppy. First, we want to say thank you for giving us such a loving puppy. As soon as we got him in the car for that first ride home, we instantly fell in love with him. After two weeks of playing with him and spending time with him, he really has become an integral part of our lives. So thank you again for providing us with the most beautiful, playful, well-mannered (most of the time!) pup. We receive many compliments and have referred you at least three times!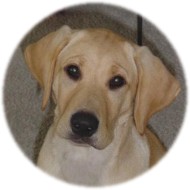 We will stay in touch in the future, and will definitely be coming back when Micah is a little older...we are very interested in enrolling him in some training classes and perhaps some retrieving work. Enjoy the attached pictures!

Always,
Betsy, Brad, and Micah Woods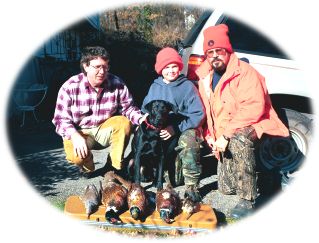 3 Mar 2001
Hi Guys,

Attached is a picture of "Doc" our pup from Tardy and Tinker's litter of last year. He is a great house dog and the birds in the picture are some of the 45 pheasants and Chukars he flushed and retrieved this season. This is "Doc" at approximately 1 year back in November. He retrieved all but 1 bird to hand. He flushed another one on the way out to that one and retrieved the second bird.

He is everything we had hoped for and would probably be even more if he had a trainer who was smarter. (That's me, not Donna.)

Please do not hesitate to use us as a reference. I plan on attending some local NAHRA events this spring to see if my training was good enough to enter him.

Thanks for everything.
Thom Burke

PS. I need another bottle of Glyco-flex and a 5 lb. bag of Missing Link. My credit card should be on file if not email me.



11/25/00
Dear Jack , Phyllis and Patchez.

One week ago Sunny finishes quarantine and came in our house. Sunny was very fine , and became friendly as soon as with Mariel and Elie. Sunny is making friends with in all of the dogs of our neighborhood. Also, Sunny is very gentle to a person, became a favorite right away. In the house , it seems that Sunny is living with us for long time.

We are very happy that we can get such a wonderful Lab . Thank you really. Thank you for having an interest in field trial of Japan.

I report to you about field trial of Japan. In Japan field trial is a minor game very much. They use Pointer and Setter generally. Laburador is very rare. Also, the athletic meet is carried out about 2-3 times in a year. Next meeting is not decided yet. The participant is about 20 sets. It is the almost same way as an actual hunting. I try to ask to our trainer about the game rule , because I do not know well. And, I also report to you.

Best regards,

Akira & Michiko Nakata
mariel@mx3.mesh.ne.jp

23 October 2000
Dick and Phyllis,

I'd like to thank you for the pleasure of owning one of your dogs.

Deep Run Keypaha Katy completed her JH on October 22,2000 at the age of 14 months at the Bryan-College Station Retriever club event. "Kip" has been a pleasure to train and work with; your efforts in producing a quality hunting retriever lineage is very evident. I passed her on 5 attempts....and I have to admit that the first attempt(her only non-qualifying score) was strictly MY mistake in not knowing the complete Hunting Test rules. The Hunting tests down here in Texas have not been easy, as only 40-45% of the entrants are getting qualifying scores. All of this success from a handler who was 17 years between dog titles!!!

I've promised that I won't breed Kip until she reaches the SH level or higher....but the offers have been pouring in since her dominant performance in the rice fields of El Campo two weeks ago. I'm interested in artificial insemination and would like to meet you or Phyliss if y'all get out to Houston or College Station. Your kennel is a tribute to GREAT LABRADORS!!!

P.S. Keypaha is a river in central South Dakota that meandered through my grandfather's pheasant operation near Winner, SD. It is a Sioux Indian word meaning "fast runner".

Steven D. Wright
3019 Fresco Wells
Katy, Texas 77449


To: Deep Run Farm
Attn: Dr.Phyllis Giroux and Mr. Jack Jagoda
From: PSAPIERCE@AOL.COM, Lisa Rutledge
Subject: Lily Wins Field Trial
Date: October 23, 2000

Deep Run Water Lily, handled by Lisa Rutledge, won the annual Rolling Rock Club Field Trial on October 22, 2000 in Ligonier, Pennsylvania. Lily is two years old. Lily's name will be inscribed on a silver trophy that dates to the 1930's and is on permanent display at Rolling Rock Club. Lily's win was by a substantial margin over the second place contender. In the 1999 Rolling Rock Club Field Trial, Lily placed third.

We believe that Lily's win pushes Deep Run Farm's name further in the forefront in the Ligonier area where Sally Sullivan's Labrador retrievers have long predominated. Sally is a former Ligonier resident and summers in the area.

We just can't wait to pick up our new Deep Run puppy from the Elvis-Maggie litter on November 9th. Hope to see you then.

Best regards,

Lisa Pierce Rutledge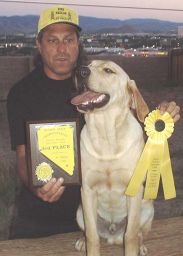 Monday, 18 September, 2000

HI JACK AND PHYLLIS,
NV STATE SR PUPPY 3RD PLACE. MAX WAS 7 MONTHS 1DAY COMPETING AGAINST DOGS UP TO 1 YR. TOMORROW MORNING I TAKE HIM TO BILL SARGENTI AT CL2 WHERE HE WILL STAY IN TRAINING FOR 4-6 MONTHS - THEN ITS DERBY TIME FOR US. HOPE ALL IS WELL AND THE PHOTO COMES UP FOR YOU.

JJ RENO


Tuesday, 25 April 2000
Dear Mr. Jagoda and Dr. Giroux

My wife and I purchased a pup from Drakes Creek Kennel out of Rider and Meg. A sleek female. Her name is Drakes Creek Sierra Rider, we call her Sarah. She is our second dog the other being a 16 month old male, named Remington. Yesterday, April 29th, we entered in the Purchase Area Hunting Retriever Club HRC licensed hunt. She performed wonderfully, and drew compliments from the Judges, Marshal, a pro-trainer and the gallery.

I would like to add that this was my first time handling, we did the training (with the help of Wolter's books), until last week Sarah had only ever retrieved one duck, and had never seen a pigeon. We tained her 5 days from last Saturday to Friday on pigeons and Ducks on Friday. We were told that the land retrieve would be in a mowed field, ankle to mid calf, very very light cover. We tained on grass lots in parks and next to the High school. When we got to the test the grass was knee high, lage clumps of fescue, weeds, and broom sage. Sarah is only knee high, she just turned six months old. My wife and I thought hold have told us that it had been mowed last year.

Sarah ran sixth, every dog had trouble with the first mark. The bird fell in medium weed and gass but between the dog and the fall was very tall and large clumps of fescue, we had a young bird boy(he did a good job for his age) the marks cem out low. Sarah took a straight linr to the bird over ran by only a foot or two and a straight line back. The second retriever was sort of down hill, even taller heavier cover with a tree line behind it. every dog in the test including some large one year and over, over ran the mark and had to really use ther nose to find the bird. I was very nervous, Sarah not being used to cover, would she stay out and hunt? You should have seen her. She stayed in pretty close to the area of the fall, after hunting for a moment she stopped and noticed the bird boy as if to say who are you and what are you doing out here, then she turned and looked at me. My heart stopped, I just knew that if we made eye contact she would come in, I looked to my left, the direction of the bird and she quartering in that direction, she had the bird. We were so proud of her.

The water test was anti-climatic, they were short simple retrieves. On Friday she had already done some 75 to 85 yard retrieves.

She has a lot of heart, the ducks we used on Friday were over half her size. She doesn't always deliver to hand yet. She returns to heel passing within a foot of your right and heeling on the left, sometimes she tosses the bird on your feet as she passes by. She is as smart as a whip, We are sure that Within a week she will always hold the bird until we take it. Her drive and enthusiasm are wonderful, she looks like her Daddy in the pictures that we have seen of him. We told everyone who her Daddy is.

Next Weekend she will be at another hunt. This fall we are going to put her in AKC Hunts and NAHRA.

Sincerely
Steve and Dotty Ward
and
Sarah



(update letter)
10/24/00
Hello,

Sarah is such a terrific dog!! Our AKC Club held it's fall hunt this past weekend. Sarah ran in the Junior stake for the first time. Everyone there thought the Judges set up some pretty tough test for a junior dog, and a lot of the dogs did have some difficulty on the marks, but not Sarah. She aced every mark on every test!!!! No problem for our little Super Girl. We had different Judges each day and Sarah drew compliments from both sets on her abilities. Even people in the Gallery were asking all sorts of questions about her. So she really made an impression. As she always does. Every test we run her in, she draws compliments and questions from everyone. We could not be more proud of her. Our hearts just sore with every compliment and question about who she is out of. We could not be more willing to tell them who her Sire and Dam is.

This spring she will get her Junior AKC title and also her UKC Seasoned Title.

Dotty


---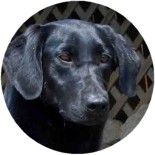 March 13, 2000


Deep Run Kennel,

We have been meaning to share these pictures with you for some time - this is Sugar (from Rider and Cinnamon's 4/99 litter) She has been a wonderful addition to our family and a gentle, loving playmate for our son, Noah. They are a few months apart and she is soo tolerant of his crawling and tugging.

Thank you again for such a wonderful dog.

Charles & Jody Sperry
Clarksburg, WV



---

Sammy and Buddy letters

Dear Buddy,

Happy birthday to us!!

I'm sorry to be late with this, but it has been a long hunting season that Mac says is about over. We hunted ducks from Sept 29th until the Monday after Thanksgiving when it snowed and the ponds froze up and Mac said it got too cold for a skinny dog and an old hunter. It was a long season and a great season and I retrieved for Mac and his friends over 200 ducks.
There is one pond that Mac and I go to where there is a bent over tree out in the water that Mac hides by. I learned to climb up on a branch to get out of the water while we are waiting for the ducks. Mac took my picture and is sending it to Dr Phyllis. He calls it "A black cheetah waiting in her perch". I am wearing my camo vest that helps keep me warm.

We have started hunting pheasants now which is a lot of fun. I have learned from Brad (my teacher) and Mac, to stay close and hunt for birds where Mac points with his arms. One time when we were hunting with a large group of hunters and some "slow" dogs I retrieved 17 of the 28 pheasants the group shot and the other hunters wanted to know about Deep Run dogs and how come Mac had decided to have me sent from Virginia to South Dakota. Just lucky for both of us I guess.
This summer I went back to school with Brad and finally won a big ribbon at one of those trails. I have learned to go where Mac or Brad point with their arms to look for birds that I don't see fall.
Let me know how you are doing.

Your obedient sister,

Sammie "fastest lab in the west"


Dear Sammie-

My life is pretty exciting. I am spending the weekend with Jack and Phyllis, my dad, and some other pals in Memphis doing exhibitions at the Ducks Unlimited Great Outdoors Festival. I also did several TV clips for an Outdoor Show about puppy training and health care.

I really love my work and love to make Jack and Phyllis happy. Phyllis says she never hoped to have a dog nearly a good as my dad, but thinks I might make it. That really makes me proud and I work even harder to learn and do things well.

Jack says the reports on all my brothers and sisters are so exceptional that he is going to repeat our breeding this fall. More brothers and sisters for us!

Do good at school, and watch for me on TV.

Buddy


Dear Buddy,

It has been a long time since I wrote and a lot has happened.

I went with Brad and 8 others dogs to Spokane and for about a month we worked hard. I learned a lot. I heel real well. Mac says he never had a pup that stayed at heel without being reminded every 5 steps. They had real ducks to retrieve out there and one of them dove when I chased it and so I dove too and got it. Brad says only my tail was showing when I grabbed the duck.

Now we are home and I am back living with Mac and Helen. ( It is much better sleeping in a sofa chair in an air conditioned house than in a kennel.)

Last Saturday Brad (my teacher) and I and some of Brad's dogs went to something called a "trial". There were a lot of dogs there and we were supposed to retrieve while people called judges marked down just how well we did.

When it was my turn, I went straight out after the first one and came right back just as Brad had had me doing. However, on the second one when they threw it, it landed behind a long pile of big hay bales. I went straight to where the line ended at the bales and looked and looked, but didn't think to go around the bales and so I didn't hold up the family honor that day. (Mac now has me going around the bales in the field by our front yard and so that won't happen again)

On Sunday, I made a perfect first retrieve, but after the second was thrown, and before Brad sent me, someone at another test site shot a gun and threw a bird. Brad could see that I was confused as to which one I was supposed to get and even though he lined me up for the right one, I went about 20 yards in the right direction and then went for the mark where the gun had been shot.

I hope you are holding up the family honor better than I.

Mac says only 20 days until we hunt doves and geese and he sounds excited so I guess it might be fun.

Your very obedient sister,

Sammie
(Deep Run Miller's Samantha) (my official name) (not yet famous)


Dear Sammie

Phyllis & Jack keep saying I am really special. I am doing nice little doubles, spectacular long marks, lining out about 200 yards, and learning to stop and cast.

I went to a NAHRA event last weekend and aced everything, collecting my first 2 ribbons. Jack & Phyllis say I probably won't run any more trials until I'm ready for Intermediate and Senior, whatever that is.

I will be able to drive to Wisconsin with my Dad and Jack & Phyllis next week, we are going to the Ducks Unlimited Festival at Oshkosh. I like those shows a lot, I've already been to one in Memphis, one in Pennsylkvania, and one in Washington DC.

If you're not too far away, come and visit me in Oshkosh.

Buddy


Dear Buddy,

I'VE BEEN HUNTING!!!
Mac and I have been hunting.
First we hunted doves which are little birds that you can get almost the whole bird in your mouth. I learned that I have to sit still when the doves are coming so they will not get scared and will fly close to us. This was tough as I get excited when Mac picks up his gun. I learned to watch which way Mac was pointing the gun so I could see where they fall and go pick them up. I found a lot of doves and Mac says I have a good nose because doves don't give off a lot of smell.

Yesterday Mac and I went duck hunting. We walked out in water that had weeds in it, but I didn't have to swim because it was not too deep. Mac had a sack of duck statutes that he calls decoys and he put them in the water and then we hid in the weeds. Mac talked to the ducks telling them it was safe or something and they came to join the decoys. I had to watch real close to see which way the gun was pointed when he shot as they came from all directions. He only shoots boy ducks with green heads and sometimes girl ducks would land on the water if they were alone and Mac would talk to them. They weren't scared of Mac, but when I tried to talk to them they flew away.

Then some geese came. Mac shot one and when I went over to get it, it was BIG! I couldn't get my mouth around it and had to drag it by the wing.

When we were all done, Mac started to get the decoys and put them back in the bag. After he got the first one, I went and got all the rest of them for him to put in the bag. Mac was very happy that he didn't have to go get the decoys, but he is worried that I might get them tomorrow before we are done hunting. He says we will work hard on teaching me when to pick them up and when to leave them alone. In training Mac is throwing 3 bumpers at one time and I always remember where they fall. (I remember better than he does sometimes).

Mac says we will go hunting every day now so this will be a lot of fun.

Your obedient sister,

Sammie (retriever of ducks and decoys)
See the

page of letters and pictures from our satisifed customers

Deep Run Farm
13727 Blackwells Mill Road
Goldvein, VA 22720

(540) 752-4710/4888 FAX (540) 752-4775 deeprunfarm@deeprunretrievers.com

Home | About | Breeding | Puppies | Trained Dogs | Health Care
Customer Feedback
Norwich Terriers | Kudos | More Information