To: deeprunfarm@deeprunretrievers.com

Hi Phyllis,
My name is Brian Swan. I'm the guy who purchased Emma from you back in the Spring. I just wanted to thank you cuz she's turned into a real pal. She weighs about 52#'s now, lost most of that long coat (lots of time in front of the fireplace), and works harder than any of my buddies dogs.
We spent the beginning of duck season in Louisiana, then I was transferred to Idaho where she got to find me some pheasants and quail. She's still not a steady as I would like but we have lots of time to work on that besides she's got lots of style and is absolutely driven to retrieve.
I've been thinking about trying some of the hunt tests this Spring but don't know much about them.

Again, Thank you. I'll send a picture someday.

Brian


---
December 10, 1999
Dear Phyllis:

Just wanted to let you know that Marty* has adjusted wonderfully to his new home. He is absolutely the most loving dog I have ever been around, he loves pinning my youngest daughter down and licking her to death.
Before I even had a chance to work with him he found my retrieving dummies and brought them to me. We have about a foot of snow on the ground at this time and when I took him outside to work he just barrels through it with reckless abandon to retrieve the dummies. I just wanted to let you know how pleased we are with Marty, I'm already planning my first hunt to Kansas with him. I will keep you posted on his progress.
Mark Kenly
Denver, CO
* A Deep Run Farm trained "Gun Dog"


---
"Just want to thank you for selling to us the best dog in the world. 'Gus', remember him? We love him so much and he is such a pleasure. Sending you some pictures of our boy."

| | |
| --- | --- |
| Gus likes the diving board | Gus with rubber duck |
---
Subject: Our puppies
Date: Mon, 22 Nov 1999
From: NAckerIII@aol.com
To: deeprunfarm@deeprunretrievers.com

Just a note of thank you for all your help with breeding our dog "Kitty" with Hombre. The puppies are beautiful, and are all spoken for. They are each going to a good home -- mostly as family dogs, but 2 are going to local hunters. The two hunters were especially happy to get dogs whose grandsire was Riparian Roughrider. I didn't know how well known he was among retriever lovers.
This has been a very positive experience for our family, and we'll contact you when we decide to breed Kitty again. Thanks!


---
(September 18, 1999 Email)

My name is Mark Pearson. I purchased a pup from the TardyxMae litter whelped in April. Her name is Deep Run Arianna's Bo Bo (Bo), and she is doing great. She is very tractable, loves people(sometimes too much!), and has alot of drive and desire in the field. Bo "retrieved" a dead song bird in the back yard within 10 minutes of arriving home. I almost feel guilty since she is much better at being a retriever than I am at being a trainer. All in all, I could not be any happier than I am with this puppy. I am an extremely satisfied customer. Thank you, and I hope to see you at some NAHRA events in the spring.
Best Wishes,
Mark Pearson


---
August 25, 1999

Dear Deep Run:
After adopting Elvis & Maggie's daughter 8 months ago, my wife Holly and I could not be happier, even when she decides she(55lbs.) needs a larger portion of the bed. We have continued the base training you instilled at month four. She is consistently trying to please us with her abilities.
Of all things, we are most pleased with her love of people. Because we live in an urban environment Monday to Friday she is frequently approached or she approaches strangers with the happiest disposition and tail wag imaginable.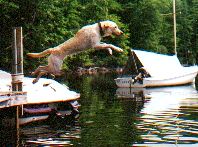 This summer we traveled to our respective families homes for vacation. Each week trip included children ranging from 3months-7 years old. Gilbey never gave even a hint of being angry. She would play whatever the children wanted and would always remain within control in or out of the water. Even to my dismay dropping her frisbee at the foot of a five year old after retreiving.
I have attached a picture from our recent trip to New Hampshire that we feel would make her parents proud. I guess she got the love of the water from Elvis and the jumping ability from Maggie.
Thank you for all the happiness Gilbey provides.
Warmest Regards,
Jim & Holly Hughes


---

I just wanted to update you on Woody and how he is doing. Flip has him doing voice commands and hand commands. He is truly amazing! In all of this hot weather he runs to the pond the minute the door opens. Flip has worked with him on water retrieving.....but I haven't watched him to tell you how he is doing. Flipper also just bought a new kayak for hunting. I didnt have my camera with me that day. But next time I will take a few shots of the two of them rowing along! He loves the ride. He loves my Mother-in-laws Springer Spaniel named "Stormy". They would play for hours if we didn't keep them apart. Stormy has been teaching Woody how to rabbit hunt. Stormy even did the kill and shared the earnings with Woody! Now is that a friend for life or what!!??? I also wanted to let you know that Woody had his first Hotel (kennel) visit. He did very well. The lady there put Stormy and Woody across from each other and they had play-time 2 times a day with each other. He lost alittle weight but put that back on fine. My biggest Helpers have been my two daughters Katy and Ginny. They have been earning extra money by walking him two times a day. Even in the hottest weather! He is due back this week for some shots so I'm not sure how much he weights right at the moment. But I'll get back to you on that. I see that you have two chocolate males left. Are they 2 of Woodys brothers?? I have send you a pix with this note. Hope you enjoy it as much as Woody enjoyed ripping up the feather duster!! I just wanted to let you know how much we love Woody. Even on all of those sleepless nights and carpet cleaning days!! And I even forgave him when he ripped some of the skirting off my couch. What a Mom!! Hope your enjoying your summer..... Our Best Wishes, Shannon and Flip Welsh


---

June 7,1999
Hello Jack, Phyllis and Patches,
This is Steve Patrick from Bates City Missouri. I just wanted to drop you a line to let you know how our black lab pup (Oggie) we received from you in late March is doing. First of all, I just want to say that he is everything we had hoped for and more. He is very outgoing and energetic yet also a very loving and friendly pup. Not to mention that he is turning into a very hansom dog (He looks like his dad - Rider). He is growing so fast, his last visit to the vet he weighed in at 37 lbs.
Training wise, he has mastered sit and stay, but is still a little rough on the leash at heel. He is retrieving well except we are having a little trouble getting him to follow through and return to hand. He is very eager to go after and find the dummy; however, he sometimes has his own plans as to what he is going to do with it once he gets it. He loves the water and water retrieves. We live on 9 acres and have a pond approximately 1/2 acre in size; he loves it!!
Well, that's it for now, As Oggie continues to grow and accomplish new things I will keep you updated. Thanks for a wonderful pup!
PS: If you have any suggestions on getting him to return to hand I would love to hear from you.


---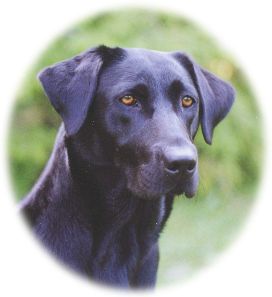 9-22-98
TO: Jack and Phyllis

&nbsp &nbsp "I'm Kyle Wildschut, writing to you from Zeeland, Michigan. You sent me a pup 1 1/2 years ago in Feb during a blizzard if you can remember that far back. You also sold a pup to a friend of mine, Randy Van Klompenberg, who lives about 3 miles from me.
I don't know if you're interested, but I sent some pictures of Abby that I took the 1st of September this year. Abby is 52 lbs and is slender of build but very athletic. She has two speeds; one is laying on the floor next to my easy chair, the other is wide-open when in the field. She loves to retrieve and never fails to return to hand whether it's birds or dummies. She loves to hunt pheasants and in her first year in Iowa put up and retrieved 28 birds for me. She can hunt 8 hours a day and still be bouncing over the weeds like she has springs on her feet. She is also just a great pet, easy-going when indoors or around my brothers kids ages 8 & 4. She trained very easy, does not bark and will not fight other's dogs even if chewed on. She only has one bad habit that I can not get rid of...and that is her occasional snoring while I'm watching TV- Ha! Ha! I guess if that is her only fault, you must have done a good job picking me out a pup. She's everything I wanted and then some and will recommend you when I have a chance. Thanks again for Abby and in a couple of months will let you know how her second bird season went."
Thanks,
Kyle Wildschut
351 E. Lincoln
Zeeland, MI 49464
(616) 772-1155
---



Some photos sent in by owners of our puppies and trained dogs
The Pauly Family
Gideon, Rowdy, Star, Scout's Son
See the

page of letters and pictures from our satisifed customers
---

Deep Run Farm
13727 Blackwells Mill Road
Goldvein, VA 22720

(540) 752-4710/4888 FAX (540) 752-4775 deeprunfarm@deeprunretrievers.com

Home | About | Breeding | Puppies | Trained Dogs | Health Care
Customer Feedback
Kudos | More Information