WATCH YOUR DEEP RUN PUPPY GROW




Pictures from recent completely reserved litters
If you decide you want one of our puppies, please fill out Puppy Adoption Questionnaire so that we can help you select a puppy to suit your lifestyle. That is the first step in getting a Deep Run Puppy.
Below is a listing of recent litters that have been completely reserved.

Black and Chocolate Dual Purpose (English x American)Pups Born January 4, 2020




Hatter
(click for large picture)

Hatter is an 85 pound, well built, exceptionally handsome chocolate dog with a lot of talent and a great personality. He has a sense of humor, too. He is a pretty special dog with a very special pedigree: son of MHR Deep Run After Six, MH, grandson of GMHRCH Six O'Clock Scholar, MH.
Hatter is the first chocolate Labrador Retriever ever to receive Master Hunter titles in both Retrieving and Flushing, and he received both Master titles in one year.
He is an excellent marker, has a superior nose, and handles very nicely. He is a joy to train, run and hunt, whether on waterfowl or upland birds. He is a very fun dog to have around: he is always happy to get a towel and stand on the bumper to be dried off after any water work.
Hatter is OFA Hips Good, Elbows Normal, EIC and CNM Clear, OFA Cardiac, Full Dentition, Patellas Normal, OFA Eyes Clear. Here is a link to Hatter's OFA page.

See Hatter picture 2
See Hatter picture 3
See Hatter picture 4
See Hatter picture 5





Tuesday
(click for large picture)

Tuesday is a lovely black English/American Labrador Retriever just over two years old. Her sire is an English dog, Deep Run Smoking Joe one of our most popular chocolate sires, who is now retired and living in his forever home. Her dam is Deep Run Ruby, daughter of GCH CH Can CH U-GCH Poplar Forest Play It Again Sam UD RE MH MHU and Shady Groves's Cajun M & M MH Tuesday is 3/4 English, 1/4 American, with a square build that reflect her English heritage, but a little more athleticism and a shorter coat that will make her well suited to hunting, active family life, and performance venues.

Tuesday is OFA Good, Elbows Normal, Eyes Normal (CAER), PRA , HPNK, EIC, CNM, and Dilute Clear.
Here is a link to Tuesday's OFA page.




All pups have been reserved

Dual-purpose, half-English, half-American pups. These pups should be exceptional working dogs for hunting and hunt test homes, both upland and waterfowl. A great choice for a performance home or an active family.

Girls: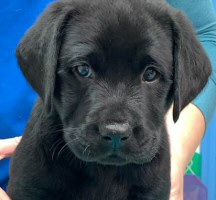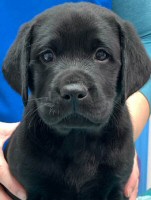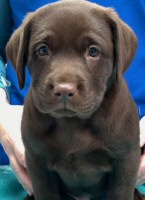 Boys: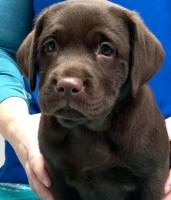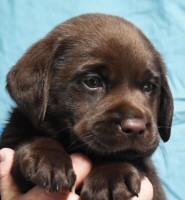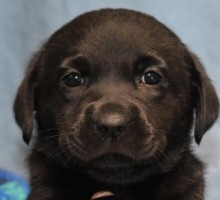 Is this the puppy you have been looking for? Please take a few moments to fill out our Puppy Questionnaire and send it along to us. We will review your hopes and goals for your new puppy and discuss finding the perfect puppy for you!


All English, All Yellow Litter Born January 2, 2020




Charley
(click for large picture)


Charley is a handsome 80 pound English yellow Labrador Retriever male. He is friendly and lots of fun. He loves to retrieve on land and water, and is ready for any adventure.

Charley is an example of Classic Labrador Type in conformation and movement. His gait and style demonstrate his proper structure, coupled with the energy and demeanor that make him a proud and confident exhibitor.
He finished his UKC Championship from the Puppy Class in one weekend, and completed his AKC Championship in very limited showing before the age of two. With the expert handling of Angela Lloyd, Charley went on to quickly finish his Grand Championship as well.

Charley is OFA Excellent, OFA Elbows, OFA Cardiac (Echo), CAER, PRA Clear, EIC, CNM Clear.
Here is a link to Charley's OFA page.







Sparkle
(click for large picture)

Sparkle is a lovely yellow daughter Am/Can CH Deep Run Casablanca CD RA MH SHU and BGH CH Deep Run Lemon Squeezy. She is a happy, easy going labrador and is eager to please. We are looking forward to her first litter.
Sparkle is 0FA Excellent, Elbows Normal. She is OFA Normal for Eyes, Cardiac, Patellas, Dentition. Clear by Parentage for EIC, CNM, Dilute, PRA and HPNK.
Here is a link to her OFA page


All pups reserved.
5 boys 4 girls born January 2. All yellow. For those looking for an English style dog for Hunting or Performance, or just like a beautiful, active Labrador companion, these pups should be perfect for you.

Is this the puppy you have been looking for? Please take a few moments to fill out our Puppy Questionnaire and send it along to us. We will review your hopes and goals for your new puppy and discuss finding the perfect puppy for you!

Boys: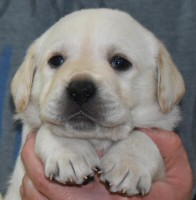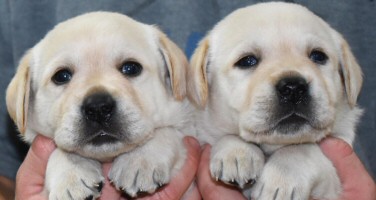 Girls: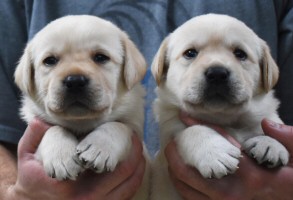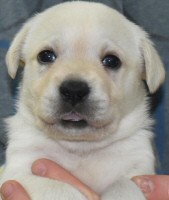 All English Yellow Pups Born Late December, 2019
Repeat Breeding




Billy
(click for large picture)

Billy has just completed his AKC Championship going Best of Winners!
Billy is CH U-CH Deep Run Ballyhoo, a very handsome yellow make sired by Am/Can CH Deep Run Casablanca CD RE MH SHU, out of Deep Run Black Dahlia of Kaleef.
Billy loves to retrieve and loves the water. He will continue working for his Junior Hunter title.
He easily earned his UKC Champion Title in 2017. At the tender age of 10 months, he won a 4 point Major and Best Puppy awards at the Maryland Sporting Dog Show.

.
Billy is OFA Prelim Hips Excellent, Elbows Normal, 2017 Caer (Eyes Normal), EIC CLear, CNM Clear, HPNK Clear, PRA Clear, RD-OSD Clear. He is free of the D-locus (silver) gene. This is a link to Billy's page on the OFA website.






Lexus
(click for large picture)

Lexus is a yellow daughter of GCH CH Can/U-CH Poplar Forest Play It Again Sam UD RE MH MHU and Deep Run Piper. She is very pretty and snow white in color.
She has all her health clearances, here is a link to her OFA page.
EIC and CNM Clear by Parentage


These will be outgoing, well socialized pups.

Is this the puppy you have been looking for? Please take a few moments to fill out our Puppy Questionnaire and send it along to us. We will review your hopes and goals for your new puppy and discuss finding the perfect puppy for you!

Here are some pup pictures from an earlier Billie x Lexus litter: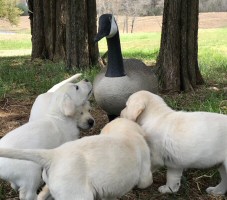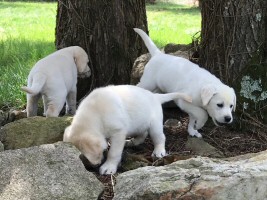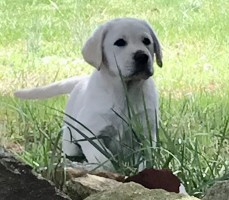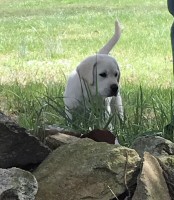 Black and Yellow All-English Pups Born December 1, 2019
Repeat Breeding




Charley
(click for large picture)


Charley is a handsome 80 pound English yellow Labrador Retriever male. He is friendly and lots of fun. He loves to retrieve on land and water, and is ready for any adventure.
Charley is an example of Classic Labrador Type in conformation and movement. His gait and style demonstrate his proper structure, coupled with the energy and demeanor that make him a proud and confident exhibitor.
He finished his UKC Championship from the Puppy Class in one weekend, and completed his AKC Championship in very limited showing before the age of two. With the expert handling of Angela Lloyd, Charley went on to quickly finish his Grand Championship as well.

Charley is OFA Excellent, OFA Elbows, OFA Cardiac (Echo), CAER, PRA Clear, EIC, CNM Clear.
Here is a link to Charley's OFA page.
Charley's Sire is GCH CH Robnie's Two Thumbs Up at Moonlit, Dam is Deep Run Celebration.
Charley went 4 for 4 to complete his Junior Hunter Title, and is now a Senior Hunter.
Charley is a proven sire of beautiful, happy and healthy puppies.







Apple
(click for large picture)


Apple is a happy active daughter of CH Lobuff's Bare Necessities CD JH (call name Baloo). Baloo was the #1 Lab in the country 1992 and 1993 handled by the lovely and talented Beth Sweigart and was Best of Breed at Westminster twice. Baloo won 22 Sporting Group #1 and 5 specialties including LRCP and MJLRC.
Apple's mother, Deep Run Light Fantastic is owned by good friend Dr Frances Smith, who co-bred this litter with us.
We love her looks, type and personality. Apple is OFA Hips, OFA Elbows, OFA Cardiac, OFA Patellas, OFA Eyes, and CHIC.
Here is a link to her OFA page.
See Apple picture 3




All English, black and yellow pups for pets, companions, performance and hunting. Ready early February, 2020.


Is this the puppy you have been looking for? Please take a few moments to fill out our Puppy Questionnaire and send it along to us. We will review your hopes and goals for your new puppy and discuss finding the perfect puppy for you!

Boy: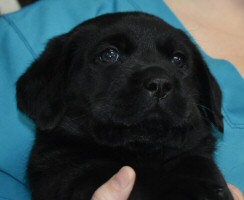 Deep Run Farm
13727 Blackwells Mill Road
Goldvein, VA 22720

(540) 752-4710/4888 FAX (540) 752-4775 deeprunfarm@deeprunretrievers.com

Home | About | Breeding | Puppies | Trained Dogs | Health Care
Customer Feedback
Norwich Terriers | Kudos | More Information