AFTER WATERMARK
Here are some letters and photos we received from satisfied owners
(Last names and addresses have been omitted)
From: Aldona
Date: Mon, Sep 25, 2023
Subject: Piper
To: deeprunfarm@gmail.com

Joanne,
If you'd like please post the following on your website. Thanks so much for matching us with Piper!!

I couldn't be happier with our puppy Piper who we picked up on 12/26/22. She's happy, affectionate, and feisty in the best possible way. The noises she makes and the way she chases a toy, jumping a bit before pouncing, is adorable! I'm so thankful that's she's a part of our family!!

Aldona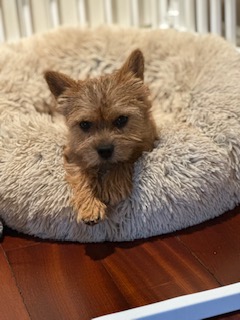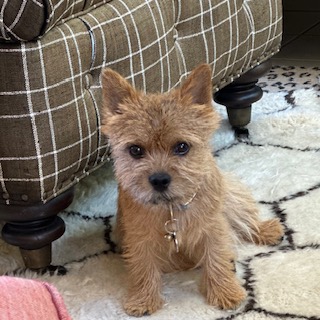 From: Joanne
Date: Mon, Feb 13, 2023
To: deeprunfarm@gmail.com

Just wanted you to know that Norwich puppy 406 (known to us as Hugo) is a total love!!! He's adjusted seamlessly and displayed the perfect temperament (energetic but not hyper, curious in an intelligent way, friendly and so loving). Here are a few pics. Thanks for the fabulous addition to our family; he enriches each and every day!!!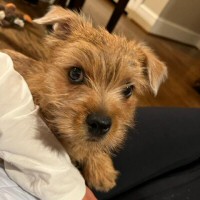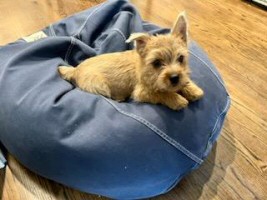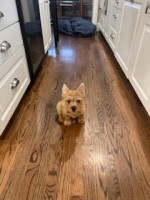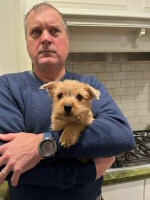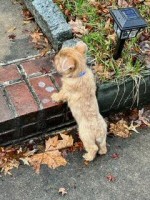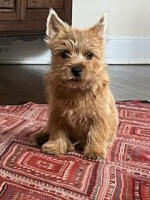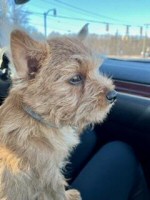 From: Yuliya
Date: Fri, Feb 3, 2023
Subject: Watermark Norwich Toffee
To: deeprunfarm@gmail.com

Hello!

This is Julia, we bought a puppy in December from Zoe and Gangster litter. We named him Toffee and he is absolutely adorable. Toffee is doing great, still getting his vaccines, enjoys people and attention, loves pumpkin purée and want to bite every nose in the world. We are enjoying him and we hope he is happy living with us.

Thank you so much! Have a good weekend!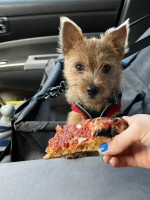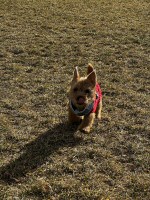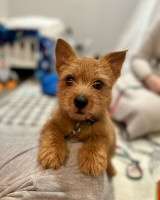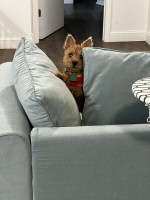 From: Courtney
Date: January 24, 2018
To: deeprunfarm@deeprunretrievers.com
Subject: Little Miss MoneyPenny is 10!

Dear Phyllis and the Deep Run Team,
My Little Miss MoneyPenny (Penny) turned 10 on Monday!
I thought you'd like to see some recent photos of our travels in Germany and Austria. She's the best dog I've ever had and is universally loved. Penny just had hear yearly check-up/shots and was declared to be in exceptional health, with great musculature, heart, ears, eyes and teeth!

Best,
Courtney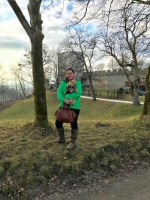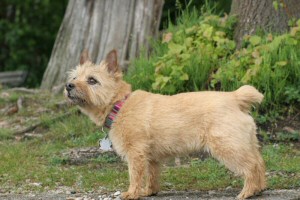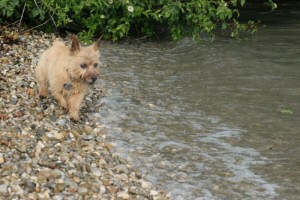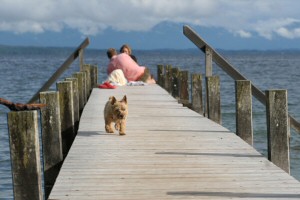 From: Alicia
To: deeprunfarm@deeprunretrievers.com
Sent: 12/5/2016
Subj: Watermark Firecracker (aka Pepper)

Dr. Giroux,
Today marks the one year anniversary of me bringing puppy Pepper home from your care at approximately 12 weeks old. A lot has changed in her first year, she's grown from a cute little bundle of puppy energy into a cute little bundle of dog energy!
Pepper is a delightful little girl and my constant companion. I could not have asked for a better dog. We have worked a lot on training this first year, and she is very smart, often picking up commands on the first try. We are well on our way of achieving my goal of her passing the AKC CGC and eventually becoming a therapy dog. (She always manages to make people smile!)
I am very grateful to you for breeding such a wonderful pup and allowing me to bring her home. From the bottom of my heart thank you.
Have attached a few photos. The first is from the day I picked her up in Goldvein and the last couple are more recent.
Thank you again! Hope you and your staff have a wonderful holiday season!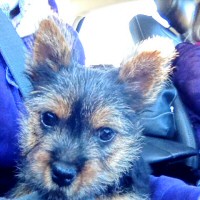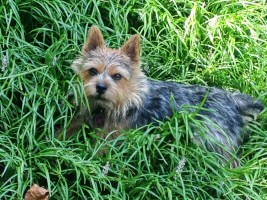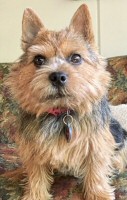 Sincerely,
Alicia



From: Suzanne
To: deeprunfarm@deeprunretrievers.com
Sent: 8/22/2016
Subj: Watermark Inkspot, 9 months

I thought you would enjoy this picture of Inky. As you can see, everyone here is very happy.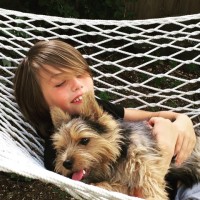 Best,
Suzanne


From: Dee
Date: September 15, 2014
To: "deeprunfarm@gmail.com"
Subject: Gracie (Hunter x Jennifer Juniper - January 25, 2014)

Hello Kristi, Phyllis,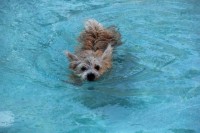 Just wanted to say hello and let you know that Gracie is doing well. When I am at work she spends her time at "school" aka doggie day care. The photographer, and staff member, at the facility sent me some really great photos of Gracie swimming (she loves to swim) and I wanted to share some of them with you. Gracie will be 8 months old on the 25th of this month and the time has gone by fast. She has a wonderful personality and my neighbors have voted her "Miss Congeniality". She is a wonderful friend, companion and excellent watch-dog. Her hair has gotten a little long as you will see in the pictures but she is due for a "haircut" this weekend. I just LOVE her. In the group photo you can see the park and Gracie is in the foreground of that photo. She has made many friends, four-legged and two-legged and is a bit of a celebrity at day care and one of the staff members had her official photo taken with Gracie.
Gracie picture 2 at dogie care
Gracie picture 3
I hope things are well with you at Deep Run and I am sure the autumn season is making its way to you in Virginia. The year has gone fast! Sending my best wishes to you.

Warm regards,
Dee


From: Jillian
Date: July 8, 2014
To: "deeprunfarm@gmail.com"
Subject: Lucy King (Twitter & Hunter puppy)

Hi Deep Run Farms!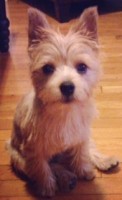 Lucy is doing well! We celebrated her 6 month birthday recently. She is just under 10 lbs. She is the happiest puppy and lights up our world. She is a love bug and a little social butterfly. She socializes well with other dogs and loves to greet people. She is playful and loving. She is the perfect puppy and we couldn't be happier with our puppy. Thank you so much. Please find enclosed some pictures of Lucy!
Lucy King picture 2
Lucy King picture 3

Jillian & Brian


From: Allison
Date: March 17, 2014
To: deeprunfarm@gmail.com
Subject: Honey (Hunter x Twitter pup)

Hey Kristi,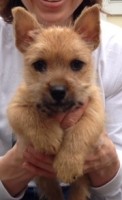 Just wanted to let you know that Honey is loving life in Charleston, SC. She loves to explore and make new friends. She is still learning to walk on a leash like a big girl, but she is getting the hang of it. We started puppy school a couple of weeks ago, and of course she is a straight "A" student. She has been so well adjusted from the moment we brought her home. Below are a few pics of Honey during her first few weeks in Charleston, SC. We will keep you updated as she grows.
See Honey picture 2

Just wanted to thank you guys for such a great little companion.
Allie & Jenn



From: Andrea
Date: March 2, 2014
To: Phyllis Giroux
Subject: Bode

Hi Kristi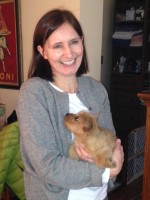 Just a quick note to let you know I've named my boy Bode. Our trip back to NYC went smoothly and he is settling in nicely. He is curious and full of energy. I think we are going to be two peas in a pod! Just have to work on the mouthing as he thinks I'm his new chew toy and I don't happen to agree!

Thanks for everything!!
Andrea


From: Jean
To: deeprunfarm@deeprunretrievers.com
Sent: 1/11/2013
Subj: Rocky

Dear Phyllis,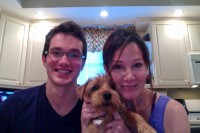 Just a note to let you know that Rocky is doing great, and I'm planning a big blow-out birthday party for his first birthday on the 19th! I take him to the local doggy park every other day, and he's made many friends (of course, he is the cutest, smartest, etc etc). Interestingly, there is a Norwich Terrier in the neighborhood (owned by a woman from France, dog bred there), but no other Norfolk's.
As a head's up: My son Brad walks Rocky daily and a gentleman in the neighborhood asked for the name of Rocky's breeder, he says he's interested in the breed--I'm not sure if/when he'll call but I did give him your contact info. Don't personally know this man, so can't tell you anything other than Brad says he's a "nice old guy".
Anyway, belated best wishes for a happy new year--

Jean


From: Kathy
To: deeprunret@aol.com
Sent: 8/7/2012
Subj: Lucy Turns 3 Years Old

Hi Phyllis,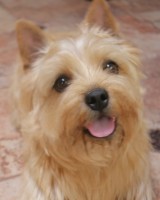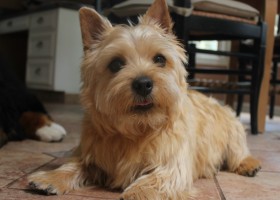 I hope all is well and that you're enjoying your summer. My Norwich Terrier Lucy turned 3 in July. It hardly seems possible that it was almost 3 years ago that I picked her up at Deep Run Farm and brought her back to Chicago. She's a little dog with a big personality--outgoing, curious, and full of energy!
I've enclosed a couple of pictures of Lucy. Please give my best to everyone at Deep Run Farm.

Sincerely,
Kathy



Luigi x Poppy Norfolk terrier puppy.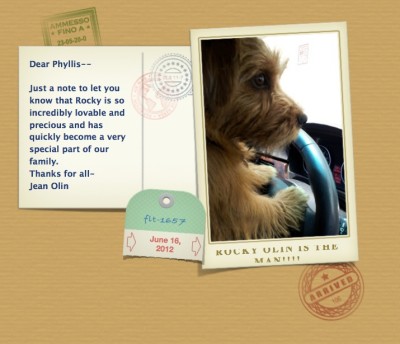 From: Stacie
To: DeepRunRet@aol.com
Sent: 3/6/2012
Subj: Update on Watermark Riley Taylor

Hi Phyllis,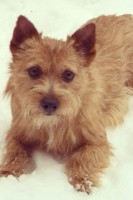 Hope all is well with you and yours over at Watermark/Deep Run!
As you know, Riley (Praline x Dub) recently turned 3 years old in mid-February. She's been training in agility for a couple years now, and recently started competing. She loves the sport and loves having a purpose. This past weekend, Riley earned her first AKC title, Novice JWW (NAJ) and her first Novice Standard leg. Earlier in February, Riley earned both of her second USDAA P1 Jumpers and P1 Snookers legs. I've attached several pictures (Riley with her recently won ribbons and playing in the snow). She's a great little dog and perfect for me-- I couldn't imagine life without her!
Riley picture 2
Riley picture 3
Riley picture 4

We also thought you'd might enjoy a video to see her progress.
Stay well!

Thanks,
Stacie and Riley


From: Katherine
To: deeprunret@aol.com
Sent: 3/16/2011
Subj: Update on Norwich Pup from 2008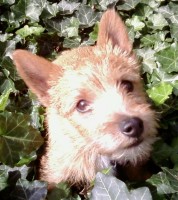 Phyllis,
While my mom has been looking into your Norwich puppies, I have been thinking about sending you a few picture of my pup that I got in August 2008. He is the sweetest little man and has brought me so much joy over the past couple of years! His mom is Tattersal and his face looks just like her-- so sweet! He LOVES to play and communicates better than most people do!
I've attached an assortment of pictures. Feel free to post any of them to your website.

Picture 2
Picture 3
Picture 4
Picture 5
Picture 6
Picture 7
Picture 8

Best,
Katherine


From: Kathy
Sent: Friday, February 05, 2010
To: deeprunret@aol.com
Subject: Lucy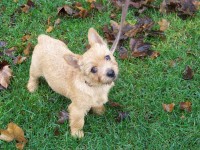 Phyllis:
Here's some pictures of Lucy taken in November. She's such a cute pup. Hope all is well on your end.
See Lucy picture 2*
See Lucy picture 3
See Lucy picture 4
See Lucy picture 5

Kathy
* P.S. In case you're wondering, yes we took the pen that she found on her walk out of her mouth!!



Subject: Sydney and Lucy
From: Kathy
Date: Fri, 2 Oct 2009
To: DeepRunRet@aol.com

Lucy is a little darling. She has a very outgoing personality—loves other dogs and people. She's enjoying her daily walks with Sydney through Inverness on the Pond. Everything is exciting to her—the ducks, the swans, the ponds, school buses, and all the sticks she finds along the route. She's sleeping through the night (surprisingly) and eagerly awaits each meal.
Thanks for everything, Phyllis. Lucy is a great addition to our family. I'll send you a picture once I get the final prints from the photographer.
See a picture of Sydney and Lucy (the terrier)

Kathy


Subject: Pictures of Tripp
From: Cary
Date: Mon, 31 Mar 2008
To: deeprunret@aol.com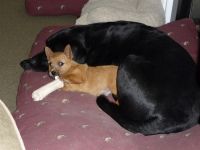 Phyllis ~
As you can tell, he seems to be quite comfortable in his new home.

See Tripp picture 1
See Tripp picture 2
See Tripp picture 3

Cary


Subject: RE: Norwich Terrier Puppy, Bailey Rose
From: Gayle
Date: Mon, 24 Dec 2007
To: DeepRunRet@aol.com

Dr. Giroux,
Just a note to wish you and everyone at Deep Run a very Merry Christmas and to tell you how very much I enjoy my Norwich, Bailey Rose, every single day.
Your loss due to Bailey not being show quality certainly turned into my gain. She has been the joy of my life every single day since I purchased her from you last July 3, 2007 and I thank you. She has a great personality, is very loving and wonderful companion and also the cutest puppy I've ever seen. She is the hit of the town….everybody wants her and I have a list of at least 25 people who beg to keep her if I ever need a sitter. She is truly perfect to me and for me!!
Merry Christmas and Happy New Year to you and your family and staff,

Gayle


Subject: Pictures of snickers brozo
From: Donna
Date: Wed, 22 Aug 2007
To: DeepRunRet@aol.com

Hi Phyllis,
Just wanted to drop you a note to let you know how much we are enjoying our puppy. He is growing up very quickly. Just thought you would like to see some pictures of how he's grown up. I hope you enjoy them.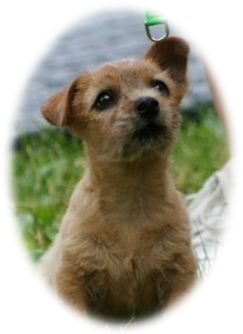 See Brozo photo 1
See Brozo photo 2
See Brozo photo 3
See Brozo photo 4
See Brozo photo 5
See Brozo photo 6
See Brozo photo 7
See Brozo photo 8
See Brozo photo 9


Donna and Deanna




Subject: Bentley I San Antonio
From: David
Date: Mon, 5 Feb 2007
To: deeprunret@aol.com

Just thought I would let you know that Bentley is doing great. (See a picture of Bentley.) He appeared to have some allergies when we first got him, but the cough is really gone and he is growing very nicely. Our vet said he is in perfect condition after he got his last round of shots in January.
He loves to travel with Lyn in the car and is a perfect road mate for her. He has a booster seat in the front of Lyn's Land Cruiser. It keeps him tied into the seat, but gives him enough boost to see out the windows. He usually just curls up and falls asleep though. I took this picture a couple of nights ago when I was playing with him in our living room.
Our outdoor dog really likes Bentley too. He's a big, happy mixed breed. He was really overweight when I brought Bentley home, but in the afternoons I go out and play fetch with both dogs. The big dog, Murphy, chases a log I toss down the hill. Bentley fetches a small twig I pulled off of one of our trees. Between playing fetch and playing with Bentley, Murphy has lost a noticeable amount of weight. So Bentley is good to the whole family. We are really, really enjoying him.
BTW, when should we expect to need to get him groomed the first time? His coat looks great now and it is starting to get more bristly. I believe they are supposed to wear the outer, coarser coat.

David


Deep Run Farm
13727 Blackwells Mill Road
Goldvein, VA 22720

(540) 752-4710/4888 FAX (540) 752-4775 deeprunfarm@gmail.com
Terrier Home | Females | Males | Puppies | Shows | Health Care | Boarding | Questions