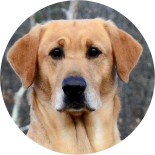 Pancho
(click for large picture)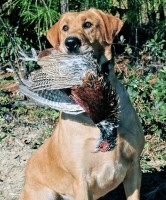 Pancho is one of our most exciting young American Field dogs. He completed his Master title with a minimum number of trials and has been a consistent qualifier at the Master level since. Additionally,he received a Qualifying placement last fall.
He is a sweet and gentle dog, just like his dad, GMHRCH Deep Run Desperado MH (Hombre), he is cool and collected in the house and kennel but a fireball in the field.
Pancho got his name when we were eating out in a Mexican restaurant one evening. We loved his beautiful dark gold color, just like his sire, Hombre. There was large sign on the wall "Follow me to Gold and Glory", Pancho Villa. He became Pancho on the spot. Pancho and his littermate Deep Run Gypsy Gold are the product of one of Hombre's very last litters. Hombre was bred to an Elvis daughter, Deep Run Tutti Frutti, SH to produce these two spectacular young dogs.
Pancho qualified in enough consecutive Master events in 2014 to earn his Master Hunter Lifetime Achievement Award last Spring.
Pancho is OFA Good, OFA ELbows, OFA Cardiac, OFA Patellas, EIC and CNM Clear by Parentage, 2012 CERF.
Here is a link to Pancho's OFA page.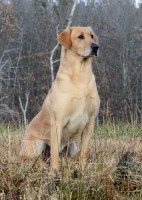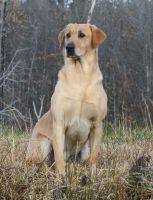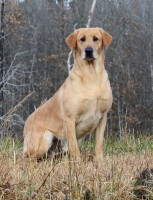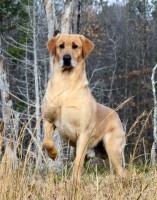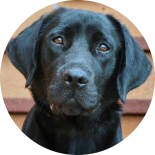 Mac
(click for large picture)
Deep Run McIntosh (Mac) is a lovely black female sired by GCH Robnie's Two Thumbs Up at Moonlit (Siskel) out of Danikk Deep Run Big Apple. See another Mac picture.
Mac is a 65 pound dog, who loves life, she very friendly and a real sweetheart. She is OFA Good (prelim) OFA Elbows normal (p), OFA Eyes, OFA Cardiac, OFA Patells, Full Dentition and EIC and CNM Clear by parentage.
Here is a link to her OFA page.